Managed Data Analytics - New Approach
Managed Analytics as a Service empowers enterprises to automate the process of turning data into insights, further facilitating your business to achieve goals such as customer retention success and predict customer behaviour using predictive modelling and 360 Degree Customer View for understanding customers.
Enterprise Data Silos across the departments and Leveraging all Data assets for Compliance, Audit, and Security is a time-consuming task.
Delivering Change requests ( BI And Data Warehouse Applications) and mapping Business Objectives need Collaboration across the IT and Business units within the Defined SLA.
Organisational Effectiveness and Efficiency Depend on a few critical People for the Delivery of Critical Projects for a competitive edge.
Digital transformation and Cloud Migrations and Upgradations are time intensive and Delay in Reporting Analytics.
Customer Analytics Services empower Enterprises to target customers using personalised product service recommendations and predict customer behaviour using predictive modelling. From Customer Analytics Solutions and Services
XenonStack Supports organisational design and develops an analytics function that brings operational efficiency and Value to the business. With Managed Analytics as a Service (MaaS), Enterprises can -
Interpret your data in more profound ways.
Enable fact-based insights into your decisions.
Enhance customer experience with AI-based forecasts.
Drive customer Intelligence and Customer Loyalty.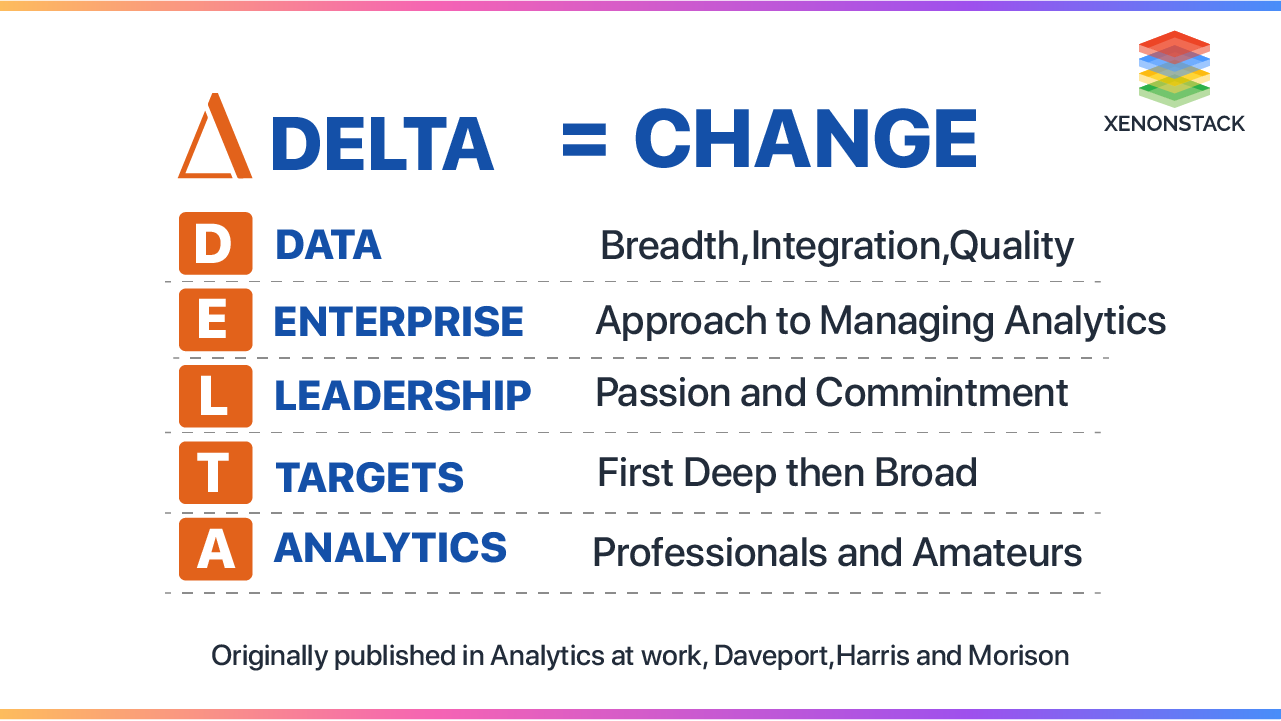 Analytic Processes Maturity Model (APMM) by Robert L.Grossman
The APMM described here is based on a framework for analytics that divides analytic processes into six areas: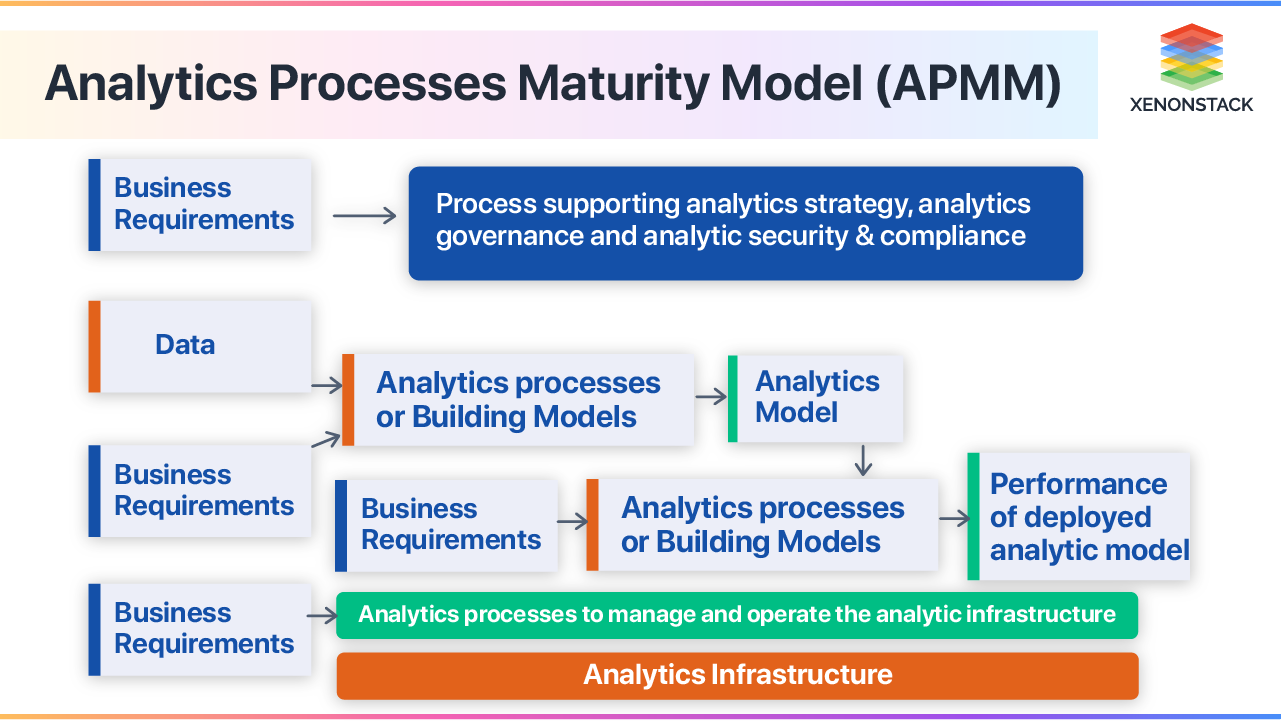 Building analytic models - The process of building an analytic model takes as the input: i) data and ii) the appropriate business requirements and produces an analytic model as the output.
Deploying analytic models - These sets of processes take an analytic model that has been developed and integrate it into an organization's products, services, and operations in such a way as to deliver the desired business value.
Managing analytic infrastructure - Managing the IT infrastructure required to build and deploy analytic models (as mentioned above, we call this analytic infrastructure following (Grossman, 2009)) has historically been challenging for many organizations but is becoming even more so as the volume, velocity, and variety of data grows. Analytic infrastructure includes both the IT infrastructure for building and deploying models.
Operating an analytic governance structure - Operating a governance structure to support analytics is critical since those selecting analytic opportunities, building analytic models, deploying analytic models, and managing data required for building and deploying analytic models are usually in different organizations. Without analytic governance, it is difficult for most organizations to successfully build and deploy analytic models, much less do this with a repeatable process. Analytic processes are required for building and deploying analytic models.


Providing security and compliance for analytic assets - A growing priority of IT organizations has been IT security. Analytics and big data present some additional challenges, such as ) protecting data privacy when side-channel attacks on data are growing increasingly easy; ii) managing analytic infrastructure for big data, which can be so large that manual processes for infrastructure provisioning are no longer adequate; iii) and following appropriate security and privacy procedures when working with third party data. Setting up appropriate security and compliance processes to reduce risk, protect analytic assets, and satisfy any required regulations is an important component of a mature analytic organization.
Developing an analytic strategy - Developing an analytic strategy and using the analytic strategy to select appropriate analytic opportunities. Almost all organizations have more analytic opportunities than the resources required by the opportunities, and the first set of processes involves selecting which analytic opportunities to pursue based on the short and long terms requirements and opportunities of the organization.
Cloud-based Search Solutions for Enterprises to Build Next Generation Search-based Analytics Applications and Services. From the Article, Enterprise Search Service Offerings
Skills required for Managed Data Analytics Services?
Data analytics requires knowledge of more than just analytics. To collect the required data Data Engineering and Operations skills also matter, which is usually termed data ingestion. Data Ingestion is not a one-time process; it needs regular data updates and monitoring for any changes in the data structure.
Data Ingestion
Data is not always readily available. If it is available, required data to be distributed in more than one space. Fetching data is one first and foremost task here to work on it. There are different ways to fetch data to storage, where basic analytics will happen. API and regular Update jobs are two of them.
Different Programming skills required for the is mould or derived for requirements.
Different Types of Analytics
Analytics has different purposes, which are defined based on the business requirements. The analytic reports always point to the business value of the data. Different types of analytics are applied to various phases of projects and hold particular importance.
Descriptive analytics
Diagnostics
Predictive analytics
Prescriptive analytics
Big data makes the insurance industry a perfect sphere for data analytics to construct basic patterns. Click to explore about our, Data Analytics in Insurance Industry
Benefits of enabling Managed Analytics
Effective Business Insights
Managed Analytics services extend practical business insights and support businesses to Identify KPIs within data and further facilitate better Business Decisions.
Leading Analytics Tools
Leverage and make the most beneficial use of the best tools and technologies to simplify operational procedures and analytical processes.
Reduced Total Cost of Ownership
With Managed Analytics solutions, Businesses can decrease the Total Cost of Ownership (TCO) and enable Quick, responsive access to data and facilitate real-time operations.
Customer 360-Degree View
Building a 360-degree customer view helps in Customer alignment, Drives customer Intelligence and Customer Loyalty.
Big data analytics has always been a fundamental approach for companies to become a competing edge and accomplish their aims. Click to explore about our, Latest Trends in Big Data Analytics
Reporting tools used for Managed Data Analytics?
The reporting tools are built to ease the visualisation and better presentation of your data. The Analysts can spend more time on business requirements and logic than creating visual presentations.
Most reporting tools have drag-and-drop functionalities, which makes it easier to start with. Data modelling and integration features make these tools more favourable for analysts.
Excel
Excel is an easy tool to work for analysis. It is simple and has excellent functionalities. Formulas and Macros can take it to another level. At the same time, the abilities are limited. Built-in Pivot table and other visualisation features make the analytics reports easy to understand.
Power BI is designed to make reporting more accessible, with hundreds of built-in features. It has various data connection abilities to connect with more than 100 different databases. Easy steps and drag and drop make it the first reporting analyst choice. Data modelling and DAX usage can be tricky to start. Also, setting up gateways and Optimisations need more knowledge of the tools.
Tableau
Tableau is another tool to visualize the data. It includes Tableau Desktop, Tableau Server, Tableau Online, Tableau Vizable, Tableau Public, and Tableau Reader. WhereTableau has better and easier features than PowerBI, and at the same time, it is expensive.
SSRS
SSRS is an SQL Server Reporting Services product by Microsoft. It has limitations and is cheaper than both PowerBI and Tableau.
Managed Analytics Service Offerings
XenonStack offers managed services in several models, i.e. Consulting, Managed Solutions, and Subscription-based, including Data as a Service and MetaData Platform as a Service.
Search Based Analytics
Cloud-Enabled Search Analytics Solutions to help Enterprises to build powerful search applications with enterprise search engine characteristics and implementation services
Search-based analytics applications Development
Search relevancy improvement
Cloud Based Search
Artificial Intelligence-Driven Analytics
Artificial Intelligence driven analytics services for Empowering Enterprises to leverage analytics for gaining Real-Time insights and developing scalable and Integrated Machine Learning Applications
Model Designing and Development
Machine Learning Governance
Managed Cognitive Analytics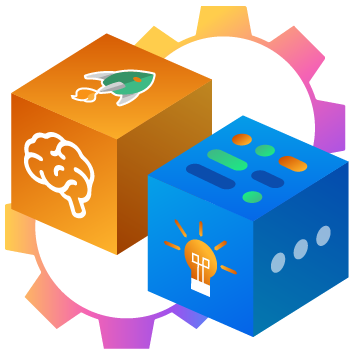 Data Discovery and MetaData Platform
With Enterprise Data Discovery and MetaData Platform, enterprises can Empower self-service capabilities and discovery for important data. Metadata solutions for presenting a comprehensive view of data associations which further helps to enhance quality and confidence in the data.
Data Quality and Governance
Data Visibility
Business Intelligence and Data Visualisation
XenonStack offers Business Intelligence and Data Visualisation Services for Business Intelligence Dashboard Development, BI Implementation, and BI Architecture Designing. Enterprise Data Visualisation Services offerings for -
Business Intelligence Consulting
Business Intelligence Dashboard Implementation
Data Visualisation with Web Assembly
Real-Time Visualisation for Actionable Insights
Building Real-Time Integration Platform with Data Governance and Data Quality Best Practices. From the Article, Data Catalog Platform for Data-Driven Enterprise
What's the Next Step?
Xenonstack helps businesses with the best possible solutions using all the latest technologies. The teams here are well-versed in all data management and analytics techniques requiring data-driven decisions.