Subscription

Thanks for submitting the form.
Overview of Healthcare UX
When it involves virtual consumer experiences, one can't discover an area as vital and complicated as healthcare. Healthcare applications include digital health records, fitness/health trackers, specialized apps for situations, maternal care, pediatrics, intellectual fitness, etc., unique functions, coverage payments, authorities aid, ambulances, emergency services, and more.
The UX Design is to studying user behavior and understanding user requirements with the goal of design satisfactory user experiences of a product.Click to explore about our, User Experience Design Principles
Users of this software program may be simply as varied, from providers – clinically educated professionals (doctors/nurses), patients, etc. Good UX Healthcare is wherein data is simple to find, clean to comprehend, and easy to incorporate.
Why UX in Healthcare is important?
The user-friendly design drives innovation and Growth. Points to remember while designing a health product:
UX methods shouldn't be a matter to consider later. Instead, they should be adopted early in the design and development process.
Try to bring in user experience expertise as quickly as needed.
Use the proper techniques and products to understand user feedback. Try to understand the culture of service providers and consumers.
The first step should be research—understanding users and empathizing with them, their problems, and goals.
The biggest challenge for UX designers working in healthcare is to create digital solutions that strike the right balance of meeting the user needs of both the medical supervisor and the patient.
User experience is essential as it attempts to meet the needs of a user and aims to deliver a positive experience.Click to explore about our, Customer Experience vs. User Experience
Best Practices of Healthcare UX Designing
UX designers must resist the urge to over-design. A designer should keep some best practices in mind before designing for wellness.
Conceptualize, validate, test, and refine design concepts
It's best to prove your design wrong as soon as possible. The best way to make your idea successful is through extensive testing, prototyping, and even simple templates to help quickly develop and validate ideas. A designer can refine design concepts based on hypotheses and test results.
Reduce distractions
Unshared data, redundant tabs, and flashy designs in healthcare apps can be a source of distraction for doctors and healthcare providers. Providing the correct information at the right time will help reduce cognitive load and ensure proper diagnosis and treatment for the patient. Minimalist design is the key to creating a great wellness experience. Minimalist design involves saying no to loads of features, defining what needs to be displayed and being thorough with your users, their needs and wants, and their environment.
Minimize process
A minimal process without many hops and loops or transitions ensures fewer steps and faster results, which is the moment's need. A physician performing surgery or treating a distressed patient will not want to delay the patient's treatment and will therefore always prefer minimal process software that quickly provides its core functions—seamless.
Establishing a connection
Even today, patients feel at ease when doctors are present in person to care for them. Therefore, as a problem solver, create designs that support and harness information without losing individuality. Designing connections, so that stored data is available for analysis and real-time collaboration ensures these goals are achieved. The primary goal is to be patient-centered.
Improving the healthcare experience
Overhauling healthcare UX is no easy task considering the size of the entire operation. However, we should start with user research - gaining insights into different stakeholders, identifying their problems, and setting priorities. This will help you tackle each problem and find the best solution for each.
UX is the most important building block in software development. Even its priority is higher than User Interface.Click to explore about our, User Experience in Software Product Development
Use Cases of UX in Healthcare Industry
The below listed are the use cases of UX in healthcare industry:
Telemedicine
Telemedicine is, without a doubt, the most popular trend we are seeing in healthcare UX right now. It has quickly become one of the incredible growth in medical technology. Instead of visiting a doctor, medical professionals can now remotely treat patients through healthcare apps, remote monitoring tools, and video consultations. The designer must guide the patient through the video conferencing experience without the added stress of usability issues related to the application's design. Since these patients do not feel well at first, making the experience as easy as possible is essential. UX designers must also design for different types of patients, considering characteristics such as the user's age, mental state, language, and technical skills.
Wearables in tech
Wearables are another popular trend in healthcare user interfaces and experiences. Wearables are no longer just for counting steps and tracking sleep; they can now monitor vital signs such as a person's blood pressure and heart rate. They can also measure your body mass index and detect fluctuations in your heart rate. Anyone can build a healthcare app, but if the user experience isn't great, your users will most likely be ripped off by your competitors. To stand out, your user interface design should focus on simplicity, usability, connectivity, interactivity, and data management.
AR and VR in healthcare UX
Augmented reality (AR) and Virtual reality (VR) open the doorways to a range of recent possibilities for the healthcare industry. Doctors can use those techniques to finish training, for example, letting them grasp expert abilities without risking the fitness and lifestyles of actual sufferers.
The generation will increase the accuracy of diagnoses and might even assist medical doctors in displaying to their sufferers what's taking place as they carry out scientific treatments.
As those technologies keep evolving, it will be more crucial than ever for designers to beta-check the goods and structures and get remarks from sufferers to make a wonderful experience.
Electronic health records
One of the latest trends in healthcare UX is the rise of electronic health records (EHRs). In the past, offices kept paper-based medical records, relying mainly on administrative staff (and the patients) to organize. Now, EHRs have digitized medical records while minimizing the paperwork and procedures required in the doctor's office. Patients can now view their medical health records through online portals, giving them quick access to information. Patients can also provide new doctors or specialists with their medical history with one click, instead of requesting copies of their records and passing them on to their new doctor. These online portals have benefited the UX healthcare industry, with websites designed to make it easy for users to navigate. As more and more organizations take advantage of online portal systems, designers will need to continue researching UX to ensure effective and user-friendly platforms.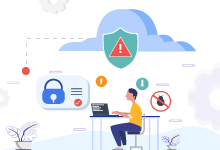 Conclusion
More work is needed to create a sustainable digital strategy for the healthcare industry in the long term. The strategy must respond to patients' and healthcare providers' growing and rapidly changing needs. The industry needs a paradigm shift from proprietary, patient-excluded information, hardware, and software to interactive, collaborative, and patient-centered information. Eventually, the digital strategy, including UX, will evolve into a semantic, predictive, and patient-centered strategy. We don't mean that a better user experience will solve all the healthcare industry's problems right now. Several other issues and many external and stakeholder factors contribute to the problems facing the highly specialized healthcare industry. Still, we strongly believe that user experience will play an essential role in establishing the depth of end-user insights and delivering sustainable solutions.