Subscription

Thanks for submitting the form.
What is SOC 2?
SOC 2 Stands for the Service and Organization Controls (SOC). It is the component of AICPA ( American Institute of Certified Public Accountant ). It is specially designed for service providers, storing customer data in the cloud. Its auditing procedure ensures that service providers securely manages the data and privacy of the clients. To know more about SOC 2, you can visit here. It also helps to define the criteria for managing customer data based on five "trust service principles".
An approach to speed up building new applications, optimizing existing ones, and connecting all of them. Click to explore about, Why Cloud Native Applications?
What are the principles of SOC 2?
Let's discuss those five principles:
Security
Refers to the protection of the system resources against unauthorized access.
IT security tools such as WAF (web application firewall), 2FA (two-factor authentication) and intrusion detection are useful in preventing security breaches that can lead to unauthorized access of systems and data.
Availability
Looks how accessible a company's services, products, and system are.
Includes performance monitoring, disaster recovery, and security incident handling.
Processing Integrity
Whether or not system achieves its purpose i.e deliver the right data at the right time at the right place.
Data processing must be complete, valid, accurate and authorized.
Confidentially
Data is considered confidential if its disclosure and access are restricted to a limited number of persons.
It includes encryption, access control, network, and application firewall.
Privacy
Addresses how the system collects uses retains, discloses and disposal of personal information in conformity with an organization's privacy notice.
Include access control, 2FA, encryption.
An approach to develop, build and ship applications that takes the advantages of modern Cloud computing services. Click to explore about, Cloud-Native Applications Design and Architect
What are the best practices for SOC 2 Compliance?
The best practices for SOC 2 Compliance are listed below:
Monitoring
Defines that one may need the ability to monitor for not just known malicious activity, but the unknown too.
To find these unknown establish a baseline of normal activity in the cloud environment, by doing this it will make it clear when abnormal activity takes place.
Anamoly Alerts
You should receive alerts whenever there is unauthorized access to customer data.
You should require alerts for modification of data, controls, configuration files, and file transfer activities.
Detailed Audit Trails
Need audit trials (record of the changes that have been made to database or file), because if an incident takes place, then the remediation where to begin should be known.
A legal framework that requires businesses to protect personal data and privacy of European Union (EU) citizens for transactions. Click to explore about, Why GDPR is Important?
What are the SOC 2 requirements?
SOC 2 requires that one should develop security rules and procedures. These need to be written out and followed, and auditors can and will ask for a review. The policies and procedures must compass of security, availability, processing integrity, confidentiality, and privacy of data stored in the cloud.
What are the types of SOC 2 Report?
Data providers, who stores and processes financial information need a SOC report. It is designed for a growing number of technologies and cloud computing entities.
Type 1: Handles the financial transactions a company makes.
Type 2: Reports on the security behind those financial transactions.
SOC 2 report contains five trusted services principles i.e. security, availability, privacy, processing integrity, confidentially.
SOC 2 reports are unique to each company.
The providers look for the requirements and decide the relevant requirements for their business practices and can also write their own controls to fit those requirements.
The data provider can write extra controls if needed and disregard the other if they are not needed
SOC 2 report contains sensitive information and cannot be shared with anyone.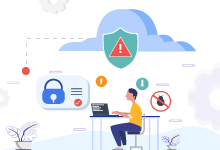 Holistic Approach
SOC 2 is applicable to technology-based service organizations that stores the customer data in the cloud. This means that it is applied to pretty much every single SaaS company, and any company that uses the cloud to store its customer's information. SOC 2 is the most common compliance requirements that technology-focused enterprises must meet today.
Discover more about ISO 27001 Compliance
Know here about HIPPA Compliance
If you are looking for widespread information concerning the processing of SOC 2, Get in Touch with us.