Subscription

Thanks for submitting the form.
Introduction to GDPR Compliance
GDPR stands for General Data Protection Regulation. It is a legal framework that requires businesses to protect personal data and privacy of European Union (EU) citizens for transactions that occur within EU member states. GDPR applies to any organization operating within the EU, as well as the organizations outside of the EU which offers goods or services to the customers or businesses in the EU. Under the terms of GDPR, not only organizations will have to ensure that the personal data is gathered legally but those who collect and manage it will have to protect it from misuse and exploitation.
A practice of implementing security at every step in the DevOps Lifecycle with DevSecOps Tools. Click to explore about, Continuous Security For an Enterprise
Why GDPR is important?
GDPR is applicable to all members of the EU and EEA effective from May 25, 2018. It replaces today's legislation regarding privacy in member countries currently subject to the EU Directive 95/46. You see many of the enactments in the GDPR in the current legislation, but the GDPR is more detailed and specific in certain areas and takes into account the hurdles in the rapidly evolving digital world, giving rise to privacy risks for data subjects.
GDPR is first of all demanding due to its comprehensive transparency conditions. Any firm as well as other bodies that process personal data is also to a large extent required to document the processing, ensure the validity of processing, document the existence of sufficient procedures, provide knowledge on security standards and to ensure that sufficient data processing agreements are in place. GDPR is essential because it improves the protection of European data subjects' rights and explains what companies that process personal data must do to safeguard these rights.
A software package that creates a unified and persistent customer database accessible to other systems. Click to explore about, Customer Data Platform Benefits
Types of Data Protected by GDPR
Basic identity information i.e. name, address. Id number.
Web data like location, IP address, cookie data, RFID tags.
Health and Generic data
Biometric data
Political opinions
Sexual orientation
Basic Principles to ensure GDPR Compliance
GDPR defines several roles that are responsible for ensuring compliance. Data controller, Data processor, and Data protection officer (DPO)
Data Controller: This person defines how personal data is being processed and the purpose for which it is processed. The controller is the one who is also responsible for making sure that the outsider's contractors comply.
Data Processors: Might be the internal groups that maintain and process personal data records.
DPO (Data Processor Officer): Companies required to have DPO if they process or store a large amount of EU citizen data, process or store special personal data.
Health Insurance Portability and Accountability Act is specially designed for the protection of patient information. Click to explore about, HIPAA Compliance Checklist
GDPR Compliance Checklist
Obtaining Consent: Terms of consent must be clear i.e. the terms and conditions should not be designed in complex language to confuse users.
Timely Breach Notification: If a security breach occurs, then the company must have to report the data breach to both customers and data controllers within 72 hours. Failure to report will lead to the heavy fine.
Right Access To Data: Users can view their profile (fully detailed) and can also get the free electronic copy of data, that the organization collected about them. This report must also include the different ways that how the company is using the user's information.
Right To Be Forgotten: The customer has the right to request that the company should totally erase their personal data.
Data Portability: The users must be able to obtain their data and can reuse that same data in different environments outside of the company.
Privacy By Design: Company must design their systems with proper security protocols.
Potential Data Protection Officer: In some cases, the company may need to appoint a DPO, if they are processing or store large amount if EU citizens data.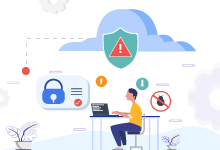 Conclusion
If you are looking for extensive information concerning the processing of personal data, visit xenonstack.com and read our Privacy Statement. If you represent a customer being a Controller and need more information regarding data protection around software products/services, you can visit EU GDPR official website. For any queries related to GDPR Compliance, Get in touch with us. Our team will be happy to guide you in the best possible way.