Subscription

Thanks for submitting the form.
What is HIPAA?
HIPAA Stands for Health Insurance Portability and Accountability Act. It is specially designed for the protection of patient information. With the increase in electronic medical records, it ensures that their personal data doesn't get into wrong hands. HIPAA compliance is enforced by the officer of civil rights (OCR) and regulated by the department of health and human services (HHS).
Healthcare executives face the risk of being overwhelmed by a flood of unusable data. Click to explore about, Big Data Use Cases in Healthcare
What is Office for Civil Rights (OCR)?
Maintains HIPAA compliance
Investigate HIPAA violations
Routine guidance on new issues affecting health care
Enforcing privacy and security rules
What is Protected Health Information (PHI)?
HIPAA PHI is an information in a person's medical record, which was created, disclosed or used during the patient's treatment or diagnosis. This information is used to identify the person. Eg: Address, Name, Contact no., Medical Record, etc.
Who needs to be HIPAA Compliant?
Any company that deals with PHI, must be a HIPAA compliant. It includes Covered Entities and Business Associates.
Covered Entities (CE): covered entities means health providers, health insurers and many other professionals whose daily work involves the handling of individual medical information.
Business Associates: the business associates are defines as an organization or a person working in an organization that provides the services to covered entities. Eg: billing companies, medical equipment companies, etc.
Healthcare providers investing in intelligent solutions to inform their operational, financial, and clinical decisions. Click to explore about, Building Intelligent Healthcare Analytics Platform
What is the HIPAA Privacy ?
Released by the United States Department of Health and Human Services to restrict the use and disclosure of personal information that belongs to the patients or consumers of the healthcare services. The Rule also gives the right to the patient over their health information, including the right to examine and can also obtain a copy of their health records, and can also ask for the corrections.
What are the HIPAA Security Rules?
HIPAA Security Rule deals with electronic Protected Health Information (ePHI), which is basically a subset of the HIPAA privacy rule. HIPAA security rule needs the implementation of three kinds of safeguards: administrative physical and technical.
Administrative Safeguards
Administrative Safeguards are the rules and procedures that help protect against a breach.
It also ensures that the physical and technical protections are implemented properly and consistently.
Physical Safeguards
Physical safeguards make sure data is physically protected from unauthorized access.
Technical Safeguards
Technical safeguards are the technology and related policies that protect data from unapproved access.
What is the HIPAA Compliance checklist?
The HIPAA Compliance checklist are listed below:
Risk Analysis
Assessments and Audits
Business Associates
Procedures and Policies
Employee Training and Communications
Data Safeguards
Breach Notification Process Checklist
Designated Privacy Official
RPA improves the health-care quality as it can provide analysis and data from a patient's condition and progression. Click to explore about, RPA in Healthcare
What are the five title of HIPAA?
The below listed are the five title of HIPAA:
Title 1: Health insurance coverage is protected for workers and their families when they change or lose their jobs.
Title 2: Establish national standards for processing the electronic healthcare transactions and also ensures that healthcare organizations should implement secure electronic access to health data.
Title 3: Certain deductions for medical insurance are provided, and makes other changes to health insurance law.
Title 4: HIPPA creates additional expectations for health insurance, such as new protections for anyone who has a "pre-existing" illness or wants to keep their plan active
Title 5: The provisions are related to the treatment of individuals who lose U.S. Citizenship for income tax purposes, company-owned life insurance.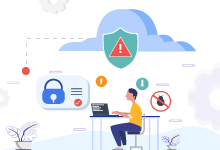 Holistic Strategy
Companies are able to reduce the uncertainty of regulatory action by taking practice in training programs for HIPAA compliance. The OCR gives six programs in total which strive to educate employees about the security and privacy rules. Many other training groups and consultancies volunteer programs, too. There is no recognized certification program for HIPAA compliance, but many training organizations offer credentials which indicate the understanding of guidelines and regulations the act specifies.