Why is the Healthcare Data Analytics Platform Important?
In the healthcare industry, due to an increase in pressure to provide the best services with lower costs, healthcare providers need to invest in intelligent solutions to inform their operational, financial, and clinical decisions. Healthcare is in transition. An AI-driven organization allows healthcare industries to transform billions of data points into insights and predictions. That improves the quality of care, customer satisfaction and ultimately saves lives as much as we can, therefore healthcare analytics platforms and tools are necessary.
---
Solution for Healthcare Data Analytics Platform
Xenonstack's main objective is to help healthcare organizations, patients, their partners, and payers. To provide AI technology to improve customer experience, save more and more lives, provide satisfactory treatment to patients and reduce patients' attrition rate.
For doing all these, we need patient reviews for our services and historical data of patients.
We can easily predict the number of satisfied patients with our services and patients' attrition rate status. At last, we will get detailed information about our services and customer conversion rate.
---
Why Xenonstack?
By clicking on the button, you can send a request for giving a demo of our Machine Learning prediction model for the Healthcare Analytics Platform. Through this, you will get to know about insights into the count of patients in your different branches. The number of satisfied patients with our services, the churn rate of our patients, and the conversion rate of patients. This will predict patients satisfaction and patients churn rate, respectively.
---
Dashboard for Healthcare Data Analytics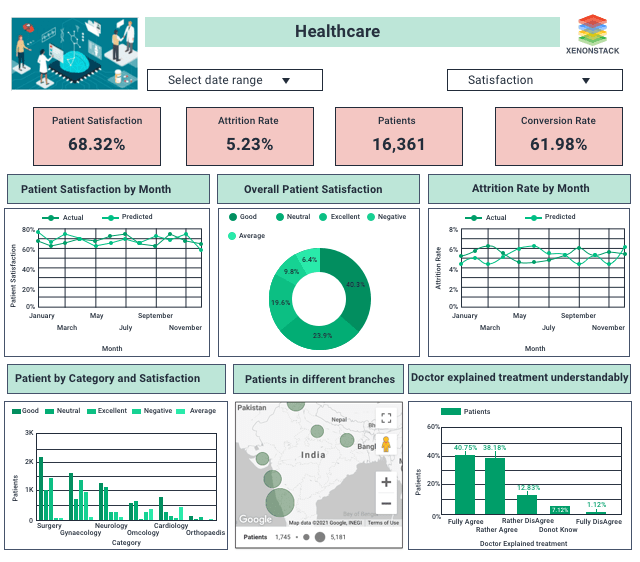 Description
Described below are the benefits of the advanced AI Analytics Platform in the Healthcare sectors.
As we can observe from our dashboard, patients from different categories and branches like surgery have many patients around 2000.
In the bar chart, we can observe that around 50 % of customers fully agreed with treatment explained by doctors and 40.3% give good ratings to our services.
We are predicting patient satisfaction rate and patient attrition rate here for this year. So, overall patient satisfaction is 68.32%, the attrition rate is 5.23%, and the conversion rate is 61.98%.