What is SAP?
SAP is the brand name for the ERP (Enterprise Resource Planning) software and the firm. Five ex-IBM employees founded SAP Software in Mannheim, Germany. Wellenreuther, Hopp, Hector, Plattner, and Tschira.
SAP develops software solutions for business operation management and customer relationships. SAP is the world's leader in providing software, enabling companies and industries to do business around the globe. The software collects and processes data on a single platform, from raw material procurement to production and customer satisfaction. Standard apps, industry solutions, platforms, and technologies can design and create any business process.
SAP software helps in operations as mentioned below -
Supply Chain Management
Product lifecycle management
Supplier Relationship Management
Material Management and Production Planning
Inventory Management
Human Resources Management
A vital factor in the field of Education, Market or Finance. It is a step towards the introduction of intelligence in every field. Click to explore about, Intelligent Process Automation Systems
How SAP works?
SAP has a robust, secure, and customized architecture. The SAP ERP application targets business software requirements of mid-and large-scale organizations in every industry and sector. SAP wants to combine all of the company's various modules.
SAP brings out the best practices to help your company meet its business objectives every day. SAP Business One lets you stay informed and aware of your business's true and unified picture of critical, up-to-the-minute information with embedded finance, CRM, and manufacturing capabilities across your organization. SAP's Enterprise Resource Management (ERM) and data management programs are well-known.
Why is SAP automation important?
Robotic Process Automation, also known as RPA, is a technology that replaces humans with digital counterparts to perform tedious, manual, monotonous, repetitive, rule-based activities, processes, workflows, and transactions. To look at it another way, RPA is all about automating repetitive tasks to make them faster and less labor-intensive while also delivering better data.
An early accomplishment of RPA would be RDA (Robotic Desktop Automation) which is even known as attended RPA. This enables industries to fully realize the full potential of RPA fully and produce wonders by enhancing their capabilities. RDA makes employees' jobs more understandable and optimized to the point when these duties are automated and connected with procedures on their PCs. Using RDA, organizations can now deliver deliverables faster and more seamlessly, resulting in increased team member productivity. Employee Productivity is achieved by using RDA, as Organizations can now deliver deliverables faster in a much more seamless way.
The other important aspect of RPA is called Workforce Intelligence, which uses the techniques of Automation to understand how every sales and services agent works and, at the same time, how each of the applications and processes work parallel with them. Putting these details with the insights of CRM Performance data makes it very simple for Organizations to identify the present inefficiencies.
RPA is an effective way to get accuracy in the successful execution of a task. Click to explore about, build RPA Center of Excellence
SAP is a process-oriented software. Manual operations that are repetitive and high volume persist, and SAP has introduced "Intelligent Robotic Process Automation (RPA)" to address this issue. Often, such manual duties are repeated within an organization by separate groups of workers, sometimes in different systems. This article presents a high-level overview of RPA to assist any SAP Consultant in understanding the solution.
SAP has outlined a great, Intelligent RPA plan. The SAP Intelligent RPA tool is a unique tool. RPA adds a layer to existing systems and processes without involving the writing of thousands of lines of code. The automation includes several systems, including SAP and non-SAP solutions, and covers end-to-end steps of the process. Every institution stands to profit from this. Using RPA, every organization may spend a small amount of time reviewing existing processes and identifying areas for improvement. It's a fantastic chance for any SAP expert to review and create RPA installations in various sizes, and it will provide significant value to each customer.
SAP and RPA can be used in the following use cases
Starting or closing a case
Filling out a form on the screen
Transferring data between SAP and other programs via copying and pasting
Comparing data fields on the screen
Identifying a process exception and requesting a review
Updating the status field in a system
Content migration
Data mining
Data on the screen is entered by keying or screen scraping.
In SAP systems, robotic process automation has been used in and around document imaging. This involves converting a paper-based document into a digital copy. SAP rendered the information in a system using OCR technology in collaboration with RPA technology, which can then be routed through the organization for evaluation and approval. This is one of the applications of RPA within the SAP environments for a specific use case, but there is more than just one way where RPA can help SAP.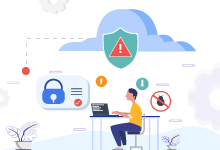 Advantages of using RPA in SAP
Following is a list of the essential observations or benefits that companies have noticed after implementing RPA in their SAP processes:
RPA Increases Productivity and Effectiveness
The use of RPA in SAP has enhanced the efficiency and accuracy of SLAs and the commitment to internal and external customers.
Improves Accuracy and Effectiveness
RPA in SAP has reduced the error rate for Business Processes executions and increased the accuracy of business outcomes.
Accelerates

Speed and Efficiency

Using RPA in SAP has increased the timeliness of task and activity deliveries and ensured that procedures are finished within SAP's timeline.
Availability and Efficiency
As processes are automated with RPA technology, manual resources can now be used for better tasks than the same old monotonous and repetitive tasks.
Business Agility
A change in the business models requires a specific scenario to be changed accordingly, and fine-tuning of the robots is required.
Reduced Cost
The above factors provide SAP with a better outcome: the reduced costs of operations altogether for SAP.
Conclusion
RPA capabilities have allowed SAP to have common scenarios faster. RPA and Machine Learning have also helped respond to customer queries more quickly.