Introduction to RPA in Human Resources Management
Before starting with our blog RPA in Human Resources Management and Operations in detail, knowing the current scenario is essential. Businesses today have been experiencing a major shift from old obsolete technologies to new ones. The new ones have been emerging at a tremendous rate, and the organizations that want to succeed have to adapt to this change, or else they either will be rendered dormant or thrown into the bin.
---
RPA frees a department from its repetitive and redundant tasks, so they can focus on more strategic initiatives. Source: RPA to automate common HR processes
---
For example, the customer nowhere days demand immediate responses to their grievances. Thus, companies need to work hard to acknowledge each of these. To survive these harsh business conditions, businesses need to automate their repetitive tasks. This is the only way to free up more time so that employees can devote their time to more important business activities. That is why; RPA technology has become necessary in the Human Resources Department.
---
What is RPA in HR Department?
RPA, also called Robotic Process Automation, uses robotic technology by businesses to automate various repetitive tasks. In Human Resources operations, this does not imply that robots are taking all the decisions instead of RPA use cases in HR to involve automating the simplest, most repetitive administrative and clerical actions at the keystroke level. HR operations processes that can be simplified using RPA include employee relations, recruiting and hiring training and development, benefits and compensation, and HR generalist activities.
Deploying RPA in Human Resource Management significantly reduces the time employees devote to these tasks, enabling them to focus on more quality tasks like talent development, retention, and policy implementation. As a result, it leads to increased productivity and efficiency in different activities within the HR Department. RPA uses multiple robots to handle these tasks; this way, an organization has a fully functional virtual workforce to handle all these tasks with greater accuracy and efficiency.
---
The retail and CPG industry is evolving rapidly, to increase sales and customer satisfaction industry acquire RPA. Source: RPA is changing the Retail and CPG Industry
---
What are the benefits of

RPA in Human Resources Management Processes?
The potential of RPA technology to business through the human resources division is immense. The key benefits of RPA in the HR Department are below:
Low risk and easily integrated

: RPA is a low-risk non-invasive technology that can be easily integrated with the existing system allowing the HR team to create a platform that continuously grows with new algorithms and machine learning tools.

Increased productivity

: RPA can free up human workers to focus more on high-value tasks such as employee engagement and retention tasks and contribute directly to the company's overall strategic goals, thus increasing overall productivity.

Scalability

: The cost per effort of RPA is negligibly low when operated on a large scale and increased or decreased as per the system's demands, leading to zero or no wastage of efforts or downtime for the system as a whole.

Accuracy

: It offers precise output and decisions rapidly when it comes to data analytics because of its computational supremacy, which far outperforms its human counterparts.

Duration

: RPA projects run 9-12 months with a return on investment of 30% to as much as 200% in the first year.

Consistency

: It has been created for perfect replication and error-free performance, eliminating output variation during an operational term.

Reliability

: They can work 24/7/365 and do not require any sick leaves.

Flexibility

: RPA is an industry-agnostic tool that follows a well-programmed procedure irrespective of the deployment environment.
---
Many businesses process in the telecom industry that is highly manual, repetitive, and rule-based. Source: Robotic Process Automation in Telecom Industry
---
How to Implement RPA in Human Resources Management?
The below-mentioned points are the implementations of Robotic Process Automation in Human Resources Management
Scope of the human resources RPA project to identify manageable use cases
The first step, which defines the project's scope—involves identifying a small, manageable list of HR processes that would benefit from automation. The best way is to identify some streams that have repetitive tasks; this will minimize the risk and maximize the buy.
Determine baseline human resources operating cost to calculate the total benefits realized from HR RPA implementation
After determining the project's scope, the next step involves determining the baseline operational cost of the project. Measuring the initial costs and then comparing them with the post-implementation cost is essential to keep the project going and maintaining stakeholder buy-in.
The computer program you can talk to through messaging apps, chat windows, or voice calling apps.Taken From Article, What are Chatbots and Why are they Important?
Analyze current-state human resources processes to document robotic process automation opportunities—down to the keystroke level
After collecting baseline cost, the next step is to observe the process and document it; this is how you'll identify the potential opportunities for RPA in the department. The process should be as detailed as possible, going down to every keystroke and mouse click level.
Standardize HR processes before or during RPA implementation—but not after
Standardizing how to perform tasks is very important. There needs to be just one way the process is performed so that there is no discrepancy, and this needs to be done before implementing RPA.
Get Robotic Process Automation Started in Your HR Department
This is the final and the most important step in the process, and this will show how RPA can lead to productivity gains for the department.
---
Top 10 use cases for RPA in HR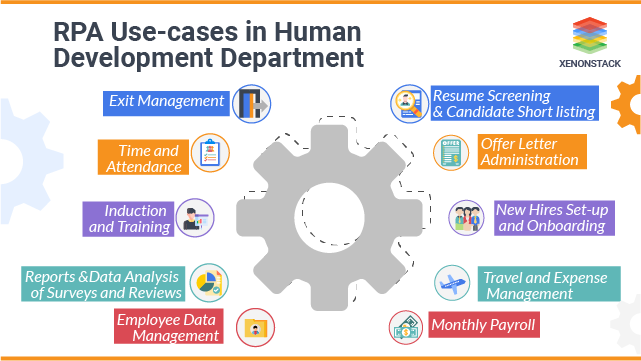 RPA employs tools to streamline the processes in the Human Resources team. RPA enables the human resource team to manage a large number of administrative tasks starting from hiring an employee and ending when the employee retires. By automating the department's processes, we benefit the department and the whole of the organization.
Description of various use cases are below:
Resume Screening & Candidate Shortlisting
The process of screening resumes and then shortlisting the right candidate can be a time taking process; on average, it takes up to three days to conduct a single hire process. But with RPA automating this, the bots can gather and screen resumes, perform background verification and compare information against relevant job requisition; thereby, selecting the best candidates with just a few clicks. This process of automating the screening and quality verification tasks saves the time and effort of the recruiter. This also enhances the quality of the hiring process by finding the best match for the job.
Offer Letter Administration
The offer letter administration has multiple dimensions, including creating, sending, and tracking the return of certain documents for new joiners and ensuring offer letter contents comply with company regulations. It is hard to examine the data against multiple databases as well as regulations manually as it takes more time and is highly prone to errors. RPA systems create offer letters for the new joiners, which are accurate and tailor-made. It cross-checks with the associated rules and regulations, which ensures an accurate and fully compliant offer letter for the professionals and enables HR to focus on a proactive hiring strategy.
New Hires Set-up and Onboarding
After the new hire has accepted the offer, the HR is accountable for ensuring that the new joiner gets fully acquainted with the new system like new user accounts, mailing lists, and email addresses, and other necessary IT requirements. All of this varies from employee to employee. With the implementation of RPA, bots can automatically trigger the predetermined onboarding process once the new user account is created and can also send the default onboarding documents to the new hire. This makes the new joiner feel comfortable from the first day itself and ensures that he/she is well equipped technically, which helps him to start functioning from day 1. This also ensures the streamlined, orchestrated, and effective end-to-end process with cent percent consistent and error-free data
---
RPA imitate and fuse the actions of humans that interact with digital interface for business operations. Also Read: Getting Started with UiPath
---
Induction and Training
The induction and training process when the company hires a new employee or takes a new project. By automating the process, the deployed bot can check the certification status of the employee against the requirement for the new process or application. Also, it notifies the employees about the certification required; it also manages the certificate compliance and blocks the employee calendars based on the training needs and schedules. This helps in reducing more than three training days per employee annually, reduces associated help desk calls by around 18%, and reduces data entry errors by 30%.
Travel and Expense Management
There are many challenges faced by the HR team in travel and expense management, like missing receipts, late expense submissions, spending out of policy, poor visibility, delayed payments, error-prone spreadsheets, and much more. RPA can reduce these challenges and automate processes like comparing individual expenses against rules and regulations, claims to process, and approval of standard travel expenses. This reduces the delay in expense submission and approval, thus increasing all the members involved. It also considers the entire process compliance as mandatory rules and regulations, thus reducing manual efforts and increasing accuracy.
Monthly Payroll
Most of the payroll process is rule-based and involves a large number of data entry tasks. The traditional HR system suffers due to payroll challenges deep-rooted from the limited capability. To leverage standardization because of compliance, payroll, and security management, which leads to inaccurate data, incorrect submissions, and delays in payments. Thus, consider it is a perfect process for automating, increasing their accuracy and minimizing processing time. The implementation of the RPA platform ensures full compliance with rules and regulations, thus, improving service quality and consistency.
The practice of collecting, organizing, protecting, and storing an organization's data so it can be analyzed for business decisions.Taken From Article, Data Management: What It Is?
Employee Data Management
The HR team is accountable for handling the current employee, applicants, past employee, new hire, payroll and compliance, and regulatory requirements. As most of these tasks are manual, it takes up a lot of time for the team. Data management uses cases that can automate menial tasks and ensure accurate data handling throughout the employee work time. This automates reading, copying, and syncing data, leading to a significant reduction in time. Also, because the data is complete and accurate, it ensures better compliance.
Reports & Analysis of Surveys and Review
Analysis and reporting activities are a cumbersome process for HR. The data is necessary to be in the correct format and at the right place to make an intelligent decision. It also involves the screening of company surveys and reviews from all the sources. In addition to this, HR needs to spend hours to create and update dashboards consistently. RPA bots, helps to minimize all of this task to a few clicks. These bots ensure automatic report generation, including data capture and cleaning. They also automate the process of screening company surveys and reviews. All of this procedure leads to a reduction in time employed to do the tasks and data consistency.
Time and Attendance
Some employees face issues with the traditional absence management system when it involves tracking of absence and vacation. Manual effort can take up plenty of your time to accurately check employee time record and overtime regulation record in an exceedingly large-scale enterprise. However, with the RPA system, it becomes easy to test the information and trigger alerts if there's any inconsistent information. This ensures the efficient management of the workforce. Also, this helps in reducing the attendance issue and compromise or erroneous data entry. It also ensures accuracy, thereby increasing overall control, likewise as full standard compliance, enabled with efficient planning and shift management, thus reducing the expenditure.
Exit Management
Like the onboarding process, HR is also responsible for handling the exit procedure for the workers in an exceedingly well-defined manner. Implementation of RPA can ensure an organized procedure to hold out the offboarding of employees. The tasks that may be automated are a consolidation of leavers input, generation of exit document, notification to right people, a collection of the company's asset, revocation of system access, and payoff process. This reduces up to 50 to 70 percent of the HR and leaves a last good impression on the employee.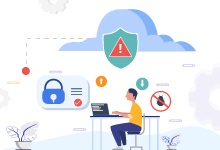 Real-World Implementation of RPA in Human Resources Management
Global tax firm uses hr robots to accelerate—and save cash

.
This worldwide known tax firm has deployed about 23 robots within their HR Department, and now it claims to possess an ROI of more than $ 4million each year.
HR department slashes processing time by 85% in four months

.
RPA software provider Uipath has reported the success of a Swiss insurance provider's HR department. Earlier, six staffers manually processed about 100,000 events per month, handling about 60 hours. Within seven weeks of RPA implementation, they reduced their processing time by 85% and their error rate to zero. In addition, they were also able to cut manual work by 25% with realizing their ROI in 4 months.
New Hire Onboarding Task Time Reduced By 90%
A well-known IT firm required almost half an hour for every new hire to complete their onboarding forms before automation. They also suffered from low accuracy rates thanks to repeated human errors in processing. After implementing RPA, the identical task took 10% of the original time, and remove all the errors. This solution was 100% scalable, with an additional advantage of easy expansion during seasonal hiring spikes.
---
Conclusion
A company is only as good as its employees, which won't change even with the arrival of robots. Robots will help the businesses streamline their business process and differentiate between those who require their unstipulated time. While the robots can perform the others. It can efficiently assemble and consolidate data. It can also significantly reduce expenses. It also helps HR to focus on tasks like handling grievances of the employees. Thus, increasing their job satisfaction and help them concentrate better. By deploying RPA in the business organization in HR services, you ensure through-and-through easy data management. Thus, assigning your mundane day-to-day tasks to a robot is a great benefit.