Subscription

Thanks for submitting the form.
Why is AI in Cyber Security Industry Necessary?
In the Cyber Security sector, customers want to get information about phishing attacks and complaints. Customers also want to know about predicting the threats in a class and total complaints along with phishing attacks. Today's customer wants to get detailed insights about the sectors with the most number of attacks, their cost, yearly analysis of security incidents. Model of AI in Cyber Security Industry helps them predict customer satisfaction status with the cybersecurity industry.
---
AI and cybersecurity measures offer unique opportunities, insights, and speed that have never been seen before. Source: AI And It's Potential For Cybersecurity
---
Solution for Artificial Intelligence in Cyber Security
With Xenonstack Support, one can build accurate and predictive models on real-time data to better understand the customer to know about the complaints and attacks in all the classes.
As a result, we have given a demo of the dashboards for reference; you will be confident after getting the result of the open and close tickets of the attacks and phishing attacks after applying the AI-based model.
Users can quickly get the status of all the cybersecurity information. As for the result, our organization's historical data helps the user get an idea for attacks.
---
Why Xenonstack?
Click on a button and request us to give you the demo of our machine learning prediction model. Here you will get the insights related to threats, phishing attacks, and complaints of the users and check the model's status. Our model will provide you an accurate prediction of the user's attacks and protests. For narrative addition threats and attack status.
---
Dashboard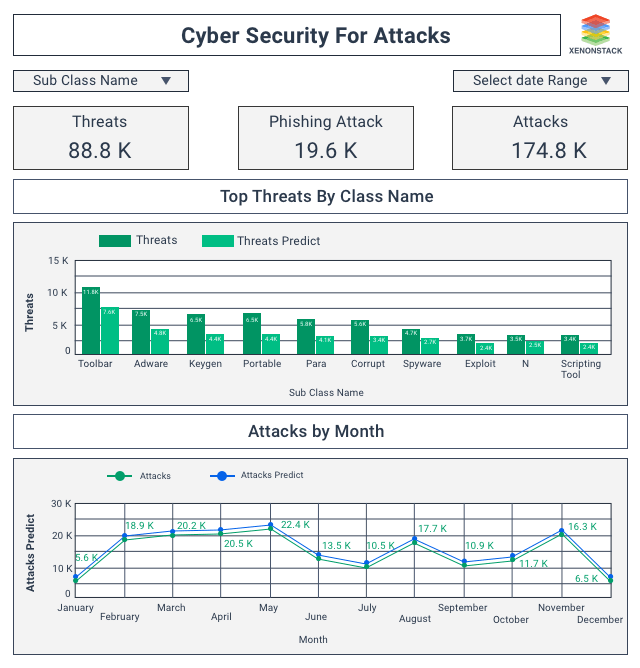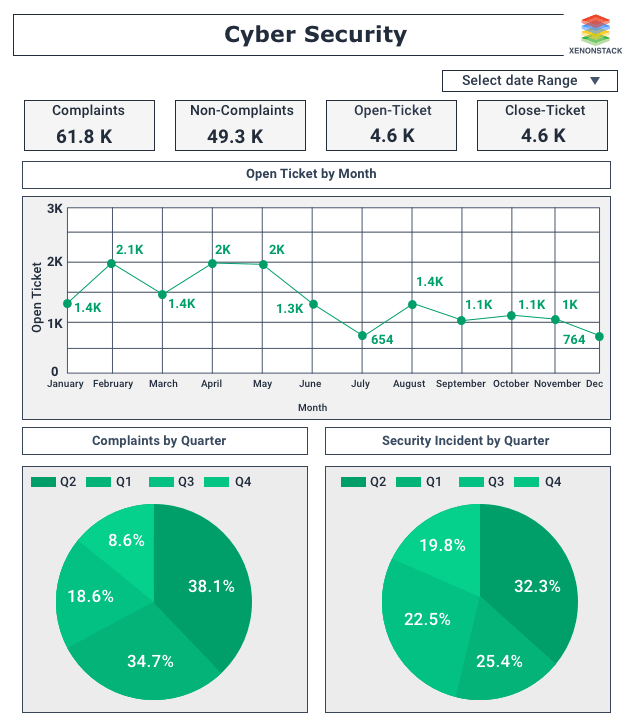 Description
Described below are the benefits of the AI and ML model dashboard in the Cyber Security Industry.
Here, our dashboard shows the threats and phishing attacks and the complaints. We will also get the cost of the incident every month.
And the ratio of the complaints by each quarter shows that in Q2, around 38.1% of the complaints have registered. The security incidents are also more in Q2, approximately 32.3%.
Here we can see several close-ticket and open-ticket as well, and here we can see the number of attacks, around 174.8K attacks in the year 2019 and 2020.
And here, we can see the subclasses by total threats in each class. Here users can get the information of predication on top threats, attacks on different classes, and the attacks predicted every month.