Subscription

Thanks for submitting the form.
Introduction to RPA in Supply Chain
RPA stands for Robotic Process Automation, which allows you to automate the Processes. Robotic Process Automation is a technology that works within the software and eases human efforts and hence called Software Automation. Supply Chain includes the Flow of Goods and Services between the organization and the suppliers. These terms coalesce to form RPA in Supply Chain that has enabled an efficient SCM in the industries.
RPA technology gives the best result in automation testing with their tools, given an RPA developer tests his code daily. Click to explore about, Debugging the Myths and Facts about RPA
A supply chain involves steps that involved getting a product or service to the customer. Some entities are involved in the supply chain include are vendors, retailers, producers, warehouses, Transportation companies, and Distribution centers. RPA in Supply Chain allows supply chain businesses to scale up swiftly to meet supply chain business requirements as demand increases.
---
Automated Processes via RPA in Supply Chain
How has RPA in Supply Chain aided in automating the processes in various Industries? Get to know below:
Order Processing and Payments
Order processing is the request from the customer, and then the supplier will decide that it can fulfill the request or not. It automatically extracts sales order data from all order types (fax, email, mail, or EDI) and eliminates data entry errors. It automates major order processing steps and manages complex business rules to simplify order entry and fulfillment.
Onboarding of Partners
Onboarding is the process for onboard new goods and services. When it comes to Onboarding partners through RPA, we create smart bots that synchronize and help to automate the process of Onboarding.
Shipment Scheduling and Tracking
Shipment Scheduling and Tracking is the process for shipment of goods then schedule and managing it. Automate the Shipment by data entry automatically, Scheduling it by proper conditions on data, and Tracking it by unique ID and the ID generate when we schedule it.
Robotic process automation is a "speed to value" option that supply chain leaders in customer fulfillment can seize today. Source: Gartner, Inc
Invoicing
Invoicing is the supplier's document to the buyer that indicates the supplier's product or services' quantities and cost. The process of Invoicing Data entry, data extraction, and calculation is done through RPA for automation.
Procurement and Inventory
Procurement and Inventory is the process of storing the goods and make them ready for sale, including all the finished goods that are available to be sold. Data entry automatically by Unique id in the Database, which is Automated by the RPA.
Supply and Demand Planning
It is a process of forecasting the demand for the product or service to be produced and delivered more efficiently and customer satisfaction. Automate the process of updating data of required goods and planning to manage new goods entries through the RPA software.
Customer Services
Good customer services typically mean providing timely, attentive, upbeat service to a customer. When customers demand the goods or change in goods, it is directly going to the customer's request portal of the organization. If the demand is new, it will add to the database.
---
The RPA Center of Excellence is a way to embed automation and redistribute resources across future deployments. Click to explore about, Guide to build RPA Center of Excellence
Future of RPA in Supply Chain Industry
RPA in Supply Chain carries a good future in the companies. As it benefits the industries in a good manner as it reduces the process's time, it calculates the process correctly. If you do it manually, there will be a chance for errors, and when it comes to the big stock data, no organization will allow taking the errors.
73% of the organizations will use RPA for the process, which contains repetitive manual tasks. We can say that we have a good future with this technology. Companies that acquire RPA in Supply Chain management enjoy greater accuracy, reduced costs, increased ROI, better customer value, and a host of other advantages.
---
How does RPA help supply chain industry?
Given below are certain benefits of RPA in Supply Chain in the SCM Industries:
Reduce the manual task increase the efficiency of work as it can automatically fix the data change in the database.
Increasing bots decrease in labor or workers. It will be beneficial to the organization because it shouldn't have to onboard so many employees for every single work.
Efficiency in the data store is accurate. There can be possibilities of error in the database if a person does it, but a well-programmed robot doesn't give any error.
---
With RPA, we get a virtual employee who can perform repetitive activity faster and more cost-effectively than humans. Click to explore about, The Best RPA Use-Cases in Industries
Use Cases of RPA in the Supply Chain
Get to know some of the use cases for RPA in Supply Chain Management below:
Supply chain managers use RPA in Supply Chain to create, update, and manage contracts and other data for better supplier management.
Retailers take advantage of RPA in Supply Chain to ensure they have the right inventory levels to meet consumer demands.
Supply chain managers use RPA in Supply Chain to research the supplier and manufacturer markets using consistent criteria, allowing for easier supplier selection.
Manufacturers easily respond to RFPs, questions, and quotes in a timely and accurate way.
Retailers and manufacturers get early shipping notifications, so they can plan to receive and process raw materials or finished products.
---
Challenges towards RPA in Supply Chain
Supply chain management businesses use robotic process automation to automate mundane, small-value tasks, which simplified operations in the supply chain and reduces human error. But still, RPA in Supply Chain faces challenges on its adoption in SCM Industries:
Supply chain management is the multi-step nature of processes. Problems arise when organizations leave automation after using it once. Their probabilities of error must be increased in the databases, or we need to calculate the goods transferring from one place to another.
All the processes must become slow as every task will be done manually.
Companies need automation for their ease of work. It affects the organization in cost and efficiency.
We need automatic machines in the factories these days. Similarly, Software processes also need automation. But the match doesn't ever happen.
---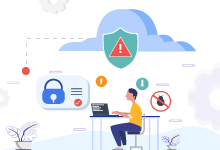 Summary
RPA in Supply Chain management results from a 43% time reduction in billing, managing data, credit, collections, etc., which are tremendous gains for any organization. SCM with automation gives the organization another level of hike in productivity, cost, etc. These both technology going so far in the future.

"Happy automation makes your process of work more interesting."