Introduction to Productivity Paradox
Productivity Paradox means a slowdown in productivity growth. Our total production appears to be declining as the world invests more in technological innovation. In other words, even though technology promised to make our lives easier, we are all busier than ever. Investing in the wrong technology can create a huge productivity paradox in an organization. On the other hand, Robotic Process Automation is computer software that automates repetitive processes. RPA software can execute such tasks as if they were performed by a human, with the minimum mistake, saving employees from repetitive, dull tasks. It has the potential to fulfill technology's promise of making our lives better and our businesses more profitable.
RPA can fulfill the space between Cloud ERP and legacy application, recalling the legacy operation's value and adding the cloud's capabilities. Click to explore about, RPA in ERP for Systems Transformation
Why Robotic Process Automation?
An employee's productivity directly affects the organization's productivity. Various processes in an organization need to be done daily or in some periods that are repetitive and rule-based. These processes can create dissatisfaction in employees because an team member needs to repeatedly perform the same task, which doesn't include any intelligence, and team member dissatisfaction affects an employee's productivity.
RPA software automates tasks in each business unit without requiring specific software skills. Also, it is simple to integrate RPA with various software. Employees can get away from technology applications that distract them by using RPA to focus on more valuable jobs by which they can demonstrate their performance and increase productivity.
RPA in Businesses
Robotic Process Automation(RPA) has changed the way businesses operate since its debut. RPA is used by businesses in various industries and marketplaces to automate routine processes that require some or no human intervention.
By using RPA, you can:
By automating boring day-to-day operations, you can save a lot of money.
You can allow employees to focus more on complex tasks.
Reduce chances of error
Boost your organization's overall efficiency.
Robotic Process Automation (RPA) automates tasks across applications and systems. Click to explore about, Intelligent Robotic Process Automation
What are the benefits of Robotic Process Automation?
The benefits of Robotic Process Automation in businesses are listed below:
Increased Productivity
The majority of RPA robots are built to execute specific routine activities. If a human employee takes four to five hours to complete a report, RPA may do the same report in 20 to 25 minutes. Let's have a look at an example.
Consider the money and time you'd save. RPA has not replaced humans, as demonstrated by the example. It indicates that if your employees use RPA, they will be more productive. Thanks to technology, they can complete the same amount of work in less time.
Increased Efficiency
Humans can only work for a few hours a day. It depends on the individual's capacity. However, RPA software does not require any break, and it can work 24/7 for an organization. For example, if a person needs to check email and download attachments, an employee will take around 20-30 minutes to open approx. One hundred emails and download attachments from them, but the RPA bot can perform the same task in 5 mins. So here, the efficiency of the process increased; thus, productivity also increased.
It is Non-Disruptive
For three key reasons, most business owners are unwilling to replace or improve their legacy systems:
Replacement costs for older systems
Business downtime
The complexity of IT infrastructures
The advantages of implementing RPA in business operations also apply to outdated systems. At the UI end of the presentation layer, RPA bots can work with legacy systems just like humans work. It can automate daily activities and extend the lifespan.
Optimized Resource Use
Humans are prone to errors when performing repetitive and arduous tasks. To achieve excellent efficiency in company operations, the danger of errors must be eliminated. Routine business procedures can be easily automated with RPA. Employees are freed from tedious, repetitive jobs, allowing them to concentrate on strategic activities worthy of their time and effort.
RPA is one transformation which is automating our daily repetitive tasks. Click to explore about, 3 Best RPA Tools
How RPA helps to overcome the productivity paradox?
Robotic process automation (RPA) software technology automates business processes at the user interface (UI) layer. Software robots, like humans, can write the necessary keystrokes, read what's on a screen, traverse systems, find and extract data, and carry out a range of specified activities. As organizations look to empower core business operations digitally, Gartner expects that 90 percent of large enterprises worldwide will have embraced RPA in some form by 2022. Employee productivity can be boosted in several different ways with RPA:
Encourages staff to concentrate on high-value, high-stakes tasks: Robots can now execute high-volume, repetitive, and tedious tasks like logging into applications and systems, moving files and directories, extracting, copying, and pasting data using RPA. RPA allows employees to work on activities that offer significantly more value to the company, such as collaborating, developing, producing, and engaging with consumers.
High on resilience: "resilience" has been a buzzword throughout the pandemic. Companies have been working very hard to improve the resilience of their operations, procedures, and networks. RPA assists in the continued operation of important back-end business operations, particularly in unanticipated outages, demand surges, or personnel shortages.
Assists in integrating current systems and applications: Organizations (particularly in the banking and finance industry) have a large inventory of mainframe legacy applications and information systems built on obsolete technologies. Because most of them aren't compatible with APIs, RPA becomes an excellent alternative for keeping these outdated systems running. Computer vision technologies make it easier for software robots to grasp the information on the screen more clearly.
RPA can transform how a person works in an organization if implemented correctly. Employee productivity and job satisfaction will skyrocket as repetitive and mundane jobs are automated, resulting in increased customer satisfaction.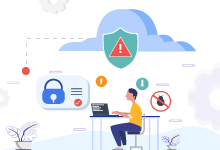 Conclusion
Before going on a quest to integrate RPA into your business, determine which operations can be automated to provide you with the most benefits. Discuss with the suitable RPA partner to determine the impact of RPA on people, procedures, and policies. Look for departments and functions that could benefit from automation. When it comes to RPA, you should think about human resources, finance and accounting, sales, and supply chain management.
RPA can transform how a person works in an organization if implemented correctly. Employee productivity and job satisfaction will skyrocket as repetitive and mundane jobs are automated, resulting in increased customer satisfaction. All the benefits of RPA contribute to the productivity of an organization. Thus we can say that RPA can overcome the productivity paradox.