Subscription

Thanks for submitting the form.
What are the best RPA Tools?
The humans are again entering into the new era of automation. It is one transformation which is automating our daily repetitive tasks. Just like chatbots and AI, RPA enables a higher efficiency in human actions. With its Tools, we get a virtual employee who can perform repetitive activity faster and more cost-effectively than humans.
The technology about business process automation where repetitive human mundane tasks are automated. Source: Best Practices
---
Three Best Robotics Process Automation Tools are -
Automation Anywhere
Blue Prism
UiPath
What is Automation Anywhere?
Automation Anywhere is one of the best and most powerful RPA Tools that changes the way an enterprise operates. This Robotic Process Automation tool combines it with elements like Natural language understanding and reading any unstructured data.
What is the architecture of Automation Anywhere?
Automation Anywhere has three components:
Control Room: It is the Server that helps us to work with the Automation Anywhere bots
Bot Creator: To create the bots desktop-based robotic process tools are used. The developer licenses get checked in the control room. And the code of the bot gets stored in the control room. Different developers create tasks or corresponding bots. These bots can be merged and executed once.
Bot Runner: To run the bots we need the License. The Bot runner is the machine where it bots run. We can run multiple bots also at the same time, which makes it one of the best Tools.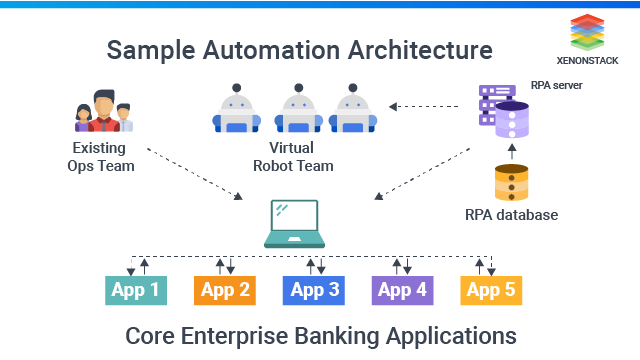 What are the advantages of Automation Anywhere?
It automates the difficult tasks quickly.
The tasks can be distributed to multiple computers.
We can automate the tasks by recording keyboard clicks and mouse strokes.
Minimizes the chances of getting the human due to the reduction in manual data entry.
This Robotic Process Automation tool also helps in a reduction in the number of hours worked on average by factory workers.
It saves the cost of labour, energy, and time. And it increases the accuracy of work.
Automated cells perform the manufacturing operation with less variability than humans. This way results in greater control and good product quality.
We get the 24/7 production with bots.
Its tools can learn new processes quickly.
We can switch to different products without completely rebuilding production lines.
---
Automation Anywhere provides centralized deployment and control system for managing, monitoring and scaling bots across business functions. Source: Automation Anywhere Solutions and Services
---
The best applications of Automation Anywhere
Travel Business
Finance sector
Social platforms
Energy sector
Organizations currently using Automation Anywhere
PNC: Banking
Kaiser Permanente: Insurance & Managed Care
Guidehouse: Management & Business Consulting
Travellers: Insurance
Amgen: Pharmaceuticals
---
What is UiPath?
UiPath is another one of the best tools. It is a windows desktop tool. This Robotic Process Automation tool contains multiple activities which help us to reduce the repetitive task, reduce human power and scalability. It works on the flowcharts, sequence, and Framework.
What is the architecture of UiPath ?
This RPA Tool consists of three product suites.
Uipath Studio: Studio helps us to build automation workflows with the pre-built activities. The simple and the tricky task can be automated with the help of a path according to the client's requirements.
UiPath Robot: The UiPath is one of the best tools and its robots execute the workflows which were designed in the studio. To perform the task, we need to make sure that the robot is in the running state.
UiPath Orchestrator: Orchestrator of Uipath is used to publish the projects or to execute the automation workflows to make sure that the automation works on different systems simultaneously.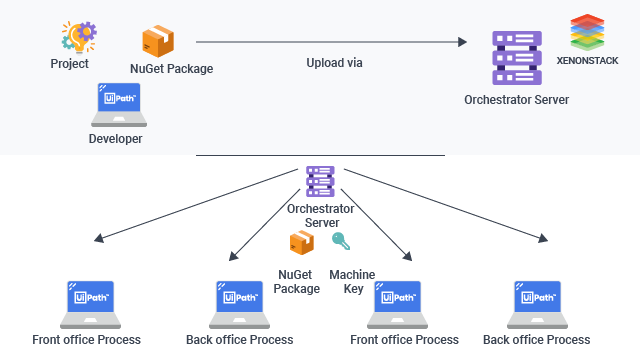 The components of UiPath Studio which helps us while creating the workflows for automating the task:
The Ribbon
The Universal Search Bar
The Activities Panel
The Library Panel
The Project Panel
What are the advantages of UiPath?
It can be hosted in the cloud environments or virtual terminal.
UiPath allows handling all the robots simultaneously by users with the help of a centralized repository.
It offers an auto-login feature to run the bots.
Other automation tools do not go well with the automation of desktop applications.
The UiPath works well with :
Desktop Automation
Remote applications
Data handling techniques
Scrapping techniques
The methodology of writing the logics
It has recorders for desktop apps, Citrix environment, and terminal emulators which makes creating automation much faster
---
UiPath automate all the mundane back-office functions which occupy a large portion of the worker's daily routine and also makes it error-free. Source: UiPath – UseCases, Benefits, and Features
---
What are the applications of UiPath?
Finance and Banking
Healthcare
BPO
Insurance
Manufacturing
Telecom
Retail and CPG
Public Sector
Companies currently using UiPath
RPA Health Sciences: Medical Testing & Clinical Laboratories
Guidehouse: Management & Business Consulting
Wells Fargo: Banking
MTB: Banking
Kaiser Permanente: Insurance & Managed Care
Cargill: Food, Beverages & Tobacco
---
What is Blue Prism?
Blue Prism is a UK-based product development company in Robotic Process Automation. They supply tools that help to automate clerical back-office processes that work the same as a human. Blue Prism invented Robotic Process Automation. The operations done by Blue Prism enable them to be agile and cost-effective by automating manual, repetitive back-office processes and improve their accuracy by developing "Digital workforce". It gives the flowchart with drag and drops for automating the process step by step.
What is the architecture of Blue Prism?
Blue Prism has two components :
Process Studio: Process studio is the same as that of the flowchart. It is the area where the main process is created, which allows control loops, variables, object calls, and business logic. A process acts the same as that of the human user. It uses the robot's logic.
Object Studio: It is the place where we create a visual business object. They are created to interact with other applications.
The object studio gives some"stage".
The object studio does not have the main page, but it does have two default pages.
The pages are in the group and not in the hierarchy.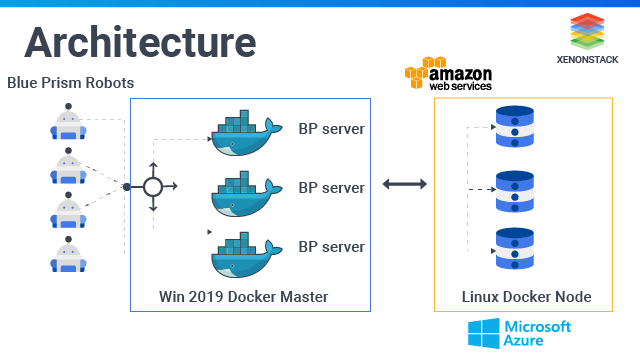 What are the advantages of Blue Prism?
This Robotic Process Automation tool doesn't need the technical knowledge to implement.
The process can be implemented very quickly.
Robust and feature-rich analytics suite.
Build an efficient end-to-end business procedure.
Improved control room to serve real-time feedback on the robot's status.
It helps employees work by simplifying, integrating, and automating the technology and processes.
It helps in automating the processes of Banks, Finances.
Automates the backend. The employee from morning handles the same data till evening.
It includes the browser-based interface, windows interface, mainframe applications via terminals, and interfaces using java.
---
Blue Prism's connected-RPA offering provides enterprises with an intelligent digital workforce capable of self-learning & continuous improvement. Source: Blue Prism Robotic Process Automation
---
What are the application of Blue Prism?
Public Sector - citizen-centric platforms
Finance sector
Communications and media
Industrial manufacturing
Health and Life sciences
Education sector
Companies currently using Blue Prism
Prism
Cognizant
Accenture
Capgemini
Deloitte
Genpact
IBM
TCS
Tech Mahindra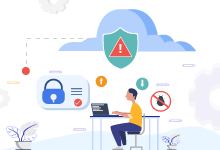 Leapwork
Leapwork Is a visual object-oriented tool that is ideal for testing. It is an all-in-one platform that allows codeless automation of tests and processes. It efficiently automates manual testing across the web, desktop, and Citrix. It also allows cross-browser and Test Driven Testing. If there is a need to repeat the software test, Leap work can be used to automate that test. It provides 14 days free trial with all functionality.
Zaptest
Zaptest is a full-stack, cross-platform Enterprise software test automation & Robotic Process Automation tool designed to remove repetitive tasks workflow. Zaptest software works with any GUI or API. No coding knowledge is required to run automation on different platforms simultaneously. It Increased productivity & efficiency and also reduced costs.
Features:
High ROI: ZAPTEST software test automation tool helps you to 10 X ROI by saving your time & money in the testing process.
1Script Implementation: IT allows the testing across the different platforms without modifying the code for each platform.
Parallel Execution: Simultaneously, it can run multiple scripts on different platforms.
Unlimited License: One investment in zaptest's Robotic Process Automation services & tools provides you with unlimited licenses across the entire organization.
Cross-Platform: ZAPTEST tool runs scripts on any platform, such as Linux, Windows, macOS, IOS, Android, and many more, without any adjustment.
One-click document conversion: It creates automation test documentation with one click and converts a script into HTML, CSV, or XML document.
Robotic Process Automation Tools Comparison
| | | |
| --- | --- | --- |
| UiPath | Automation Anywhere | Blue Prism |
| Uipath offers a user-friendly dashboard | Automation anywhere is user friendly and script-based | Blue prism is easier than automation anywhere and is visual-designer based |
| Uipath doesn't require any programming language knowledge. | Automation Anywhere does require a little knowledge of coding to use the activities. | It needs a basis of programming to manage the business objects |
| It has mobile and browser accessibility | Automation Anywhere can be accessed through apps. | It can be accessed through apps |
| It works on front-office and back-office both. | Automation Anywhere works on front-office and back-office both. | Blue Prism work on Back-office operations. |
| Frequent crash in medium projects | Large-scale robot deployment. | High speed of execution |
| Good in Citrix environment designed for BPO automation | Rational accuracy across mediums. | Web, desktop and Citrix automation |
| Low cognitive capability | Medium cognitive capability | Low cognitive capability |
| Base technologies are Microsoft SharePoint, Kibana | Baseed on Microsoft's technology | Base technology is C# |
Which tool is best for your business?
UiPath is suitable for the automobile, BPO industry where repetitive work is more and no intelligence is required.
Blue Prism is useful for BPO, back-office work.
Automation Anywhere is good for HealthCare, Aerospace, Pharmaceuticals Company because IQ bots can be created in this technology.

What are the Use Case of RPA Testing Tools?
Test Case UiPath: You can create a test case by Invoking a workflow from an existing project. You can create individual projects such as Data verification & integration. Perform automation testing in C# or VB.
Use Case of Test Case in UiPath.
Step 1: In the Project Folder, create a Test Case.
Step 2: TestCase workflow in UiPath Studio.
Step 3: Test Case Results in UiPath studio.
Testing is one of the main objectives of any software development. UiPath studio testing is very easy to test the code before deploying. A developer can test UiPath testing to test every workflow in the project.
What are the advantages of its Testing?
Reduced Time: Run Test Case Parallel.
Reduced Error: Automated testing allows you to find most bugs and errors.
Increased Productivity: By improving performance, quality, and faster response time.
Increase Efficiency: Automated repetitive tasks. Operates 27/7, which also reduces the Processing cost.
Provide Accuracy: Provides accuracy with the User Acceptance Testing(UAT).
Some Myths about RPA Testing
RPA is similar to Test Automation: Test automation are similar because both are involved in automation. Both offer the same features of reducing manual efforts.
Robotic Process Automation
It can be applied to the product and automate repetitive business processes.

Test Automation
Test automation can only be applied to products.
Testing tools like Selenium can be used as RPA tools: No, we can not use testing tools as Robotic Process Automation tools because testing tools require software to run. It can be applied to everything except products. Hence, No testing tool is available in the market, similar to it

.

RPA causes job loss: Just like every coin has two faces, it will take away some jobs, and on the other hand, it will create some high-quality jobs.
It provides more opportunities to humans.
It enables employees to be more productive.
It combines highly advanced cognitive technologies to replace human efforts in repetitive and time-consuming tasks.
Conclusion
The companies that implemented the Robotic Process Automation do not think of replacing their employees with the automated bots. Instead, they want to relocate these workers to focus on creative and strategic work more rather than repetitive work. However, not implementing Robotic Process Automation correctly causes RPA projects fail.