Introduction to RPA Governance
RPA is a new normal in the world of business. Robotic Process Automation is a software tool design to execute the Human manual process into automation to work on another complex task. The success of scaling up RPA business lies in proper governance that may organize proper guidance, processes, and mechanisms to manage and control the RPA activities to realize the expected benefits from technology. No wonder there was a need for RPA Governance Model.
---
It's vital for your organization to establish an RPA strategy that includes comprehensive governance, risk, and control practices. Source: Ernst & Young
---
The developed RPA governance model accounts for process modeling and process improvement for automation, which known IT management and governance processes model lacks. Moreover, managerial implications from RPA characteristics' nature might not be noticed from the first look at the developed RPA governance model.
Firstly, the automated process needs to be well organized, including process identification, assessment, and prioritization before the implementation.
Secondly, the deployed robots need oversight, including scheduling by assigning tasks, continuous maintenance and support, and applying more controls for security risks and vulnerability for failures.
The RPA governance model has components of an IT infrastructure, support services, code management, incident management, and more to support software robots' implementation, maintenance, and management.
---
RPA Governance Framework
RPA governance is a term used for the structures, leadership, rules, and processes around RPA. It is a key for unlocking the dreadful potential of RPA initiatives. Know some of the elements of the RPA Governance Framework below:
Strategy, Leadership & Organizational Fit: Ensuring sponsorship, accountability, and the fitting mindset will pave the way for the digital workforce.

Organizational Expedition & Change

: Make RPA in Supply Chain – Reimagining Your SCM with RPA Bots sure your rules-of-engagement, roles & responsibilities, and change impact are properly defined and understood.
Deployment and Operations: Align process pipeline management and methodology to avoid silos, redundancies, and operational vacuum.
Security and Compliance: Manage your business continuity, data access, and security as an integral part of the digital workforce.
---
RPA software robot makes zero mistakes and never sleeps. But, sometimes RPA projects fail and we will tell you why ahead. Click to explore about, Why RPA Projects Fails and How to Avoid Them
Need for RPA Governance
Software robots deployed without governance can be inefficient and most likely will be cost-effective and burdensome. Without a structure to control it, automation becomes more responsive – more agile – and less rule-bound. However, the dearth of clear governance increases risk when automation is expanded and used more widely. RPA governance is needed to handle complexities and ambiguity in automating business processes. The following will make an understanding of why we need RPA governance.
Business Continuity with RPA Maintenance
Robotics can help improve business flexibility by alleviating staff pressure and freeing the target system fails to launch, calling for the incident and problem management. In the Federal Bank case, a realistic example is one of India's leading private sector banks. When the COVID-19 lockdown occurred, most of the bank's employees were forced to work from home. RPA automation kept the bank's key processes running as per usual. The bank has more than 100 processes automated on the RPA Platform, enabling the organization to continue delivering banking services even during the lockdown. One can't imagine what Financial crisis would occur if the banking systems were deteriorated due to the absence of humans physically in those banks (when employees had to work from home).
Security in Business
Policies for Security, framework, and Implementation are defined as part of the Governance Plan and describe the roles and responsibilities of the automation process and the methods, standards, and guides to follow.
Feasibility and Scalability
RPA technology makes the business more scalable and increases the possibility of automation in repetitive business processes. RPA technology increases business growth.
---
---
RPA technology gives the best result in automation testing with their tools, given an RPA developer tests his code daily. Click to explore about, Debugging the Myths and Facts about RPA
Challenges in RPA Governance
What lies ahead after introducing RPA Governance in RPA models of enterprises? The Challenges! Let's go through some of them below:
Starting with reasonable expectations
Managing employees' resistance
Inability to automate end-to-end processes
Insufficient assistance from the business department
Lack of effectively structured RPA implementation team
Technical and operational issues
The dearth of communication between application owners and businesses ensures a smooth transition and handover to the RPA project. It takes care of where responsibility for this RPA initiative will be taken.
---
RPA Governance Best Practices
One proven way to implement centralized automation management is via a Centre of Excellence (CoE). The best practices of Robotic Process Automation states that the use of bots doesn't increase negative risks for the organization in the development of reusable solutions. The responsibilities of a Centre of Excellence will depend on the exact governance model used. The most common activities include the following:
Drive robotic process automation in the business, training teams, and increasing awareness of RPA in those.
Calculate the criticality and quality of the developed solutions, ensuring the application of best practices.
Monitor the operation of bots and guarantee that execution SLAs (service-level agreement) are met.
Follow and report the main development stages.
Guarantee the execution of established governance processes.
Guarantee the continual improvement of processes and tools.
---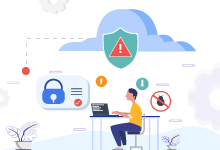 Managing RPA bots
So how to manage the RPA Bots? There are some approaches we think are best in managing RPA Bots to a large extent:
Falls completely to the hand of the RPA team.
Split precisely between the RPA team and business.
Analyze the data that the bot is delivering.
Ensure the bot is not taking a long time to do a process.
---
Concluding RPA Governance
The topic concludes that how can we make RPA technology more efficient by making it rule-based. RPA software robots are basically the tools that cut down costs and improve productivity in businesses. However, to these ends, it makes you understand, first, to acknowledge, and second, to overcome the Challenges of RPA Governance Implementation. To support AI, RPA, and ML together, companies define clear Governance procedures. This, in turn, allows for faster internal write up, onboarding, and other internal Processes. Just Remember, " End Repetitive task, Let Potential Talk."