Subscription

Thanks for submitting the form.
Introduction to IOT (Internet of Things)
The Internet of things may be a system of interrelated figuring gadgets, mechanical and digital machines, or individuals given unique identifiers (UIDs) and therefore the ability to move information over a network without expecting human-to-human or human-to-computer interaction.
The Internet of things is influencing our lifestyle. Internet of Things is a giant network with connected devices. These devices gather and share data about how they are used and the environment they are operated. It's all done using sensors, and sensors are embedded in every physical device.
An application that helps to understand the huge volume of data generated connected Internet of Things devices. Click to explore about, IoT Analytics Platform for Real-Time Data Ingestion
With the assistance of Internet of Things, we can link real-world things to the internet. We're capable of associating every real-world object to the internet. These microcontrollers or microprocessors are associated in a way to present real-world things. These sensors could transmit information in the interest of the objects.
How does the IOT (Internet of Things) works?
Internet of Things provides a common platform for all devices to dump their data for all the devices to communicate with each other in a common language. All the data is emitted from different sensors and sent to all platform security IoT Platforms integrated the collected data from various sources. Further analytics is performed on that data is extracted to requirement, and the result is shared for better user experience, automation, and improving efficiencies.
A total Internet of Things framework coordinates four parts: sensors/gadgets, connectivity, data processing, and a user interface,
IoT Smart Business Operations
Digital technologies, including cyber-physical systems, the Internet of Things, and distributed computing, can influence each part of the production. In the modern era, information is the new oil, with the capacity to offer some benefit at each progression of the item lifecycle whenever separated adequately. However, numerous organizations don't have the procedures and frameworks to gather and dissect information and create bits of knowledge that lead to noteworthy outcomes.

Enter Smart Connected Operations (SCO)— abilities that influence the production of bits of knowledge at scale. Organizations can improve operational execution and make new action plans through keen associated innovation/IoT, progressed examination/AI, perception, and cloud innovation.

These "Savvy Connected Devices" use Internet/IP availability and standard conventions (making them simple to associate with Internet of Things applications running in the cloud or somewhere else in big business frameworks.

The capacity to associate straightforwardly lessens the expense of gathering data, such as maintenance or enterprise quality, quality, not required for control. Instead of adjusting wiring, PLPCs, MOM, and business framework interfaces, an IoT application can get to an edge gadget for suitable data.

If a valve has interior data about its state, past support, and execution, this data will be helpful to predictive maintenance systems. Likewise, it can be collected with comparable gear across plants and even past the endeavor (by a seller, for instance) to help improve execution.
A suite of cloud computing services provided by Google and runs on the same platform that Google uses internally for its end-user products Click to explore about, Google Cloud Platform IoT Services and Solutions
Smart Connected Operations
Legacy is the name of the sport in manufacturing technology. Although manufacturing is hot and lots of new plants are being built to bring operations closer to the purpose of consumption, the most important opportunity remains to modernize existing plants and assets. As described above, workplace to top floor integration has proven over the past 30+ years to be largely an intractable problem; the IoT Platform will change this in two ways.
First, the normal architecture will converge and flatten as solution providers port or existing rewrite applications to run on top ofplatforms. Moving forward, it's likely that there'll be vendors talking much more about Internet of Things-enabled MOM, MES, sensors, instrumentation, controls, assets, and materials. This IoT enablement will trigger the emergence of "Smart Connected" Assets and Operations.
Second, the creation of Internet of Things enabled next-generation systems will enable the true workplace to top floor integration and mashup applications by eliminating the dependency of unbroken integration between traditional systems and allowing the flow of knowledge to and from anywhere in ways that add up given limitations of legacy systems and, therefore, the use cases for new business models.
The Internet of Things may be a transformative technology that will change the definition of IT-OT convergence, manufacturing system architecture, organizational structure, and business models.
IoT technology will be incremental and a part of an extended-term trend, but the opportunity is here today. Companies that fail to properly educate themselves on the new technology and start to take a position in pilot projects will likely lose any competitive advantage and even miss entire industry-wide changes, which will happen as fast as a couple of years.
No single vendor today can deliver all the needed capabilities of an IoT Platform, Smart Connected Asset, Operations, or Enterprise. It is essential to create relationships with traditional IT vendors, OT vendors, System Integrators, and Next-Generation Internet of Things Startups.
Vendor collaboration is critical for delivering on the vision of Smart Connected Assets, Operations, and Enterprise. specialize in vendors that have a robust partner strategy and are participating in industry
consortiums.
Most companies today lack the interior skillset and structure to deploy new Internet of Things enabled technology effectively. Work on creating new manufacturing IT groups that compile IT, OT, and business leaders.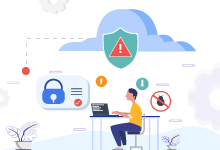 Conclusion
IoT is a trending keyword in the technology sector. The Internet of Things is a simple concept, and it means taking all the data and storing it on the internet. To recognize the opportunities for automating processes and use data analytics to enhance industrial process execution. Hence, in the fast-moving pace of digitization, organizations invest a lot of time and effort to dive into this wave ranging from industry to industry.