Introduction to IoT Testing
The Internet of Things is the emerging digital transformation trend that many organizations are adopting as the world moves toward digitalization. According to a survey, it is assumed that there will be billions of connected devices by the end of the year 2020.
IoT testing considers functional and Integration testing to perform the functional type of testing and performance testing to check how a particular software handles large amounts of data transmitted within a few seconds.
What are the benefits of IoT testing?
The Internet of Things (IoT) significantly impacts digital transformation and manufacturing products and software services businesses worldwide. According to research, it is assumed that there will be billions of connected devices in upcoming years. Delivery of robust, bug-free IoT solutions earlier to the market could be beneficial for organizations. They are testing many diversified devices, and generating data causes consequential challenges in scaling the items, speed, and different types of variety for internal testing teams.
Traditional software applications' approaches to controlling the processes are not sufficient for such IoT solutions. Order to gain the standard of such difficult IoT solutions requires a multidisciplinary testing approach. Instead of developing pre-planned testing scenarios and strategies, integrating a suitable automation approach, virtualization, and measuring tools are big in IoT testing.
IoT is connected using the Internet capable of sending the data to the Cloud. Click to explore The Comprehensive Guide to IoT
What are the challenges involved in IoT Testing?
IoT solutions are the composition of several approaches. Firstly, the mixture of solution components consists of – hardware device, application software, server software, network, and client platforms. Secondly, the large scale and throughput at which they're expected to function across networks. Thirdly, the innumerable user and environmental situations under which they're contemplated to work.
The Scale of Operations
IoT solution deployment necessitates thousands of interconnected devices, which hook up with servers (on-premise or within the cloud) over near real-time networks. Server infrastructure and framework are made on multiple and distinct interconnected services and applications from different vendors. Testing such a posh, multi-vendor environment and simulating real-time situations is often a challenge.
Software-Hardware Interconnection
Testing an IoT game plan isn't sensitive to the application or the gear. It requires a joined IoT testing approach for this interconnected and dynamic and incredible and intensive environment. Other than ordinary helpful and non-utilitarian testing of the certifiable programming and gear parts, investigate a couple of commonsense circumstances and even theory ones that contemplate the relationship between them.
Platform Heterogeneity
In such various fields, there are many software, firmware, and hardware platform reconstructions. Additionally, there are distinct network protocols and mechanisms for device-to-server connections like MQTT, HTTP, COAP, and WebSockets. Testing for all possible combinations isn't practical. Shortlisting significant test scenarios requires an intensive understanding of end-use situations, domain knowledge with specifications, and a platform-skeptic and automatic test suite.
Functional Testing reviews every aspect of a piece of software to make sure that it works correctly. Click to explore about, Functional Testing and Its Types
Real-time Data Velocity
Difficulties from eccentric organization equipment and Internet associations could influence gadget execution and, at last, the IoT arrangement. Since these gadgets are, for the most part, distantly associated, such circumstances bring about baffled end-client encounters. Testing the responsiveness of gadgets and applications for genuine results could be a consistent necessity throughout the IoT arrangement advancement life cycle.
User Experience
Consistent and steady client experience covering portable (normally iOS, Android) and work area (commonly Windows, Mac) conditions is fundamental for any IoT arrangement. Further, saving local experience on versatile stages is also a certain necessity. Testing should consider these different client conditions across various brands, forms, and screen sizes.
Security & Privacy
Networked devices and applications exposed on the general public Internet are always liable to being hacked. Conforming devices and applications against the prescribed security standards is significant. As the Internet of Things grows, hackers are constantly trying to seek out system weaknesses. Constant security upgrades and testing could be a must in today's environment.
An application that helps to understand the huge volume of data generated connected Internet of Things devices. Click to explore about, IoT Analytics Platform for Real-Time Data Ingestion

What are the different types of IoT Testing?
Highlighted below are the various types of IoT Testing: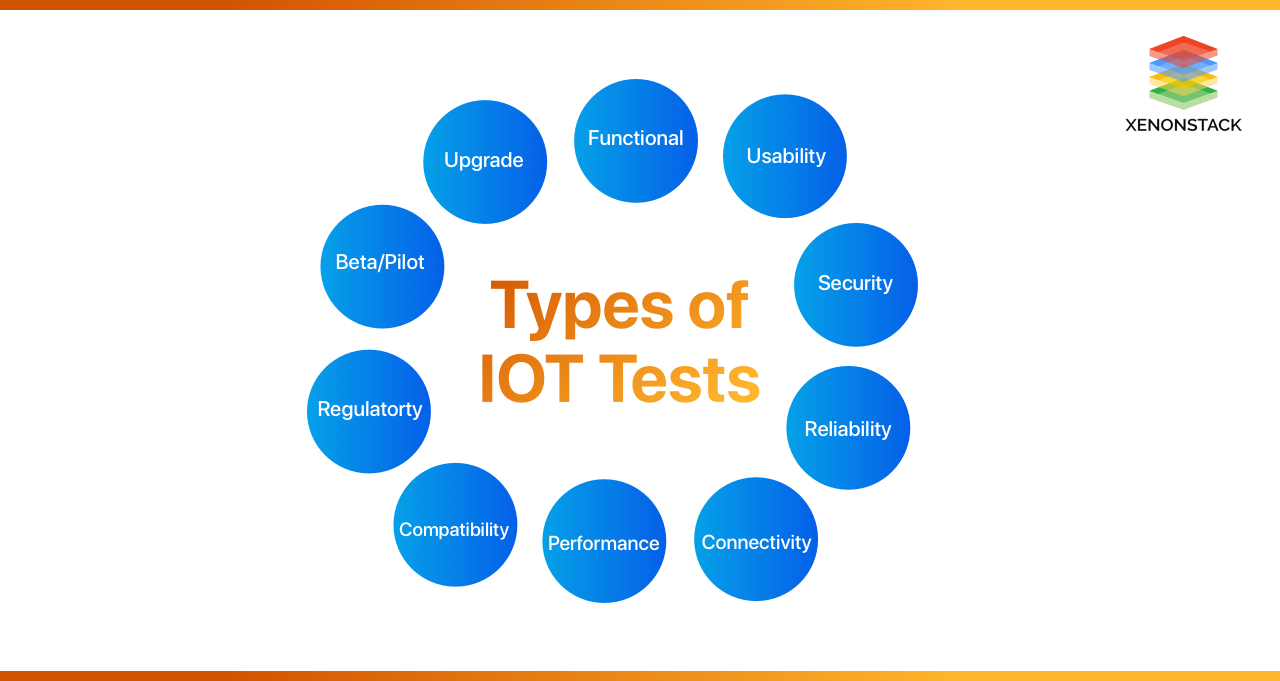 Functional
This is to ensure that the work product that's visiting interacts with various other connected devices within the IoT ecosystem. It first works consistently for what it was designed to do.
Usability Testing
Usability testing ensures that the interface of the gadget and the application meets client assumptions and affirmations. The principal focal point of those tests is to affirm the accommodation of utilization for some fundamental tasks, responsiveness, protecting nativity, elegant treatment of blunders, and type to utilize the gadget/application without preparing or an aide.
Reliability Testing
This is to make sure that the work product is ready to perform reliably under distinct changes in the environment, network, and other operational conditions and is still ready to deliver what's expected.
Security Testing
Security in its simplest form means authorized access is granted to the protected device, and its data and unauthorized access is restricted. Testing is completed using threat modeling, static code analysis, and runtime check tools, subjecting the device and application to a spread of simulated threats. Security tests also encompass checks for OWASP Top Ten Threats.
Connectivity Testing
This testing intakes checking the device and application behavior by subjecting the network through a load, fragmentary failures, and total loss of connectivity. By inducing these real-life scenarios, the robustness and sturdiness of the device, edge, platform, and application are examined thoroughly.
Performance Testing
Load generators are performance measuring tools on the cloud rate system performance under normal and full load. These tests check their responsiveness to user actions on the device, and on a platform layer, they check the flexibility to handle spikes in traffic gracefully. They've supported metrics for assessing the responsiveness of the device/application and underlying system performance.
Compatibility Testing
In a complex IoT climate, it's basic that gadgets, organizations, stages, applications, and end-client work areas/mobiles add pair. Each of them includes a deep level of fluctuation in the firmware and equipment models and forms; network type, speed, conventions, and adaptations; programming framework type and shapes; program type and forms; screen sizes and show goals, to name a few. Look at the apparatus by and large for potential mixes of those adaptations to downsize disappointments inside the field.
Compliance & Certification Testing
A well-tested IoT product can also require the correct certification to line foot within the market. IoT devices generally must meet distinct certification qualifications for the network, protocol compliance, device drivers, app store submissions, etc.
Beta (Pilot) Testing
After testing in an exceedingly controlled and managed lab environment, the work product must be deployed in its target environment with all the variables to determine its behavior. Beta testing enables acceptance testing because the intended user validates the work product for functionality, usability, reliability, and compatibility. Since end-users do it, beta testing isn't a controlled activity.
Upgrade Testing
Whenever the firmware, software, or hardware updates or upgrades occur, it concerns thorough regression testing as failures may appear because of compatibility issues. To handle this, special tests are often performed in an exceedingly staging environment before upgrades are pushed over-the-air (OTA) to devices and on server systems. Post an upgrade, update, data preservation, and a smooth system restart are critical.
A type of testing in which individual units or functions of software testing. Click to explore about,

Unit Testing Techniques and Best Practices
What are IoT Testing Tools?

To accomplish the wide selection of IoT tests listed above in an exceedingly staging environment, the use of the proper simulation, virtualization, automation, counterfeit, and measurement tools is necessary. A number of the tools that would be used are listed below:
Protocol/Device Simulators
Devices and Protocols, which are standards-compliant, are often simulated using tools. They'll be simulated in bulk in addition to being configured to map the desired real-life states.
Record & Play Tools
Whether it's devices or applications, system and user actions/data are often recorded and replayed on simulators and apps to automate the test execution process.
Mobile Testing Tools
They provide automated functional mobile testing that replicates end-user experience and confirms that the application works and is enhanced.
Security Testing Tools
They can be arranged into static code investigation and runtime danger, danger demonstrating, and inciting devices. Devices Micro Focus, Fortify on Demand, OWASP ZAP, VGC, and Microsoft Threat Modeling Tool distinguish dangers, focus on them, and give suggestions en route to fix them. Acunetix and Netsparker are the premier two open-source security instruments that may assist with uncovering weaknesses.
API Testing Tools
Drastically increasing solutions are now built using REST APIs and Web services. Tools like Postman, SoapUI, Progress, Telerik, FiddlerTM, etc., test their connectivity, response, Latency, and performance.
Automated Deployment Tools
They are wont to create virtual machines either on-premise technically or within the cloud, rapidly commission managed services, and configure and deploy custom-built services and applications. Tools like Foreman, Ansible Tower®, and Katello ensure that the staging is up so automated and manual tests are often automatically activated on time in the continuous build, Integration, and deployment environments.
Other Tools
Below there are a few tools/equipment which will be used for distinct purposes:
Tcpdump and Wireshark to watch traffic over the network, Fiddler to debug HTTP traffic, and JTAG Dongle and Digital Storage Oscilloscope to check the hardware and monitor its framework and parameters. Additionally, law and defect management tools and proprietary tools can improve internal control execution efficiency, momentum, and effectiveness.
Conclusion
Automated testing has a significant role as IoT generates an unabridged new set of testing requirements. Testing tools and strategic approaches will need to verify various communication protocols, including WiFi, Bluetooth, CDMA, and 3G. Simulation models will also be fundamental, given the summons with real-time testing. IoT solutions are composite and challenging, given their multiple components and interactions. Wide-ranging IoT tests can ensure a quality IoT solution. However, executing IoT test cases requires a good strategic testing approach using appropriate test tools.