Introduction to Metadata—Data as a product
Metadata is the data for the data, and metadata enriches the data with information, making data discovery, use, and management more accessible. There is a variety of metadata depending on the use-cases, i.e., purpose, format, quality, and volume. The most popular metadata categories are descriptive, structural, administrative, and statistical. One of the examples of metadata is <HTML> tags which instruct the web browsers on how to format the pages to make it easier for humans to read them.
Big Data Architecture helps design theData Pipelinewith the various requirements of either the Batch Processing System or Stream Processing System.Click to explore about our, Big Data Architecture
What is the purpose of Metadata?
Using metadata, we will be able to find, use, preserve and reuse data in the future. Data Discovery – Metadata makes it much easier to find relevant data. Most searches are done using text, so most of our metadata is stored as text. Metadata helps us understand the data behind it and reflects how it is used. It is critical to supporting data governance, regulatory compliance, and data management processes. Metadata provides information about where the data is produced, moved somewhere, and when it is processed or changed.
Metadata can be made physically or through a mechanized cycle. The manual creation is more precise, utilizing natural eyes to information and cross-check data they feel is significant, required, and suitable. Then again, the making of mechanized metadata will be more fundamental, ordinarily showing predetermined data that respects a bigger number of cutoff points than we might want to concede. Metadata is utilized regarding data about information, report, or presumably other data contents.
What are the 3 types of Metadata?
Metadata comes in many shapes and types, which carries additional information about where metadata was built by whom, when was the last time it was retrieved, what is it for, and many more details. It describes objects and adds more granularity to the way they are represented. There are three types of metadata, i.e., descriptive, structural, and administrative.
Descriptive metadata: Descriptive metadata adds information about who has created the resource, what it is about, and what it includes.
Structural metadata: Underlying metadata incorporates extra information about how information components are coordinated - their connections and the design they exist in.
Administrative metadata: Administrative metadata gives data about the beginning of assets, their types, and access freedoms. docker-compose up -d
A part of the Big Data Architectural Layer in which components are decoupled so that analytic capabilities may begin.Click to explore about our, Data Ingestion Tools
Examples of Metadata
Metadata is everywhere, and it is the digital log of everything we do in the information space. The moment we get digital, there is metadata involved. Metadata is everywhere, and it is the digital log of everything we do in the information space. The moment we get digital, there is metadata involved. Metadata examples include spam from the size and subject of our emails to the dates of the files we have created, who last accessed and modified them, and the latest thing we searched on youtube. Easing the navigation and presentation of resources metadata also includes tags, semantic notes, the section of docs and assets, page numbers, and many more.
How does metadata help?
When metadata is created and handled correctly, it becomes the single source of truth. Metadata has the clarity and consistency of information, and it facilitates data-discovery of relevant information and retrieval of resources. With metadata, any object can be organized and discovered easily. With metadata, you can :
Search resources of all kinds
Identify multiple resources
Collect resources by topics
Trace resources
Big Data helps to produce solutions like Warehouse, Analytics, and Pipelines.Click to explore about our, Data Pipeline Architecture
What is Data as a Product?
Data is a product that applies product development principles, i.e., reusability, iterability, agility, identifying, and addressing unmet needs. Data as a product is a concept about how data teams can create value in their organizations. It is an application or tool that uses data to help organizations improve their business decisions by applying analytics to data. Data is a product that uses algorithms on the raw data to improve business decision-making.
What is Metadata as a Product?
Metadata is the data about the data, and the metadata helps organizations make better and organized decisions based on the metadata extracted from the data. Metadata helps organizations in the following ways :
Information Governance: Metadata management is an essential element of data governance that makes users derive value from their data; it enables users to classify data sets and flag up sensitive or confidential information to avoid breaching existing privacy regulations.
Improving Search: Metadata is data about data which makes the data-discovery process more efficient.
Enhanced Data Quality: Metadata helps organizations take insights from data, so it will be easily visible if there is any issue or inconsistency in data. Hence it improves data quality.
Enhanced Speed for Insights: Data Scientists use their 80-85% of the time to gather the correct data and analyze it for actual value, the time can be significantly reduced with metadata.
There are several challenges to protecting big data that can jeopardize its safety.Click to explore about our, Big Data Security
What are the best Metadata Tools?
Open Metadata: Open Metadata is an open-source tool that provides end-to-end metadata management. I am allowing you to unlock the value of data assets in most common use cases, i.e., data-discovery, governance, and emerging use cases like data quality, observability, and people collaboration.
Informatica Metadata Manager: Informatica metadata management approach is designed to help enterprises fully utilize the value of all their data. It allows enterprises to start this by tapping into four significant categories of metadata, i.e., Business, Technical, Operational, infrastructure, and usage.
Alation: Alation helps organizations identify, understand, and manage the data. With Alation, an organization can capture, add technical aspects, and add business-level information.
Metadata Use-Cases
Data Governance: Data governance is one of the essential factors in metadata management. For organizations to enable cross-enterprise data access, data needs to be overseen in the correct fashion using best practices. Data governance comprises a set of frameworks developed to ensure consistent and quality data. Properly controlled metadata provides a view into the data workflow. It provides the ability to perform impact analysis.
Data Analytics: Data analytics provides insight into an organization's past performance for many purposes. The use of metadata provides the lineage of data, i.e., who created data, who changed the data and where it is consumed, or where it goes from time to time. Data analytics take inventory and assessment of the insight generation process using metadata. An organization should analyze data and metadata to predict its future value to the organization.
People Collaboration: Metadata can be used to filter data and tags, allowing data discovery and people collaboration easier.
Document Security: You can use metadata to classify classified, private, or public documents. You can also include actions that can be performed on that.
Asset Filtration: Metadata can be used to filter out assets in extensive data. It is likely to be impossible to find the proper documents without metadata. Metadata helps find that by adding tags, values, keywords, etc. This helps in data filtration.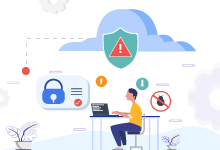 Conclusion
So, we see from our above explanation that metadata is the key asset of any organization. Metadata provides end-to-end information about any passed data, essential from the organization's perspective. From metadata, they analyze that and predict the future business value of an organization. We can also check data quality and other essential things from the metadata. Hence, maintaining metadata is very important for every organization.