Subscription

Thanks for submitting the form.
What are the Challenges of Natural Gas Industry?
The oil and gas industry should necessarily have a complete view of assets. Companies need to find and identify those wells that will be the most profitable. Through the current oil price and provide the maximum quantity of gas and oil to allocate assets accurately. This provides information more timely and accurately to help us deliver shareholder value in the oil and natural gas industry.
---
AI and ML Solutions for Oil and Gas Industry
Through our prediction model, you will be able to predict which locations will produce the most crude oil and gas at the most efficient cost.
This will help to know which five wells perform best in crude oil and natural gas.
Using our historical data and status of crude oil and gas production. We can easily predict oil and natural gas production this year.
---
Why Xenonstack?
Xenonstack helps combine information from your different applications and repositories by using many variables and attributes; through that information, we have built a prediction model that will give extremely accurate predictions for oil and gas production. By clicking on the demo button, you can request a demo of AI Prediction Models to determine which assets are the most worthy of further exploration. Through this, you will deliver more value to shareholders by leveraging assets effectively and minimizing cost and risk.
---
Dashboard for Oil and Gas Industry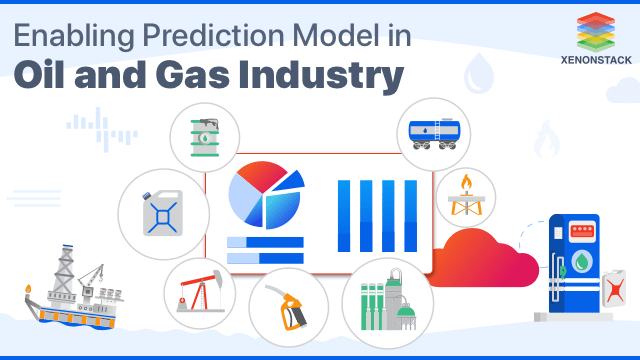 Description
Described below are the benefits of the Machine Learning dashboard for the Crude oil and Natural gas Industry.
From this dashboard, we can observe the top 5 companies for crude oil and natural gas, and this will also tell which are the best countries for oil and gas production.
Like for oil, we have Allegany with the production of 250 Kg per month, and for natural gas, we have Cattaraugus with the production of 111K per month.
The average production of oil is 250 Kg, and natural gas is 102K ccf.