Why is Marketing and Advertising Analytics?
Using traditional ways makes it very difficult to attract customers, resulting in low response rates, leading to high cost-per-lead/acquisition numbers. Marketers and advertisers have to determine advertisement drivers to focus their resources accordingly. Although acquiring new customers is just as crucial as retaining existing customers. The customer retention teams have limited resources and cannot devote the same attention to every customer, therefore AI in Marketing and Advertising Analytics is necessary.
---
Solution for Marketing Analytics
Through modern machine learning algorithms, our objective is to determine which channel (offline or online) contributes to sales most and which contributes least, which also helps to calculate its ROI accurately.
For driving down your cost-per-lead/acquisition numbers, use machine learning techniques to bring more smoothness to your marketing. It enables your team to focus on their services for customers most at risk and provide them special offers to remain loyal.
We are collecting customer reviews, social media data of customers, and data generated through websites. By grabbing more customers and increasing customer satisfaction, businesses grow faster, increasing sales, profits and building brand value.
---
Why XenonStack?
By using our Artificial Intelligence prediction model, you can make your marketing campaigns more effective and targeted. Just with a single click, you can request us for a demo, and we will provide a demo for finding accurate solutions for your complex problems. The model will easily predict the customer satisfaction rate and revenue generated this year. This will also help to get detailed information. Related to channel performance, revenue generated through each channel, and customer satisfaction for our brand.
---
Dashboard for Advertising Analytics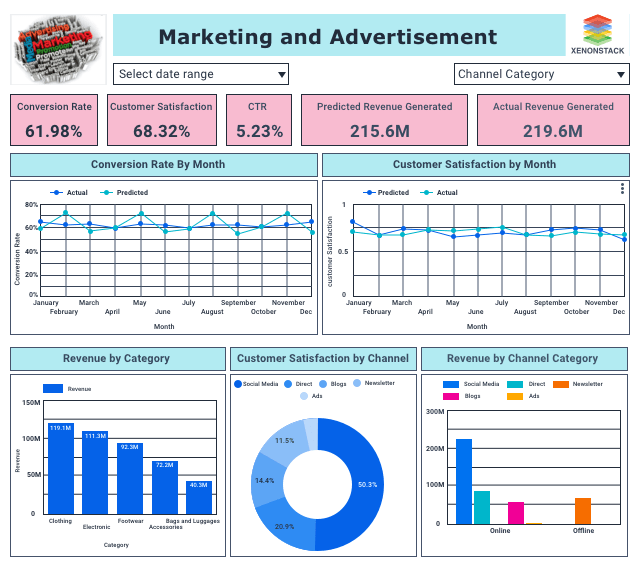 Description
Described below are the benefits of enabling a marketing strategy analytics dashboard.
We get to know that we are generating maximum revenue through clothing, i.e., around 120M this year and using social media, customers are reaching out to us.
As we can see, customers are happy with our services and brand, i.e., 68.32 %, and their conversion rate is 61.98%.
Line charts are predicting conversion rate and customer satisfaction rate very well.