Introduction to Digital Platform
Digital Platforms have become an absolute necessity of any business and are no longer a strategy of digital natives. As Accenture Report states," Platforms are fast becoming a competitive necessity and the foundation for new value creation—and companies that fail to embrace them could find themselves on the outside looking in." Many of them have become an essential part of the business landscape and are no longer the domain solely of digital natives.
The digital transformation strategy has 4 main areas: Grab customer attention, Transform products, Optimize operations, and Empower Employees. Source: According to a study of Microsoft
Companies, including Daimler, Nike, and Unilever, have launched their platforms as their business models mature. Effective platforms are based on technological excellence but can't exist exclusively in the technology domain. They rely heavily on buy-in and feedback from other parts of the business, best coordinated through a cross-functional team that determines the metrics for success and tracks progress. All this needs to be managed by a delicate balance of centralized leadership that sets the vision, communicates successes, mobilizes the right talent, and 'product owners' tasked with driving success in their specific focus areas.
Best Services for Digital Platforms
A list of the best services is below:
Customer Experience Platform
Conversational AI platform
Digital Commerce Platform
Digital Experience Platform
Real-Time Visualization
All these services are described below. So, let's get started!
Digital Transformation in Retail Industry brings a revolutionary change in the field of business. Click to explore about, Digital Transformation in Retail Industry
What is a Digital Platform?
It is the online solutions that enable the execution of multiple tasks in the same place through the internet. Developing a digital marketing strategy includes a series of information that one should carry out and continuously monitor to broader the online presence. The absence of it makes everything expensive and hard to achieve.
Why do Enterprises need Digital Platforms?
The main aim of it is to enhance the collaboration between end-users and producers to transact with each other. These platforms enable users to share different information, like new products and services, and connect the platform's ecosystem. Creating a robust network for increasing value is also made possible by this technology. Its development of it can be boosted by the third-party providers of APIs (Application Programming Interfaces), which let participants share the data for developing new services.
What is Platform Strategy?
A Platform strategy aims to penetrate the online market by allowing one segment of participants to benefit from the presence or interaction of others. Traditionally it is supposed that clients can determine their willingness to pay for a service or product independently. However, Platforms can break this assumption as the participation of a user segment on the platform is interdependent on user choices.
Digital transformation strategy is the fusion of digital technology into all industry sides, changing how you use and convey it to customers. How Digital Transformation Affects Businesses?
Platform Strategy Framework
A Digital Platform strategy aims to penetrate the online market by focusing on allowing one segment of participants to benefit from the presence or interaction of others. Traditionally it is supposed that clients can determine their willingness to pay for a service or product independently. However, Platforms can break this assumption as the participation of a user segment on the platform is interdependent on user choices.
Formulating a Platform Strategy for business requires somewhat different products to help entrepreneurs and managers create and capture values.
How to Create Platform Strategy Framework?

Below are major 3 steps to create Digital Platform Strategy Framework:
Step 1
First, the network effect brings together market participants, which means that more clients attract a more significant number of vendors and partners, and vice versa. Platform Strategy for business varies the cost and risk burden to create markets from the business to a network. As the system collects its dynamic momentum, the platform owner reacts as a facilitator to spread that burden between a growing number of participants.
Step 2
Second, the concurrence of technologies like
cloud governance
, automation, analytics, AI, mobile, and the industrial internet—is developing a new "as-a-service" economy. In this field, services are dynamic, on-demand, and targeted. It makes a massive impact on the cost to serve, investment levels, and speeding up the market. By integrating business technologies, software, and infrastructure to make them available "on-demand," large and small organizations can benefit from the plug-in, modular, scalable services. Entrepreneurs are particular beneficiaries here, even without the constraints to fund the total costs of a platform business upfront, which have access to new markets and distribution channels.
Step 3
Finally, open and shared data can be mined intelligently with the help of specialists and adjacent industries to create new forms of the existing values. Customer activity can be monitored at scale, and insights can be gained from field-based applications or machines.
Indeed, the large amount of data is being generated today and estimated to double every two years to 2020. This agile and collaborative way of working is catching many organizations off-balance to create a Platform Strategy for business.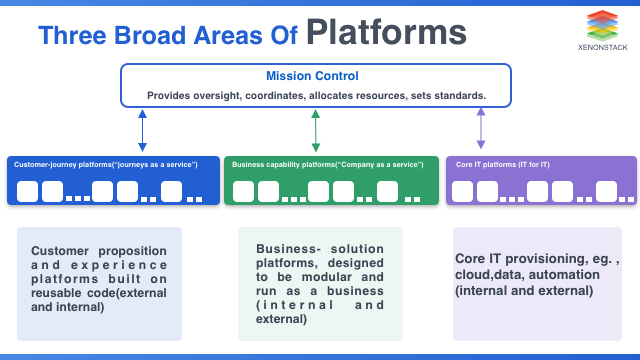 ---
What are the benefits of Platforms Strategies?
Platforms are responsible to enable efficient interaction among participants using data about participants and their platform usage. They do it with the following mechanisms:
Aggregation
Healing
Search or Discover
Personalization
What are the best advantages?
Below are the advantages of Digital Platform:
Network Effects
All the tech giants like Google, Facebook, and Amazon have been so successful because they have explored the phenomena often cited by economists as network effects. At a primary level, network effects describe how the value of a network or service becomes disproportionately more valuable to its users the more users there are.
Difficult Competition
The double-sided platform, which brings vendors and buyers together can be a powerful way to keep competitors out of the market and hamper their success by reducing the requirement of continually speeding a large amount of marketing.
Create value
Platform Strategy for business tries hard to deliver value to its customers and receive money in return. The platforms like Facebook can twofold the payment and grab the attention of users and invest it in advertising their services.

What are the Best Practices of Platform Strategy?
Today thousands of companies are reducing their old advertising budget and increasing their digital marketing efforts and so knowing platform strategy best practices is essential.
Define Goals and Objectives
Before starting, businesses must know their aim or where they want to go. While this, each company is to be profitable as it has to dig deeper to define its digital marketing goals.
Set Key Channels
Since omnichannel marketing can be beneficial to some businesses, but there are rare chances that there are companies that need to use all digital marketing channels. So, it is essential to define the key channels for the objectives of the companies as it is one of the best practices for platform engineering.
Develop a Content Strategy
Thousands of brands are increasing their investment in content marketing. Whether it be emailing, social media posts, blogs, or visual content, it is what the Internet is built on.
Create and Stick to the Calendar
Once you get the content, create a calendar or timeline for content consistency. Then, make a marketing channel with multiple pieces of content for managing and let this calendar act as the underpinning of your digital strategy.
Implementation
The most important best practices for platform engineering after making a plan is the implementation. Planning and thinking are the two things that are "going to work". Therefore, for the implementation of Platform Strategy for business, you have to consider everything that has been developed with a realistic mindset and evaluate it objectively on business objectives.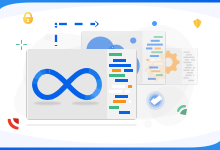 What are the challenges to implement Platform Strategy?
Using online platforms
Equipment and connectivity
Time-constraints
Lack of face-to-face interaction
Platform co-operative
Factors of Platform Strategy
Five factors that generate the network effects and critical mass crucial to the success of platform ecosystems :
Proposition
Personalization
Price
Protection
Partners
Highlight the five underlying environmental enablers that are necessary for platforms to flourish.
Digital user size and savviness
Digital talent and entrepreneurship
Technology and governance
Open innovation culture
Policy and regulation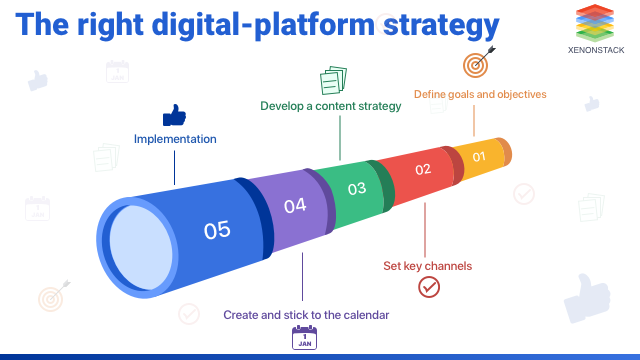 ---
What are the best Digital Platform services?
The top 13 best services are below:
Best Digital Platform Services
Infrastructure Automation Platform: Organizations that automate their IT infrastructure can streamline network, IT and data management processes, which makes the entire digital organization more responsive and efficient. In addition to increased agility and flexibility. In the past a few years, a reduction of cloud costs by up to 27% by using automation.
DevOps Services
DevOps is a technique to foster a highly productive culture of collaboration between Development (Dev) and Operations (Ops) teams. The main aim of DevOps Services is to eliminate the constraints, reducing the development cycle times, and facilitating the success of production deployments of the products. These services make it possible to deliver the best quality at the lowest possible cost.
Multi-Cloud Management
To deliver services quickly and with fewer resources, organizations use more than one cloud services provider, like Amazon Web Services (AWS), Azure, and Google Cloud Platform. Multi-Cloud Management strategy involves using multiple cloud services from various public cloud hosting providers in combination with an on-premises virtual, private, or physical cloud infrastructure. IT companies need to manage their IT infrastructure, not just the cloud.
Data Integration Platform
Data integration is the method that involves combining data from various sources into a single unified vision. It starts with ingestion, cleaning, mapping to transformation in a particularly given collector, and finally, converting it into more exploitable elements and essential to those who access them.
Data Discovery and Catalog Platform
There are technologies that present the user with statistics or data which is required to make decisions. The data users see in the form of graphs, diagrams, charts, etc., is the output of analyzing massive data sets in real-time.
MLOps Platform
MLops frameworks and environments that support machine learning lifecycle management. Machine learning operations, MLOps are the best practices for businesses to run AI successfully with the help of various software products and cloud services.
API Testing
Automated testing is a critical component of the software quality control procedure. However, testing the REST (Representational State Transfer) ​​APIs can be tricky. Many who resort to manual REST API testing overlook the information and miss out on ways to save time.
Embedded Analytics Platform
The embedded analytics platform is a business intelligence engine that allows businesses to analyze and combine the master data with other information sources to gain a deeper understanding of various business operations.
Real-Time Visualization
Data visualization is the representation of the information through simple visual attributes like graphs, diagrams, maps, interactive pieces, and much more. Real Time Visualization is a method of representing data that has existed since human beings used cave drawings to communicate messages. Today, marketers use data visualization to make decisions.
Digital Experience Platform
Digital Experience Platform (DXP) is an emerging enterprise software seeking to meet the needs of companies undergoing a digital transformation, with the ultimate goal of delivering better customer experiences. It can be a single product or a suite of products that work simultaneously.
Digital Commerce Platform
The digital e-Commerce platform allows performing the entire operations of an online store. The effectiveness of methods like product display, sales, stock control, payments, promotions, among all others, and it depends on them. While creating an e-commerce site, it is crucial to consider the existing options to choose the one that suits best.
Conversational AI platform
Conversational artificial intelligence uses machine learning to speak to users in a natural and personalized way. This platform carries some weight, but ultimately it comes down to the practical difference it can make for the business.
Customer Experience Platform
The CX ( customer experience) is how a business engages its customers on their journey. It is the additional total of all the interactions that a customer has with a brand. However, the most important thing to know about the customer's experience.
Summing Up
Its strategies must be well aligned with the work of an organization in all the channels. If they are not well integrated, businesses will often encounter problems in the long term and must be completely redesigned. To design an effective Platform Strategy with lasting solutions, it is essential to collect as much information as possible. Along with that, define the objectives along with criteria from the beginning. The use of digital platforms in the workplace has become commonplace. Platform strategies, whether practiced individually or in collaboration, are becoming a strategic imperative. Companies who have yet to make the transition can find it difficult to keep up.