Subscription

Thanks for submitting the form.
What is an RPA in insurance?
We live in an era where each day brings new technology, and these technologies have complete influence over the entire planet. Robotic Process Automation (RPA) is a new technology that has shown significant promise in various industries.
Every day, the insurance sector suffers from an overabundance of tedious clerical work, resulting in lower client satisfaction and significant time waste. Insurers are inundated with routine, repetitive, and operational duties in the course of performing day-to-day insurance operations such as underwriting claims processing, policy servicing, and so on. This has resulted in growing expenses and a halt in the insurance industry's growth. RPA in the insurance sector is widely regarded as the technology that will dramatically improve the sector's efficiency and customer focus.
RPA has a lot of opportunities in the insurance business because it can automate a lot of operations. It helps in increasing productivity as well as the creation of a better customer experience. RPA may be utilized widely in the insurance industry to work with old systems, automate redundant processes, and gather external data.
A technology that works within the software and eases human efforts and hence called Software Automation. Click to explore about, RPA in Supply Chain Industry
Why is Automation Required in the Insurance Industry?
RPA has proved its effectiveness in helping insurance companies streamline business processes and automate transactional and administrative tasks. RPA, according to McKinsey, saves 34 percent of an employee's time in data processing alone.
Initially, insurance companies concentrated their RPA efforts on high-volume, non-complex activities involving structured data, such as claims processing and forms registration, which require a significant amount of manual data entry, retrieval, and data gathering and collation. This automation yielded a very high return on investment (ROI) — less than six months in most cases. RPA has helped the Insurance companies grow exponentially because it contains many backend repetitive tasks.
What are the main challenges facing the Insurance Industry?
Before RPA in insurance, the industry faced many challenges. Some of the major challenges are-
Operational Roadblocks: The majority of operations in the insurance industry are driven by manual, time-consuming, and repetitive processes. While manual risk appraisal in underwriting is time-consuming and dependent on predetermined criteria, manual data processing from unstructured sources in claims administration is slow and prone to errors.
A Large Amount of Data: In today's hyperconnected world, valuable data is constantly flowing into the insurance industry. Traditional insurers due to a lack of appropriate technology and an over-reliance on manual data handling.
Poor Customer Experience: It's worth noting that the Above industry issues stem primarily from insurance's over-reliance on manual processes. Customers are left with seriously unsatisfying experiences as a result of these problems.
RPA in Manufacturing Industry has attracted recent innovations in factories in various sectors. Click to explore about, RPA Use Cases in Manufacturing Industry
Top 5 Use Cases of RPA in Insurance Industry
The best use cases of RPA in In Insurance Industry are below highlighted:
Claim Registration and Processing
Claims processing requires gathering a large amount of data from various sources, resulting in massive amounts of data. Current claims systems lack functionality and adaptability, and they have reached their practical limits, resulting in a high level of human processing. As a result, productivity and flexibility have suffered, resulting in slower service and a worse customer experience. AI is increasingly being included in the claims management process to reduce costs.
Robotic Process Automation (RPA) has a range of commercial benefits. In the insurance industry, RPA provides solutions for integrating multiple claim processing data from many sources. Still, it can automate work processes in the insurance industry, such as data extraction, complex error tracking, claim verification, integration of claim-relevant data sources, and more, resulting in a faster process and a better customer experience. Other process can be automated such as:
Claims intake
Claims Assesment
Claims Settlement
Underwriting
Another aspect of insurance that is ideal for automation is underwriting. It entails acquiring and evaluating data from a variety of sources to evaluate and reduce the risks connected with the policy in question, such as:
Health Risks: When an applicant smokes, their mortality charges, and hence their premiums, will rise, especially when compared to their current age.
Financial Limits: If the applicant's current net worth is $X, their insurance coverage (death benefit) cannot exceed $10X.
Creditworthiness: What is the applicant's credit rating determined by third-party companies such as Experian or TransUnion CIBIL Limited?
Duplicate Policies: Does the applicant already have a policy on their name?
Robotic Process Automation automates the data collection process from a number of different external and internal sources, resulting in reducing the underwriting time. It can also populate many fields in internal systems with pertinent data, generate a report, or make recommendations while measuring run loss, thus automating the process that forms the foundation for the process.
How banks, financial institutions and insurance companies are the most eminent users of the automatic processes by RPA. Click to explore about, RPA for Financial Services
Regulatory Compliance
The insurance industry has never been subjected to greater regulatory scrutiny as it is now. When documenting work and creating audit trails, the insurance industry follows tight requirements. With so many complex and error-prone processes in the insurance industry, the danger of a regulatory violation increases.
Because it eliminates the need for significant workers to go through operations manually, enforcing regulatory compliance, automation is crucial in helping organizations improve regulatory procedures. In the insurance industry, RPA may automate things like validating existing customer information, generating regulatory reports, and sending out account closure processing notices. Other process can be automated such as:
Customer Research
Customer Data Security
Compliance Checking
Process and Business and Analytics
Only by measuring what they're doing will insurance firms improve and better serve their clients. It's tough to track and measure operational efficiency or find areas for improvement because there are so many operational and paper-intensive processes.
With automation processes in place, software robot tasks can be easily tracked without manual effort. The number of transactions handled and exceptions encountered can be measured utilizing RPA in Insurance. The audit trail provided by RPA promotes regulatory compliance and, as a result, process improvement. As a result, claim and customer service response times increase, and customers benefit from simplified applications.
Cooperate Offices
Back-office workers can be redeployed into front-office roles, where they may focus on complicated customer demands and produce growth, freed from mundane and regular activities. Below are some other examples in which RPA can improve the efficiency of insurance operations.
Finance and Accounting:

RPA systems may automate a substantial percentage of daily bank reconciliations by performing clicks, keystrokes, hitting buttons, template auto-fill, copy-pasting information, field-entries, and more, reducing transactional expense and policy-cost footprint.

Sales and Distribution:

RPA can help with insurance sales and distribution's frightening and challenging work. Some of the processes that can be automated include creating sales scorecards and sending notifications to agents, as well as doing compliance, legal, and credit checks.

Policy Cancelation:

We can utilize RPA to automate the Policy Cancellation process, saving time and eliminating errors. It closely adheres to the cancellation regulations and procedures, ensuring no confusion. The RPA process usually includes Mainframe, web-based applications, and Outlook to follow the cancellation process from beginning to end. A robot may also work 24 hours a day, enhancing handling many applications.
RPA helps an organization to increase profit margin and productivity. It is becoming increasingly an enterprise-level opportunity. Click to explore about, RPA in Telecom Industry
What are the benefits of RPA in Insurance?
RPA improves insurance firms by enhancing compliance, making claims handling easier, and increasing overall efficiency, in addition to automating operations. Some of the advantages of employing RPA bots for your insurance company include:
Process claim become faster
Employees need to collect data from several departments and feed it into various systems to process claims. Employees spend a lot of time manually processing applications. Customer satisfaction suffers as a result of the long processing time. RPA allows bots to gather data from several systems and put it all together in one place, making claim processing much easier.
Boosts Data Accuracy
RPA bots, unlike human workers, execute data entry 24 hours a day, seven days a week, with no interruptions. RPA bots must be properly programmed to collect the correct data.
Simplified New Business Onboarding
Scaling to satisfy the demands of each consumer becomes more complicated when insurance businesses add more clients. RPA bots can automate the majority of the onboarding process, speeding up the process and improving the customer experience.
RPA bots do not necessitate the installation of new infrastructure. RPA can be integrated into an organization's existing infrastructure to aid processes in sales, marketing, human resources, and others. Said, RPA improves existing systems, allowing them to operate better than ever before.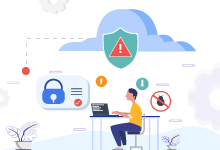 Conclusion
Customers' needs are changing rapidly, and the insurance industry is facing increased competition. Because the insurance business relies on back-office process efficiency, insurers have begun to use RPA to automate transactional, routine, rules-based operations so that capital and talent can be repurposed for more sophisticated and strategic work.
RPA can help insurers increase profits, improve compliance, maintain long-term company growth, and provide excellent customer service while cutting expenses and cutting customer dropout rates. Automation's adoption by the insurance industry is only predicted to become inevitable, owing to the flexibility and benefits it may provide.