What is Digital Transformation?
Have you ever thought of using technologies to modify existing or create new business processes?
Thinking of customer experiences to meet changing business and market requirements?
This transformation of business in the digital age is known as Digital Transformation. Its strategy is the fusion of digital technology into all industry sides, changing how you use and convey it to customers.
It's an opportunity to leverage these new technologies to really change the way you organize your business, to really redefine your strategic advantage and your competitive advantage. - Mark Foster, Senior Vice President for IBM Services
A company needs to frequently challenge social or political issues, experiment, and get comfortable with failure to succeed. By Transforming Digitally, organizations can convert tangible goods into digital goods to meet their customers' requirements.

In this blog, we look at all the aspects of the strategy.

Let's get started.
Why is Digital Transformation Important for Businesses?
Transformation is significant for all businesses. It begins and ends with how you think about customers and how to get involved with them. As our paper is changed to excel sheets to manage the business, now we have to take the chance to transform how to do business and how to get involved with customers with digital technology.

We cannot get to the one definition that applies to all. It integrates digital technology into a business which results in changes in how businesses operate and deliver value to customers. There are real instances that illustrate the effects of planning the leap to digital transformation strategy at the business level and designing an orderly strategy to avoid situations of panic and chaos in your organization. Following are some of the best benefits for a business:
Reduced Investment cost
Digital tools and technologies have already had an extreme impact on the global economy, especially after implementing Digital Transformation in the Retail Industry.
Improved Financial Performance
Companies implementing technology solutions have especially experienced 39% growth in revenues and have reduced their time for the market by 21%.
Increased Employee Productivity
Employees become more efficient, take very little time to make decisions, and are more satisfied.
Better Customer Experience
When Enterprises know the problems customers are facing, they plan customers' experiences better. It helps to convey a better experience for customers and improve long-term relationships.
Empowering Employees
As companies continue to adopt new technologies, employees will be required to update their skills to meet the changing technological environment, empowering them in the market.
Streamlined Business Operations
The major business benefit of digital transformation is online data collection and analysis. It helps to further enhance business strategies by studying the online habits of the consumer. It helps in good and effective resource management.
Profit
Digital transformation strategy, in many cases, affects other features of your business positively. If the process implementation is successful, the chances of increasing revenue are very high.
Competition
Being able to compete is what ensures the endurance of a company. With the prevalent world of digitization and continuous transformation of the business environment, the competition will continue to grow. So, by transforming your company into a digital business and fostering a digital culture, you can increase agility and innovation in the company, which leads to the creation of digital products and services. This ultimately leads to opening the doors to Globalization. And this will have a favorable change on everything that revolves around your business.
In short, it is the integration of information using a computer and mobile technologies into a company's overall business strategy. The integration of these technologies provides an efficient platform strategy for employees and ultimately aids in the organization's development and credibility in the market.
The application of technology to build new business models, processes, software and systems that result in more profitable revenue, more significant competitive advantage. Click to explore about, Top five Application Architecture That Enable Digital Transformation
What is the Digital Transformation Framework?
Integral components of the transformation strategy are mentioned below:
Staff and customer engagement

Workforce enablement

Digital technology integration

Customer experience

Data and analytics

Digital business strategy and Culture
Process and Innovation
What actually drives Digital transformation? An important part of it is Technology. But in technology, it's imperative to leave the outdated processes and adapt to the latest technology. The Federal IT Dashboard shows that in the fiscal year 2017, over 70 percent of IT spending government-wide went toward operating and maintaining legacy systems.
What are the skills required for a Digital Transformation?
Below mentioned are the main skill areas required for the Transformation to take place in an organization.
Big Data Analytics
Big Data Analytics helps companies to adjustments that minimize costs and maximize results. You have to know what consumers and employees are doing and how you can think of what they will do in the future and start implementing changes according to their needs.
Machine Learning
Machine learning is part of artificial intelligence (AI) that helps systems learn and improve from experience without being explicitly programmed. Its main work is to develop computer programs that can use data and use them to learn for themselves.
Change Management
Change management is an approach to dealing with the transformation of an organization's goals or technologies. The main use of change management is to implement strategies for effecting and controlling change to adapt to change.
Cloud Computing
Cloud computing and Digital Transformation work together. The availability of high-capacity networks, low-cost computers, and storage devices has led to cloud computing growth.
Digital Security
As businesses are coming up with the Transformation, they must make security a priority. Organizations need to maintain confidentiality and availability of data on-premises, in the cloud.
Building AI-First enterprises with Data-First Approach for decision Intelligence with advanced mathematical and statistical techniques.

Click to explore about, Generative AI Consulting Services and Solutions
What are the Challenges to a Successful Digital Transformation?

Digital Transformation is a buzzword which has been around for some time now. Yet a worldwide survey of 196 organizations by

Gartner, Inc

in 2018 showed that

91% of organizations have not yet reached a transformational level of maturity in data and analytics, despite this area being a number one investment priority for CIOs in recent years. So what are the challenges that an organization faces while adopting a digital transformation strategy? Let's find out.
Organization's Resistance to Change
Changes are harsh; it is a human tendency to resist changes. But from history, we need to take the lesson that change is the only constant. Kodak didn't adapt with time, and even though they invented the digital camera, it was the internal resistance to change that led to the company's collapse.
Solutions for Resistance to Change
Organizations seeking to move ahead with digital transformation for a business need to build an environment guided by Management, like Enforcement, and a clear strategy to execute and manage the transition. The workforce needs to understand that the Digital Transformation strategy is for improving all the elements of their workflows.
IT Resources concern
The organization can decide on the strategy and everything else, yet without resources, nothing is possible. Resources include finances, infrastructure, and, importantly, the digital workforce.
Solution for IT Resources



The roadmap to digital transformation should include resource planning, which provides estimations for finances and IT resources. Human resources should then be equipped to find the right talent. And all the other departments are involved in bridging the digital skills gap.
Keeping up, Being agile
A business's digital transformation is not a one-time activity. The organization needs to keep innovating and keep up with the market changes to serve their customers well. The digital transformation strategy has to include a plan for Enterprise Agility.
Solution for Agility

Agility needs to be built from the ground up; microservices, open APIs, Application release automation for continuous delivery, continuous integration, and Agile teams are some of the parameters that help build agility.
The digital transformation strategy has 4 main areas: Grab customer attention, Transform products, Optimize operations, and Empower Employees.- According to a recent study of Microsoft

Digital Transformation Strategy for Enterprises

Are you ready to digitize your business? Alright! Follow the steps below to implement digital transformation for business:
Develop Goals & Strategy
Create some strategic goals when a company wants a new strategy.
When companies create their goals, they directly find out what they see due to their business efforts.
Business Architecture
It is useful to clarify Goals and Strategies. It provides priority capabilities and assesses capabilities. Better to find out the expected outcomes.
Develop Roadmap
It is a part of portfolio management. A roadmap is a strategic plan that defines a goal or expected outcome. It includes significant steps, like application and other assets, possible scenarios, roadmap scenarios, etc.
Agile delivery of the solution
Choosing an Agile delivery solution is best for the organization, but the choice should depend upon your organization's journey. It mainly focused on collaboration, communication, and iteration. If we are projected using the agile delivery of a solution, then Business rules and processes also need to follow. In this case, user requirements are also necessary.
Why do we need a Digital Transformation Consultant?
A Digital Transformation Consultant enhances a company's technical performance. They do so by analyzing a company's infrastructure and finding gaps in service. Their focus remains on meeting long-term strategic objectives and not only working on short-term goals. They can work in a company or can work as contractors. Some companies prefer to hire a full-time employee to be there as an in-house Digital Transformation Consultant.

Digital transformation consultants develop multiple departments within a company and may work with customer service personnel, product managers, technical personnel, and marketing personnel. To get approval for their recommendations, they need to create relationships with management. Individuals who do not work as an in-house consultant could be tasked with educating clients on the best products for their budget and needs, as well as selling them.
How can Digital Transformation Affect Marketing?
The goal of digital transformation in marketing is to spend less money and to find more customers. More specifically, awesome digital marketing generates more quality leads. It helps you get closer to all of your customers, whether they're new to your brand or the employees working for a long time.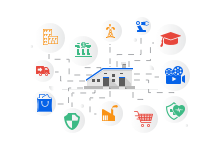 Conclusion
Digital transformation works for enterprises because their leaders drive the change, and they go back to their basics. Leaders focus on their employee's mindsets and inculcate changes in their organizational culture. Leaders did not decide on the digital tools and how to use them; first, they make cultural enhancements, and technology comes second. An organization's vision drives the technology and not vice-versa. Depending on any organization or industry, a digital transformation may have a different meaning. Each industry has a specialized requirement for Digital Transformation strategy.