Subscription

Thanks for submitting the form.
Introduction to

Business of Experience
Organizations use CX to track customer touchpoints and serve them accordingly to get more benefits. No doubt CX has become beneficial for business, but it still has some challenges, such as rapidly changing customer expectations.
Many of the organizations believe that they are not able to

fulfill customers' conscious demands.

CX works only on touchpoints. But, customers bring a purpose, problem, need, or question—along with expectations for how quickly or easily that outcome will be realized while interacting with the brand. Therefore there is a need to move beyond the belief that touchpoints are where experiences start and end.
Now, there is a need to move beyond CX. The customers need more than just products and services; they demand more innovation and engaging experiences for immediate benefits. Thus the emphasis on experience becomes a necessity for companies to grow, for new customers, to become top in the market, and increase margin. Providing optimized prizes to customers is not enough for their decision-making. The experience offered will be adaptable and compatible with customer needs.
A UX designer would apply similar ideas to producing a mobile app, just as an architect could design a house or building to make it easy for the occupant to explore the space. Click to explore about, User Experience in Software Product Development
According to a recent study, companies delivering exceptional experiences grow their profit years-on-years at a rate 6x that of their industry peers.
What is Business of Experience?
BX is a combination of purpose and experience. Focus on the customer is already implemented, but the experience is now elevated. A great experience is not defined by what organizations offer but by how well they enable their customers to achieve the outcomes.
Modern organizations understand customers, employees, stakeholders, and society to create solutions rather than their internal perspective that increases the margin of their products and services, directing them to exponential growth and perceived competitive advantages through a critical look at your customer's experience.
What are the challenges of Business of Experience?

The challenges of Business of Experience are listed below:

Customer demands
Organizational structure and speed of iteration play a vital role in customer success and satisfaction. Several organizations seem out of sync, such as some are too rigid or moving slower than customer changes.
In the past, brands were competing in their own space, but now organizations try to meet set standards set by the company from other domains. If it fails to meet those standards, it fails because customers' expectations become liquid across different products and services.
Principles for creating a successful brand experience
Sameness
CX provides attentive store clerks in attractive stores, simple and beautiful apps and websites, helpful service agents, AI chatbots, and intelligent messaging on social media. CX yields good results, but as many of the fundamentals of CX are commonplace, its value proposition is installing.
Something extra and unique is required. BX allows us to go deeper and unpack sustainable growth. For instance, Crate and Barrel13 allow its products to be added to 3rd party registry company [Zola] list. As a result, a company gets its products on more customers' wish lists than before. It creates a better and different experience for customers.
Flight to purpose
Organizations are facing pressure to stand for something more significant than the products. Demand for the purpose has been growing for years but has accelerated recently. 80% of the survey said that purpose is at least as necessary to them as CX.
Brands are also expected to emphasize values, such as sustainability and commitment to both purpose and values via their customers' experiences.
The process of creating products that provide meaningful and relevant experiences to users and enhancing user satisfaction/ experience with a product by improving the usability, and pleasure provided in the interaction with the product. Click to explore about, What is User Experience Design, Tools and Principles
Why do we need Business Of Experience?
BX allows organizations to become customer-obsessed and reignite growth.
Domain

CX

BX

Method to implement BX

CEO

Maximize profit.

Profit from purpose + experience

Prioritize purpose and innovation by delivering holistic experiences to drive business success

Marketing &

Brand

Search people want things.

Making things people want.

Shaping brand evolution by experiences to connect customers with what they want.

Sales

Focus on the product that

wants to sell.

Focus on a product that the customer

wants.

Ensure moments are defined with experience that matters in a consumer's life.

Product

Development

Make products easy to use.

Make products that continually adapt to how customers use them.

Focus on insight/design research combined with

big data to spot user-driven opportunities.

Talent

The traditional method of

employee performance within a function

(onboarding, annual reviews, etc.).

Inspire and incentivize behaviors that

drive better outcomes for the organization.

Empower employees to feel accountable for customer outcomes.

Tech & Data

Enable business processes at greater

scale.

Keep customer-centricity at high

scale.

To unlock efficiencies that can be reinvested to drive

continuous performance and innovation.

Supply Chain

Moving products to

consumers.

Making it easy for consumers to get

products when and where

they want them.

Providing visibility of sourcing and

Orders progress, thus innovating last-mile

experience to exceed expectations.
What are the best practices of Business of Experience?
The benefits of Business of Experience are listed below:
Obsess for customer needs
Customer's requirements constantly have been shifting as they continually evolve. Therefore focus on uncovering unmet customer needs should be more. The whole organization needs to always obsess about customer needs. To uncover unmet needs, organizations have to make their customers happier and more loyal by identifying what they want and how they want after knowing, delivering the experience that will enable them.
Purpose guides employee experience that is responsible for delivering customer experience. Unmet human needs can exist at both the feature/interaction and service/business levels.
Why do we need?
Meeting unmet customer needs to stretch the organization's boundaries is also critical for growth.
How we can achieve?
By picking data from the signal to know and understand what customers say and how it behaves will help understand customers deeply. Rapid and continual learning from customers provides actionable outcomes and invites customers to collaborate in shaping the future. It is critical to implement it across all business functions.
Experience innovation an everyday habit
True experience innovation culture reduces the gap between promise and experience delivered to the customer. It occurs at all levels. It could be achieved by solving problems with new and unique methods, which require rethinking the starting point of innovation as anchored to their needs.
Why do we need?

Only half of leading companies (about 53%) say that customers expect them to continuously innovate with more relevant products, services, and experiences that adapt to their needs and set new standards and just 31% of their peers. It means leading companies feel better prepared to take advantage of the opportunity to innovate at scale.
How we can achieve?
Several companies are looking at existing touchpoints for improvements without aligning their customer requirements.
First, it is required to align organizational intent and what the customer eventually experiences.

Then with experience innovation, test often through sketches and prototypes of increasing fidelity.

Parallelly to make the internal alignment. Colleagues and users experience something that should be supported by an internal cultural approach embracing risk, creativity, and speed.
Process of experience innovation contains three layers
Feature innovation:

Incrementally improving human experiences with an existing product. It leverages existing features and refreshes the current products.

Service innovation:

When a set of features creates a new service or product.

Business innovation:

If a service creates radical change to the human experience. Then, embedding experience innovation as an entire business can change or create a whole new ecosystem.
Increase in computation power and decreasing prices of storage devices leads to a digital transformation to apply AI in Customer Experience for solving business problems. Click to explore about, Artificial Intelligence in Customer Experience
Expand the experience remit across an organization
Experience is the responsibility of everyone, not only one member. Everything must be interconnected and work as one cohesive customer-obsessed unit. For instance, to make it possible for customers to buy clothes, there is a need to create something unforgettable experience on every part of the customer journey. BX practitioners are adapting this type of agility. Those who create a customer success team are on an excellent stage to start. They have not implemented customer success as a post-sale function but as an enterprise-wide culture.
Why do we need?

Still, most organizations organize functions independently across a business unit with separate leadership, touchpoints, budgets, data pools, etc. This approach is inefficient and a loss of money. It misses opportunities for connecting to customers.
How we can achieve?
Make the experience a priority for every function in the organization.

Push decision-making based on the experience to reach close to the customer. Every single employee needs to feel a sense of ownership and understand how their roles are essential.
Sync the tech, data, and human agenda
Becoming a BX practitioner is not about investing more but investing differently. Leaders redirect data, tech, and people to enable agility to continuously unlock efficiencies that can be reinvested in new growth opportunities. It improves experiences and gives customers exactly what they desire without trading profitability and sustainability.
Why do we need?

There has always been tension between delighting the customer and making money. Companies face challenges, where the cost to serve and meet new expectations has risen dramatically. As the experience continuously evolves, there is a need to build agile systems. Customer-centricity can be enabled only if integrated technologies, tools, data, and processes at a greater scale.
How we can achieve?
A refreshed operating model and a continuous approach to experience, efficiency, and performance enable you to leverage the cloud for agility, data for relevance, and the business of experience to create lasting value for your customers.
The process can be started by building more agile technology infrastructure using the cloud. Cloud should be at the bottom if we take it as a stack. It will save cost and link data and people faster and more innovative ways.

Reinvest in data using AI to drive performance. It enables pattern recognition from data in the cloud and helps understand trends and things well.

Use data learning to redefine cloud infrastructure and unlock other efficiencies.
Data and cloud impact experience are powered by relevance and agility created through technology.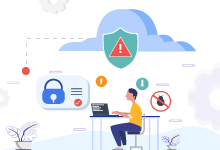 Conclusion
BX works beyond the touchpoints; thus, it provides a more engaging and innovative experience to the customer than CX by fulfilling their conscious demands. It looks at and improves the customer experience rather than just touchpoints. As a result, it shapes brand evolution by experiences to connect customers with what they want to increase their revenue.