Subscription

Thanks for submitting the form.
Augmented Analytics- The Next Wave of Disruption
In the field of data and analytics, the next big wave is to enable businesses to accomplish business values faster, more profound, and at a much larger scale. The combination of Artificial Intelligence with Predictive Analytics changes the way of development, consumption, and sharing of analytical content. This article will give an overview of the Augmented Analytics process and Architecture. For decades, Everyone used to listen that if technology changes, humans will not be able to survive. But in the future world, the human has to be more efficient, smarter, and decisive making. For instance, with the emergence of Uber taxi services, the taxi business disrupts by completely changing the behavior of people. Similarly, disruptive innovations are happening in the data and analytics domain also.
---
An approach that automates insights using Natural Language Generation (NLP) and Machine Learning (ML). Source- Gartner's Top 10 Strategic Technology Trends
---
"Disruptive Innovation" means the emergence of such technologies that challenge the established businesses, i.e., the traditional way of working of people. It is not a minor improvement to do things in a better way, but a significant change that makes the old working method obsolete. About ten years ago, the first big wave of disruption in data and analytics arrived, and the coding-based platform to analyze data is changed into visual-based platforms. Where data are visualized in a code-free and interactive environment using Business Intelligence tools and since then, most of the companies accomplishing correct business values. Now again, can we imagine that there was a new technology emerges that could increase the value of human experts rather than decreasing it?
What is meant by Augmented Analytics?
Augmented analytics is the next big wave of disruption in the market of data and analytics. In the future, it will be recognized as a commanding driver in the field of analytics, Power BI, data science, ML platforms, and embedded analytics. Data scientists and analytics experts should prepare themselves to adopt augmented analytics. Before moving further, Let's discuss the requirement of Augmented Analytics.
In this era, a vast amount of data is generated daily from various sources. To analyze and process the raw information manually to extract useful insights is typically a lengthy process that involves numerous steps. The first thing that needs to understand is the data as well as requirements. Once clarity of the research question has been defined, the next task is to build an algorithm or model, and at last, evaluate the model. This is not a job overnight and involves a significant amount of time as well as manual labor.
---
A part of advanced analytics which is used to predict future events. Click to explore about, Predictive Healthcare Analytics Platform
Why is Augmented Analytics important?
Augmented Analytics makes this whole process simpler by automating the process of understanding and analyzing data and generating useful insights. It identifies patterns and shows clear visualizations and trends. As already clear from the definition of Augmented Analytics discussed above, it is a technique that automates insights by using Natural Language Processing and Machine Learning. It is divided into three sub-categories, i.e., Augmented Data Preparation, Augmented Data Discovery, and Augmented Data Science and Machine Learning.
Augmented Data Preparation - It completes the data preparation process likewise imputing missing value, leakage detection, time series feature extraction, etc. with the use of machine learning.
Augmented Data Science and ML - It automates the essential features of analytic modeling. That helps to decrease the necessity for experts that generate, operationalize, and manage the models.
Augmented Data Discovery - Augmented Data Discovery uses machine learning to enable findings, visualization, and narration of insights as well as results without building models or writing algorithms manually.
---
---
What are the benefits of Augmented Analytics?
The simple idea behind the concept of augmented intelligence is to support human information, speed-up the repetitive tasks, and enable businesses. To make faster and smarter decisions instead of replacing humans. Let us examine some of the advantages of augmented analytics -
Augmented analytics is better than AI - The past decade was all about Data Visualization, but to analyze that data according to the business requirements and generate insights was still a huge task. Today, machine learning and AI-enabled data analytics along with human intelligence can help to make excellent decisions.
Augmented analytics optimizes productivity - It is challenging to do repetitive and time-consuming tasks that require very less intelligence. With the emergence of AI, those repetitive tasks can be automated that increases human productivity. AI helps to speed up and scale tasks in such a manner that every business user can take their business decisions efficiently.
Augmented intelligence can deliver more value - While developing any business solutions at a higher level, it is a time-consuming task to do repetitive tasks manually. Rather than working hard to do analytics along with the use of human intelligence. It is better to do develop such an automated system that can able to do tasks such as data preparation, implementation of ML and DL algorithms, insights discovery, etc. That helps businesses at all levels.
Augmented intelligence can change retail analytics - With the collaboration of Natural Language Processing with Augmented Analytics. In conversational analytics, everyone within the organization can get benefits from analytics, even if they don't have analytical skills. It brings analytics to the users at the lowest level as well as increases the productivity of high-value users. Till now, it becomes challenging to face adoption challenges in retail. For example, with the use of NLP and augmented analytics, anyone in-store can ask, "What are the top trends need to follow to increase today's sales?" and can get a complete and well-analyzed answer from the system.

---
Augmented analytics is an umbrella term for technologies that automate data research and analysis and give human analysts valuable business insights. Source- A Look Inside Augmented Analytics And Its Business Value
---
Why Augmented Analytics is beneficial in Enterprises?
Augmented analytics is modern technology. It intends to simplify complex tasks as well as to provide better solutions to business owners. So, whether an entrepreneur or a CEO with years of experience, augmented analytics can help everyone to improve the online presence. This technology is beneficial for everyone due to some reasons discussed below -
Agile centralized BI provision
Augmented analytics possesses data analytics delivery at a higher pace across the enterprises. While using only a few resources as it maintains all advanced analytics and business intelligence platforms on the cloud.
Mutually beneficial business interactions
By investing in augmented analytics, organizations can maximize their profit as well as business values, by sharing their prepared data through the cloud with other organizations.
Decentralized analytics
To implement Augmentation analytics. It is necessary to follow the critical metrics to maintains consistency irrespective of the location of the user.
Understandable UI of augmented analytics tools
Tools used to do augmented analytics are easy-to-use. Support an extended range of analytic workflow capabilities. Next-generation augmented analytics will also provide a user interface. That will be more elegant, as well as user-friendly for the business bodies, and offers more power to them.
Data Governance Analytics
Augmented analytics supports the workflow from data to analytics, maintenance of record, as well as IT-managed content. This approved data and analytics content can be reused, governed, and served.
More relevant insights
Augmented Analytics can identify relevant insights by applying Machine Learning Algorithms. It overcomes the risk of missing valuable insights in the data, optimizes decisions, actions, and explaining actionable decisions to users. In other words, can say that it automates data management and the process of insight generation. Detailed Insights into the organization. Augmented Analytics allows all employees in an organization with detailed data insights, when and where they can use it. It extends the reach of data insights to everyone in the organization. So that they can leverage the insights to contribute towards transformations in businesses.
---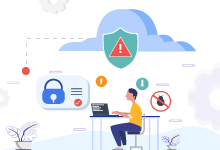 What are the Augmented Analytics Use cases?
the Augmented Analytics Use cases are listed below:
Banking and Financial Services
Healthcare and Insurance Sectors
Manufacturing and Retail Industry
An Analytics-Based Approach
Augmented analytics will transform business intelligence completely in subsequent years. As it has already changed the workflow of analytics and the way of accessing the data and working on insights. Thus, automation of data preparation in advanced business intelligence analytics, and insights generation will be embedded in several applications. This shows bound to reach ahead data scientists and transforms industries significantly. In the next article, we will discuss how to evaluate the business's capability for augmented analytics. How to strategize an analytics system to take advantage of this technology in the future.