ML model for Insurance Claim Prediction
In the insurance claims sector, the customer's primary requirement is to get the insurance company's status before investing. Customers also want to know about the prediction of premiums, claims, and the rate of customer satisfaction. Further, the customer wants to get detailed insights about the sector with the most number of claims where machine learning models help them predict the customer's claims and satisfaction status.
---
Solutions for ML Insurance Claim Prediction model
With Xenonstack Support, one can build accurate and predictive models on real-time data to better understand the customer for claims and satisfaction and their cost and premium.
As a result, we have given a demo of dashboards for reference; you will be confident in incurred loss and claim status as a predicted model.
Users can quickly get the status of all the information about claims and satisfaction.
The insurance user's historical data can get data from accessible sources like GitHub or any open-source platforms. Through that data, users can get results accordingly.
---
Why Xenonstack?
Click on a Button and request us to give you the demo of our Machine Learning model for Insurance claims prediction. That shows the customer's claims and satisfaction status. Our model will provide you an accurate prediction of the customer with their amount and claims status with narrative addition.
---
Dashboard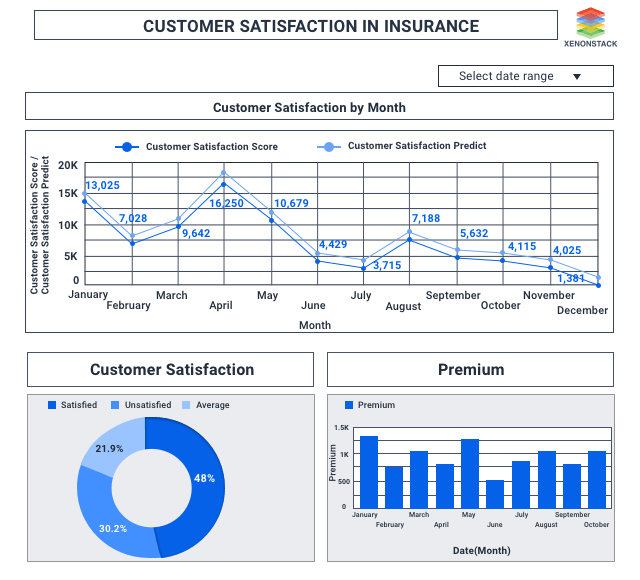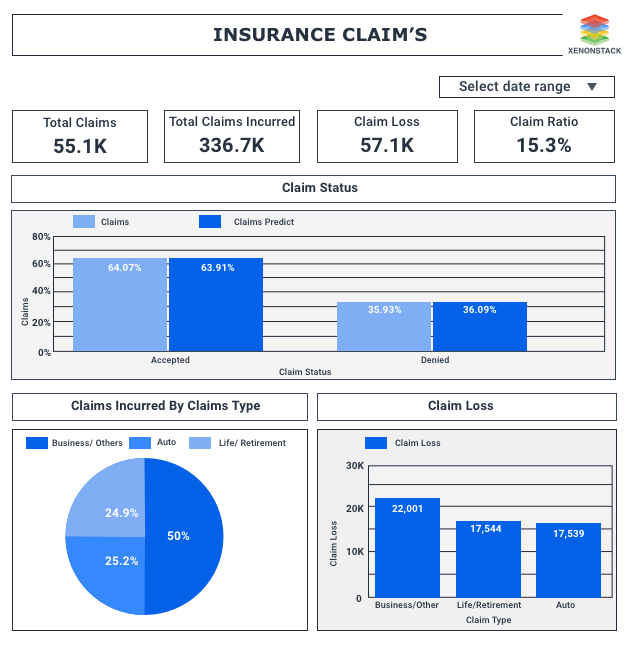 Description
Described below are the benefits of the Machine Learning Dashboard for Insurance Claim Prediction and Analysis.
Here, our Machine Learning dashboard shows the claims types status. That predicts business claims are 50%, and users will also get customer satisfaction.
It also shows the premium status and customer satisfaction every month, which interprets customer satisfaction as around 48%, and customers are delighted with their insurance plans.
Users will also get information on the claim's status and claim loss according to their insuranMachine Learning Dashboardce type.
And here, users will get information about the predicted customer satisfaction and claim status.