Introduction to Robotic Process Automation (RPA) in Telecom
In this blog, we look at RPA in Telecom in detail. But first, we take a look at the basics. Robotic Process Automation (RPA) is the technology that allows us to automate the business process by configuring software robot or bot. These robots can mimic not all but many human actions. We can automate repetitive, rule-based and high volume task using RPA. RPA scenario ranges from the simple task of generating an email to automating jobs in ERP system.

We can use RPA to extract, copy and paste data, log in to applications, browsing the web, make calculations and more. RPA is non-intrusive; it means it can leverage in existing structure without effecting underlying system. If a process changes, it is easy to change and write a few lines of code than retraining hundreds of humans. RPA helps in emerging industries as RPA is super scalable, reduce human errors, improve customer experience, increase speed and productivity. RPA emerge various industries with its features such as Telecom, Health, Bank, and Finance.
A successful RPA Strategy requires some maintenance to make sure that processes are being executed properly.Click here for, RPA Implementation Strategy and Consulting
Why is RPA an emerging technology?
RPA has been emerging in top industries during the last few years. RPA helps an organization to increase profit margin and productivity. RPA is becoming increasingly an enterprise-level opportunity. It has touched many industries. Though RPA maturity size varies by industry, yet the global robotic process automation size was valued at USD 1.1 billion in 2019. Robotic process automation market revenues are expected to eclipse 2.9 billion U.S. dollars worldwide in 2020.
What is RPA in telecom?
Telecom industry is growing continuously. The promise to 5G is a major transformation. Robust network and continuity in services are crucial and very important for them. To achieve coming tasks in the Telecom industry, they are moving towards RPA to reduce cost, boost customer services, drive operational efficiency and improve data quality. There are many businesses process in the telecom industry that is highly manual, repetitive and rule-based such as service fulfilment, service assurance, billing, revenue management and more. RPA can save human hours by automating these tasks.
RPA gives high flexibility and agility that is necessary for the Telecom industry to raise and face challenges coming in its path while moving. Telecom companies are competing with one another to provide the fastest, best and most affordable services to their clients. Therefore for rapid growth and large volumes of operational processes such as managing data, controlling cost, increasing business agility, acquiring talent, and developing new services they need RPA. RPA provides a fully automated data entry process.
Data Security is an essential part while automating any business process.Taken From Article, Robotic Process Automation in Cybersecurity
Telecom Use Cases for Robotic Process Automation
The Telecom industry has some of the highest rates of adoption of RPA technology. There are several cases where RPA can use to automate processes:
Customer Onboarding/ Offboarding
By automating the process of on-boarding and off-boarding, they can maintain a clear view of all customers and their information. It becomes easy to add customer automatically when a new one joins and also easy to remove them automatically when they leave. It helps the industry to save their time, reduce cost, reduce errors and allow their employee to work on to more engaging and higher-value work.
Billing
RPA can automate the process to maintain billing records of customers, invoicing and reconciliation across its multiple channels and departments. It allows performing these tasks on time without any error.
Customer Service
RPA can automate providing information to their employees instantly and automatically so that they can serve the customer as soon as possible. It gives great efficiency, increases profit and improves overall customer service.
Network Management
RPA automate some simple process in the event, incident and diagnostic management areas, thereby allowing the employee to handle tricky stuff. Compliment network speed demand with processes that keep customer's expectations.
Debt collection
RPA can automate to handle data of collection. It can automate the process to update, chases, payment reconciliation. It adds speed and efficiency to the debt process.
HR operations processes that can be simplified using RPA include employee relations, recruiting and hiring training and development, benefits and compensation, and HR generalist activities.Taken From Article, RPA in Human Resources Management
Competition Data Extraction & Analysis
RPA can use to create reports from data automatically so that it can analyze and implement their insight.
Other Automations in Telecom
Query solving
Bots can read emails and reply to simple questions asked in those emails. The questions that need human decision will be passing to humans. Thus RPA help in responding to queries.
Price Tracking
Price monitoring is a very valuable asset. RPA can work without a break so it can provide comparative price analysis every time that helps in price-fixing.
Sales order processing
The sales order is a manual and repetitive task. So we can automate it using RPA. Based on the employee's actions, a workflow can be generated for sale order processing.
Back-Up
RPA can be used for backing up information from client's IP telephony system. Software robot can create a backup system. In this bot can upload data on FTP server by extracting it from the database.
Report Preparation and dissemination
In telecom, RPA can be used for auto-generation of reports. Generation on reports depends on some predefined criteria. Upon generation, the bot can analyze reports. Using RPA reports can be classified and then mail to specific person or destination according to its classification type.
Which RPA Tool is best for your business?Taken From Article, 3 Best RPA Tools
What are the key benefits of RPA in Telecommunication?
There are several benefits of Robotic Process Automation which helps the industry to fight with their challenges and make their task easy. RPA helps them to provide the best services to their customers. Some of the benefits of RPA in telecom are as following.
Scalability
According to demands, bots can be easily downsized and up-sized. They easily acquire changes. The workflow created by RPA to automate the process is reusable and replicable in different business departments and locations. RPA helps to achieve scalability easily and quickly.
Data Flow
Software Robot easily mimics human actions such as mouse clicks and keystroke and interact with the interface. Hence RPA close the gap between data sources and easily access data they need.RPA is non-invasive in nature, so it is easy to implement it with existing work.
Cost Saving
The implementation cost of RPA is low as compare to other business process management software. Software license can be used for more than one process, so it reduces cost and boost Return on Investment. RPA can reduce processing cost by 80%.
Better Accuracy
Bots are programmed to follow the process. They never get tired and never make mistakes. Bots are extremely consistent and accurate.
Speed and Productivity
RPA removes non-value-add activities and relieves employees from the pressure of work and concentrate on the processes that need human intelligence. Bots can perform the same work of human in less time; hence it saves time.
Customer Satisfaction
Using RPA back-office processes can automate. So instead of focusing on time-consuming back-office tasks, they can focus more on client request and can handle them that require human to make decisions.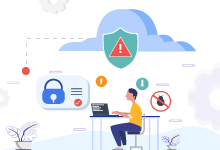 Conclusion
We end the topic by mentioning again as discussed above there are many organizational repetitive tasks which can automate with the help of RPA so that employees can concentrate on tasks that are more productive and need decision making skill of humans. Use of RPA led to many benefits such as cost reduction, faster available ROI, better accuracy, scalability, productivity, fast processing and more.

Explore Similar Topics,