Subscription

Thanks for submitting the form.
ITIL 4 and DevOps: A Quick Overview
While following the stages of development of software, a new question comes in mind, and that is can ITIL4 and DevOps run together for the improvement of any process and how ITIL4 v4 provides us with a field to work with Virtualization in DevOps. Well, if you are searching for the answer to the same questions, then do not worry as we have come up with this technical guide. Here we will show you the real difference between ITIL 4 and DevOps and how to use ITIL with DevOps for agile development. So, let's get started!
---
ITIL 4 vs DevOps: What's the Difference?
ITIL4 is a framework, and it was developed with a collection of practices to implement the most reliable IT Service Management. ITIL4 structure is created to highlight service condition and flexibility, to Set the service life-cycle, to Aim for more special customer comfort and to push digital modification. Whereas DevOps is a set of concepts that appear from the impact of two influential aims. The first was called "agile methods" and the second is an extended perception of the amount of collaboration between development and operations staff. When talking about ITIL 4 and DevOps, the second term DevOps essentially concentrate on Combining software testing, software development, Quality Analysis, and deployment platform, Continuous integration, and continuous delivery. DevOps Automation Tools operate in sets and move agile to have a faster turnaround interval.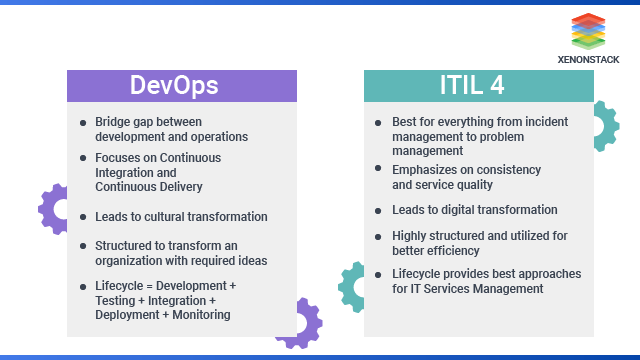 ---
What Happens When We Integrate ITIL with DevOps?
ITIL 4 and DevOps both are quite different intentions that carry out the real beauty of service administration. ITIL4 contains a lot of the core importance discovered in frameworks including Lean, Agile in DevOps. Ideas such as covering value, raising collaboration and utilizing what ITIL4 defines as a four dimension model make a holistic way to service administration. With the cooperation of ITIL4, we can streamline the whole service administration method while DevOps leverages service delivery by inducing appropriate teams collectively and automating conventional tasks to be agile. ITIL4 methods establish clear tasks and liabilities, whereas DevOps resolves the query of expression and information. ITIL4 being the Service Management framework, gives the care for products and services that are being developed and expanded using DevOps methods.
---
Working Principles of ITIL4
A guiding principle accommodates worldly and permanent guidance to a business, which fits in all states of using ITIL 4 and DevOps. The 7 ITIL Guiding Principles are an arrangement of the 9 Guiding Principles established in 2016's ITIL Practitioner program.
1. Focus on Value
When concentrating on value, the first action is to know who the customers and important stakeholders are being served.
Next, we need to have a clear knowledge of what develops value from the consumer's aspect.
Lastly, we have to take care of the customer experience or user experience.
To implement this rule perfectly, we should understand how service users use each service, concentrate on value while regular operational movements as well as during improvement actions.
2. Start where you are
Do not start over without thinking about what is already available to be leveraged.
Co-operation and programs already in place should be recognized immediately to correctly interpret their current state.
To implement this properly, we need to see what exists as accurately as feasible, using the user or the aspired result as the origin and apply our risk management skills. Besides one must know the role of Containers in DevOps.
3. Progress Iteratively with Feedback
We were exploring and accepting feedback of ITIL 4 and DevOps before, while and later each iteration will assure that operations are directed and relevant, even in different situations.
Once accepted, feedback can be examined to recognize development possibilities, hazards, and problems. We have to take care of things such as the ecosystem is regularly changing, so feedback is required, and Quick does not mean unfinished.
4. Collaborate and Promote Visibility
The formation is usually a better strategy than separation. Inventive solutions inspired participation, and critical views can be obtained from unexpected sources. But the most important step is operating ITIL 4 and DevOps collectively in a manner that leads to success, asks knowledge, opinion, and belief. When stakeholders have a bad perception of the workload and improvement of the task, there is a risk of forming the impression that the task is not superior. So we have to consider points like:
The report in a way the observers can hear
Choices can only be made on obvious data
Collaboration does not mean agreement
4. Think and Work Holistically
A holistic approach to service administration covers building a perception of how all parts of the industry serve unitedly in a unified manner, including having end-to-end clarity of how a request is taken and interpreted into results. So, to follow this principle, we will understand the complexity of ITIL 4 and DevOps systems, look for models in the demands of and communications between system elements. Also, you must know the best practices for Enterprise DevOps.
5. Keep it Simple and Practical
Use the least quantity of actions to achieve an objective. An outcome-based study should be practised to provide practical solutions that produce helpful results. If a method, service, activity or metric fails to produce value or provide a valuable outcome, then drop it and to do so consider some points like secure value, Primitiveness is the ultimate elegance, Do fewer tasks, but perform them better.
6. Optimize and Automate
Optimization intends to produce something as effective and helpful as it needs to be. Before an action over ITIL 4 and DevOps can be efficiently automated, it should be optimized to whatever level is feasible and reasonable. There are several methods in which practices and services can be optimized, and to follow those understand and we click on the context in which the intended optimization exists, concentrate on simplification and value and assure the optimization has the proper level of stakeholder commitment.
---
ITIL is a set of best practices for delivering IT services to your customers. It has its roots in the IT world, but its principles can be simply used.
---
Agile Manifesto and ITlL4 Working Principles
ITIL4 has concentrated on Continual Growth and recommends that everyone in the company should focus on constant progress in every level of activities.
ITIL4 insists on achieving enhancements to existing products and assistance, and execution of digital transmutation schemes.
Wherein new administrations and technologies would be developed and executed.
This would require several teams, essentially Dev and Ops. DevOps with Artificial Intelligence can be used in developing new software/Projects and tool-sets and also deployment of these.
---
Benefits of ITIL DevOps integration
ITIL4 is now aligned with Agile and DevOps. So, here are some of the benefits:
DevOps and ITIL4 are principally centred on how an association builds value in or as a service and improves customer comfort with continuous progression.
Resolving concerns accurately under a structured framework guides to build agile solutions for complex problems.
Enhanced productivity and constant improvement complete the organizational goal, which is making more active Return on investments.
ITIL 4 and DevOps open-source tools provide magnified execution and improved efficiency of the overall business.