Overview of AI in IT Infrastructure Management
With the growth in technology and infrastructure, rapid advancements are there in software-defined infrastructure and Cloud Computing. This has enabled the IT Infrastructure to be flexible, intangible and on-demand. On the other hand, IT Infrastructure is not yet intelligent enough to understand the correlation between the IT elements, recognizing the data trends and further take the appropriate decisions. Therefore, Artificial Intelligence is introduced. It enables to access and manage the computing resources to train, test and deploy AI algorithms.
AI is all about making computers think like humans with customer interaction solutions. Taken From Article, Artificial Intelligence Adoption Best Practices
What are the Challenges for building AI Enabled IT Infrastructure?
The below highlighted are the major challenges of building Artificial Intelligence enabled IT Infrastructure.
Onboarding Data
Organize the data into logical partition applications and services.

Mapping the data into correct source types.

Reviewing the parsing process.
Personalize Artificial Intelligence
User Experience Alerts
Perform

Anomaly detection

.

Use the discovered anomalies and previous domain existing knowledge to create custom alerts based on factors affecting the customer's experiences.
Customize Dashboards
Meaningful and iterative dashboards to monitor the IT stack.
Measuring employee performance and the hiring process also plays a vital role in identifying the right person for the right job.Taken From Article, AI Platform for HR and Recruitment Management
Technologies for Building AI-based IT Infrastructure Platform
The main technologies which are necessary for building AI based IT infrastructure platform are below:
Data Sources
Diverse and extensive data sources are used such as events, metrics, logs, different job data, tickets, monitoring, etc.
Big Data
Aggregation of IT data for historical analysis and real-time reaction and insights.
Computation and Analytics
Enable to generate the new data and metadata from given existing IT data.
Eliminate noise

Identification of patterns and noise

Isolate probable causes

Expose underlying problems
Artificial Intelligence Algorithms
Apply computation and algorithms efficiently and appropriately to expertise the machine and get desired outcomes.
Unsupervised Machine Learning
Automatic alteration and creation of new algorithms based on the output of the

algorithmic analysis

.

Introduction of new data into the system
Visualization
Presenting insights and recommendations in an easily consumable way.
Automation with Artificial Intelligence
Automatic identification of issues with the use of outcomes obtained from analytics and
machine learning
.
---
A new label for the tools that took machine learning capabilities and applied them to IT Operations space.Taken From Article, AIOps: Artificial Intelligence for IT Operations
AI-based Methods to Influence the IT Infrastructure Automation
The various AI based methods to influence the IT infrastructure automation and management are defined below:
Capacity Planning
With the use of AI, the workload can be mapped to the right configuration of servers and virtual machines.
Resource Utilization
With the combination of AI, it becomes possible for the system to predict the scaling in which the infrastructure will automatically adjust itself based on historical data.

No rules and configurations are required to enable elasticity.
Storage Management
Storage resources are monitored continuously for optimum utilization and performance.

By

predictive analytics

, the capacity of storage is automatically adjusted by adding new volumes proactively.
Anomaly Detection
Advanced machine learning algorithms are used to determine outliers effectively.

Real-Time root cause analysis.

Prevention of potential outages and disruptions faced by the infrastructure.
Threat Detection and Analysis
With the use of application of
machine learning algorithms
and heuristics, anomalies and risk events can be detected and avoided.
Impact of Artificial Intelligence on Information Management Services
The demand for greater resources

The necessity for

AI in security

Intelligent Monitoring

Automated Support

Intelligent Storage

AI-defined Infrastructure Management
Infrastructure services ensure the plans, designs, and implement organizational IT strategies and manage mission-critical IT infrastructure.Taken From Article, IT Infrastructure Management Services
Key Features of AIOps
The Key feature of AIOps are listed below;
Automated behavior prediction
Based on the analysis of infrastructure, applications, and users, issues are predicted in advance that affects the availability and performance.
Identification and correlation of issues across the higher amount of data.
Data-driven recommendations
Better decision making based on real-time and historical data.
The better organization to achieve end-to-end visibility into infrastructure and applications.
Deploy automated actions for known events with embedded business logic.

Increase the speed of monitoring and performance issues.
Real-time analysis and diagnosis of issues using various algorithms.

Perform actionable insights.
Reduce the operational noise across the production stack.
DevOps and CloudOps Automation
Automatic monitoring the deployment of metrics.

Quickly invoke the issue detection rollbacks.
---
What are the Key Components of AIOps Platform?
Monitoring Ecosystem

Engagement Ecosystem

System of Record

System of Automation

Artificial Intelligence

Time Series Database
---
Artificial Intelligence for IT Infrastructure Use Cases
Use Cases for Artificial Intelligence in IT Infrastructure:
Incident Management
Artificial Intelligence for Incident management
Environment
Web-scale globalized infrastructure

Heterogeneous technology stacks

More than ten monitoring tools
Challenges for Incident management
Managing the web-scale and hybrid cloud infrastructure

Managing millions of events per month

Event Analysis and Correlation

Mean-Time-To-Detect

Mean-Time-To-Resolve
Solutions for Incident management
Real-time Machine Learning Algorithms

Operational Noise Reduction

Advanced Event Correlation
Managing and Monitoring the IT Ecosystem
Challenges for managing and monitoring the IT Ecosystem
Lack of multi-tenancy for domain experts

Operational Noise and alert fatigue

Thousands of tickets per month
Solutions for managing and monitoring the IT Ecosystem
Automatically catch million of events

Automatic dispatch the hundred of solutions to the right experts without dependency on rules and topology of models.

Automate ticket generation

Kubernetes and

Amazon Web Services

Smarter Architecture-Elegant Architecture

Central Data Collection and Analytics Engine

Optimize the distribution of servers automatically across the entire infrastructure

Automatic determination of correlation from the wide variety of sources along with infrastructure information
Cost Reports
Real-time Cost Analysis
Prediction of Issues
Automatic identification of issues that can impact the business.

Pattern detection to predict and prevent business outages, increase revenues, improve customer satisfaction, and provide business agility.

Dynamic threshold and multivariate anomaly detection.

Prediction of resources that will run out of capacity.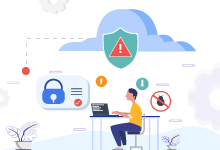 A Cognitive Approach
To know more about Artificial Intelligence Solutions offerings for Infrastructure Industry we advise taking the below mentioned step-