Introducing MDM Manufacturing
Master Data Management, aka MDM, is a vital aspect to consider while managing Master Data, a consistent and uniform set of identifiers and extended attributes that plays a crucial part in every sector, be it manufacturing, banking, or the health sector. Master data is the most valuable entity directly associated with that company or organization. But mere having master data is not enough. You have to manage it as well; otherwise, there would be a lot of confusion or, more broadly, errors, loops holes, or latency. In this case, the manufacturing sector is blessed with the MDM Manufacturing technology to counter these problems and meet a pleasing surrounding.
---
MDM Manufacturing provides complete, reliable, and timely data for the proper execution of business processes.
---
The biggest problem resides in data integrity, which later goes on to reliability issues and is lowed by latency in forwarding a product into the market. We all know the job of a manufacturer is very different from that of a retailer. On the manufacturer side, there needs to be proper planning of the product, behavior tests, searching for the required raw material, and finding how to make it worth making.
Smart Master Data Management Will Power Your Customer Analytics And Insights. Source: Forbes
What Master Data Management does is that it helps us to make a single reference so that interaction and productivity can be boosted. Investing a great deal of your time, cash, and energy in making a clean, consistent set of master information may be a wasted effort unless the answer includes tools and processes to keep the master information clean and consistent because it gets updated and expands over time.
---
Challenges for MDM Manufacturing
There are some challenges in adopting MDM Manufacturing data management technique in the manufacturing sector:
1. Technology
The biggest challenge in Master Data Management is opting for the right technology, which is the most important thing associated with the manufacturing companies. This could also affect if not having skilled people to work with if you have the right technology.
2. Quality
Most manufacturing companies focus more on quantity rather than working on the product's quality, which is the main concern because, in the end, the product is giving you identity. If anything is affecting it, then automatically, your image is getting affected. Even if a company is providing a quality product for now but now having proper future planning, it could again create a huge problem. Future planning is a must to live in the market and fight against competitors.
---
Are you interested to know about MDM Banking? Move the cursor here to go ahead.
---
What to do Now?
To work with Master Data Management, you should have the following things on your to-do list:
1. Future Planning
In the manufacturing sector, you should be well aware of your competitors and be ready for the worst. You have to have a clear vision about your product and what steps you would take in bad times.
2. Right Approach and Technology
Master Data Management should be used with the right approach and technology; otherwise, putting so much effort into something would go in vain if not used appropriately. As not adapting to the new technology could easily destroy a well-established company.
3. Governance
It needs to be associated with the product as you don't want your product to be delayed by some unknown and unworthy source. For that, there should be bodies and policies associated that should be working around it.
4. Identification
Identifying what needs to be done is essential, so a proper team should be assigned to the product with immense knowledge. This team's main aim could be to find the best strategy for achieving the product's quality and establish communication among all the entities associated with it.
---
Enhance your knowledge about MDM Insurance here with us!
---
Benefits of Employing MDM Manufacturing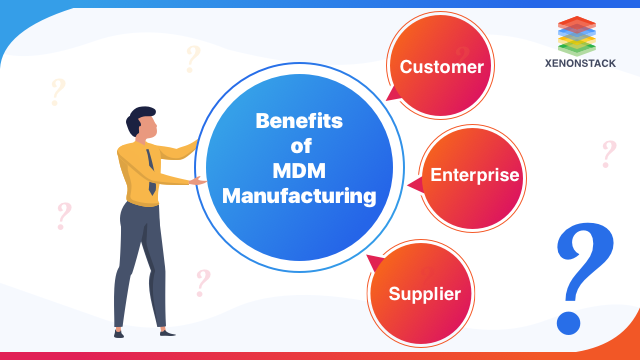 Go through below to know how having a Manufacturing process in the manufacturing sector benefits the customer, enterprise, and supplier.
1.
Benefits to a Customer

MDM Manufacturing Technology benefits a customer in a quite efficient matter:
i. Reliability
In the end, it is all about gaining the trust of the customer. If you are successful in doing that, you don't have to worry about your customers until you provide them the city product, which is better than your competitors.
ii. Quality Assurance
Quality is getting assured if Master Data Management is getting used in that product because Master Data Management keeps a check from the first that there should not be any compromise with its quality.
2.
Benefits to an Enterprise

Benefits that MDM Manufacturing brings on the table for an Enterprise are immense:
i. Reduced Time to Market
Any Manufacturer's main aim is to send their products into the market as soon as possible while considering the entity's quality side by side. And MDM does that for an enterprise.
ii. Quality Product
The quality of the product is the main priority. You cannot play with the product's quality; otherwise, be ready for the consequences like reducing customers, bad reviews, etc.
iii. Gathering effective information
Master Data Management helps manufacturers know what is in trend or what technology could be used to get out the best product, and what needs to be done to fight against the competitors.
iv. Increase in partnership
Master Data Management helps manufacturers to increase the interaction needed between them and the vendors. As vendors play a crucial part, vendors will pass it forward into the market once after creating a product.
3.
Benefits to a Supplier

A supplier has very crucial and immediate benefits from the employment of MDM Manufacturing Technology:
i. Increased Interaction
If you are supplying a proper and effective product, then there is a high chance of creating or earning new customers and taking reviews from them, and passing them to the manufacturers to look into them.
ii. Customer Satisfaction
If you have a quality product, then you don't have to push on anything else because just by having quality in your product, you are gaining their trust or, more broadly, increasing your reliability.
---
To Sum Up...
MDM Manufacturing has evolved through time to benefit the manufacturing industries greatly. With all the benefits it provides to the customer, supplier, or enterprise, it sure will soon be an important manufacturing industry practice. Stay tuned till then, folks!