Subscription

Thanks for submitting the form.
Introduction
We are now at the end of 2020, and before looking ahead to what 2021 holds, it's time to look back at the big events and highlights of Xenonstack's 2020. It has been an action-packed year. Covid 19 Pandemic changed everything. This Pandemic set an example of how businesses must learn and adapt to function in tumultuous environments, from adopting new strategies to building dynamic teams, working from home, and adding new capabilities. In 2020, businesses evolved, and so did XenonStack. Let us take you through XenonStack's 2020 Journey.
So this is how 2020 started.
We started our year with a bang, three proud moments, and all back to back made us proud of our people and their efforts.

Silver Member of Cloud Native Computing Foundation
In March, we joined the league of Accenture, Deloitte, and many more to become Silver Member of the Cloud Native Computing Foundation. As members of CNCF, we started working with the Cloud Native Community to help drive the ongoing development of cloud-native computing systems and technologies such as containers for the broader market.
Silver Member of The Linux Foundation
We joined The Linux Foundation as a Silver Member. We become part of the clan of LG, Linkedin, etc. This was an exciting collaboration; with this partnership, our efforts not only help speed up our technology and innovation but are critical to creating billion-dollar businesses and ensuring that modern society remains open-source.

Kubernetes Certified Service Provider
We became Kubernetes Certified Service Provider, Run by the Cloud Native Computing Foundation in collaboration with the Linux Foundation. Our deep experience in helping enterprises successfully adopt Kubernetes made this possible.
The Pandemic Situation
Covid-19, the Pandemic that stuck us all and with lockdown our cities came to a standstill, But XenonStack's services did not stop. We were working from our homes under the 'new normal.' Our first response to Pandemic was COVID-19 Program – 3 months Managed Services Support.
COVID-19 Program – 3 months Managed Services Support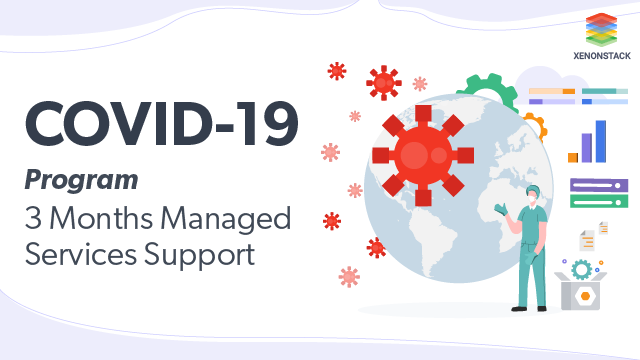 We set up a COVID-19 response plan for supporting Government, Healthcare, NGO communities to help enterprises fighting COVID-19 on the battleground by providing our certified resources and expert knowledge to automate Workflow, thus help them fight the Pandemic better. Additionally, we extended our services for speeding up the growth of remote workplaces to support more complex solutions like Big Data, Kubernetes, Cloud, and Database. Services included Managed Services – focussed support for all your Technology needs.
Managed services
Remote workplace setup
Managed SoC
Analytics Support
Remote Training
Working with the 'New Normal'
As we stepped into the post-Covid 19 future, the business evolved and accepted the 'new normal' from remote workforces, contactless experience, to new organizational structures. What did the new normal look like, you ask?
Contactless Starbucks Experience—digital ordering via mobile that minimizes human contact, and reduces the time customers have to stay in the store. Source, How China's consumer companies managed through the COVID-19 crisis
The 'New Normal' just felt different, but it was for good. We understood the challenges and emphasized the strong delivery of 'new normal' Ready IT Solutions and Services formulated to suit the unique requirements. We expanded our offerings in 2020 to empower our customers to compete effectively in the 'new normal.'
The Product Launch 2020
2020 has been an eventful year for Xenonstack. We launched two products. Nexastack and Akirastack. We can't be more proud. These platforms aim at making security and infrastructure management easier and accelerate the transition to digitization and automation. Nexastack - The Infrastructure as Code Platform for Cloud-Native and Automation of IaC Tools for Effective Infrastructure Management. Akirastack -The Continuous Security Platform for Vulnerability Management And Cloud Security and Security Services.
The 2021 Mission
We want to focus more on creating value for customers by Agility, Automation, and Real-Time Insights. We are confi­dent 2020's journey will take us into a brighter and more hopeful 2021.