Subscription

Thanks for submitting the form.
Introduction to Robotic Process Automation (RPA)
Humans are again entering into a new era of automation. Robotic Process Automation is one transformation that automates our daily repetitive tasks. Like Chatbots and AI, RPA enables a higher efficiency in human actions. With RPA, we get a virtual team member who can perform repetitive activity faster and more cost-effectively than humans.
How to implement RPA with Humans?
The companies that implemented the RPA do not think of replacing their employees with automated bots. Instead, they want to relocate these workers to focus on creative and strategic work rather than repetitive work. RPA can prove to be highly beneficial when it comes to the market.
RPA bots automate data 24/7 without any break. It never makes any mistake. It hampers your team's productivity. They work tirelessly with the same consistency and accuracy as humanoid robots made of software code.
With RPA, we can watch the customer activities for up-selling by targeting and preparing data for customer subscriptions or warranty renewals. Collection of data through web scraping for both marketing and sale activities.
Bots can be programmed to monitor a client's policy status and identify discounts and bundle opportunities. Through this, we can send highly segmented emails to maximize sales opportunities.
RPA works alongside the IT structure. It just needs to be trained on how to use it. RPA uses the same graphic user interface that human workers would use to complete tasks, ensuring that the IT landscape need not be changed to accommodate RPA with the minimum cost.
RPA is helping financial institutions to provide 24/7 support for important activities and processes. Click to explore about, Robotic Process Automation (RPA) for Financial Services
Top Use Cases of RPA Implementation

There are various RPA Use Cases in the trending industries to stay competitive. Below are the industry type and their challenges and solution to the problems.
How is RPA used in Human Resources?
RPA bots can compare resumes with the description for a particular job and shortlist those resumes. With the help of RPA, offer letters are customized according to the selected candidate. It also helps to check and keep track of time-to-time company reviews. Bots allow HR to manage the data of employees effectively. It also helps to verify the history of a team member.
Employee-On Boarding
Problem: Onboarding, an employee, can be a very tedious task. RPA can help us with this. In this use case. When an employee is boarded, their details have to be filled in the system. The details have to be fetched from the offer letter, filled duty form, and other documents.
Process:
Log in to the portal.
Search for the team member in the portal.
If the team member does not exist, then a mail will be generated.
If the employee exists, then data will be extracted from the passport, which is in the Folder. (The folder will be with the employee id)
Fill up the extracted data and complete the sections.
Choose the particular option from the drop-down as per requirement.
In section 3: The Performance evaluation will be selected based on the table given.
In Sponsor name: We will check for the business unit if it is city max or not. For "Citymax," We will pick the name from the duty form.
And other business units will open SharePoint and search for employees, extract the "Labor Card number," and consider it a work permit number.
The work permit number will be searched on the Mohre portal, and the company code will be extracted from there.
Read offer letter from the Folder and extract salary details and fill in Section- 4.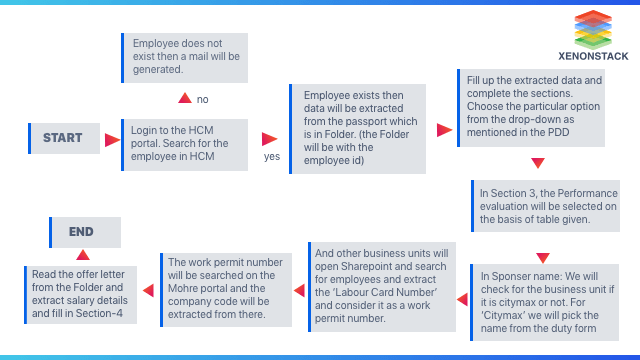 Night Audit Process
Problem: The night audit process is an end-of-day process. This process takes up all the hotel's financial activities that have taken place in one day and adds them to their appropriate accounts.
Process:
Log in to the opera portal.
Go to "Front Desk"
Search for room type "PI."
Open room "9509".
The value of "Blocks not Picked Up" should be 0.
If not 0, then no nights will be updated from 0 to1, and then repeat "PI" room check.
Else Open "End of Day routine" and log in.
Check for the country so that no entry should be blank. If any country block is empty, then login to Vicas and get the country from there.
If any arrival has not been checked in, it should be canceled.
Next, check the balance of PI rooms if zero or not. If not zero, the number of nights is increased from 0 to 1.
Cashier closing will be done, and the end of the day of notes will be added.
The message should be broadcasted to all terminals to log out.
Run the "End of day" procedure and wait for it to complete.
Run the final report and Print it if needed.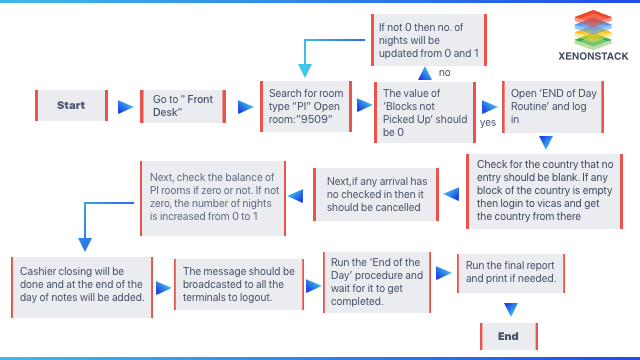 Resume Automation Process
Problem: HR gets a lot of resumes daily. Saving their data or daily downloading the resumes and sending the same message to every person manually can be a difficult task. So we can automate this process through RPA in human resources management by which all the resumes will get downloaded and stored in a folder, and all the mail ids will be extracted in an Excel sheet. Then we can easily send the message to every person at the same time without spending so much time.
Process:
The bot will log in Gmail.
It will check for unread emails.
The emails which contain the keyword resume anywhere a mail will be shared with them with a Google form.
The person will enter the details.
The data will be extracted from the Google form. '
There we can apply the filtration of qualification and more constraints as per our creed rules.
A mail will be set for their further selection procedure.
An Excel sheet will be created with all mail IDs and shared with HR.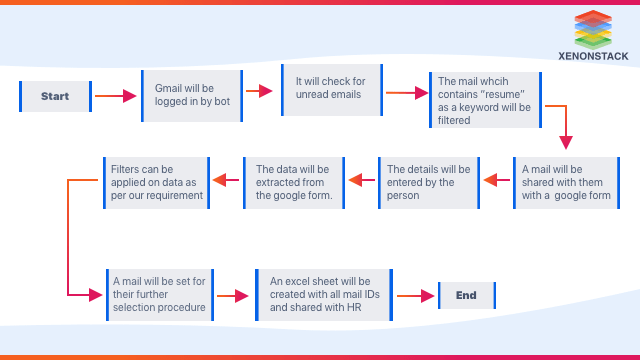 Invoice Processing
Problem:
We receive many invoices that we have to update and send for approval. This is a time-consuming task, and this work gets completed when the payment is made and updated. We receive invoices in the form of PDFs. The data has been copied from the PDFs to the portal for correct accounts, and sent the invoices for approved. This manual work contains many chances of human errors and is time-consuming.
This issue of invoice processing can be solved with RPA. All the data will be completed with automation without any human intervention. This work will be accomplished. There will be no scope for mistakes.
Process
Save the invoices received by mail from vendors.
Save all the attachments on the local folder.
Create a process to extract the data from the Invoice and store them in variables
Open portal. Search for account
Add the portal, and Data's details are successfully updated on the portal.
The invoice will be saved on the system for records. And can also be shared by mail.
And the process continues with the next invoice.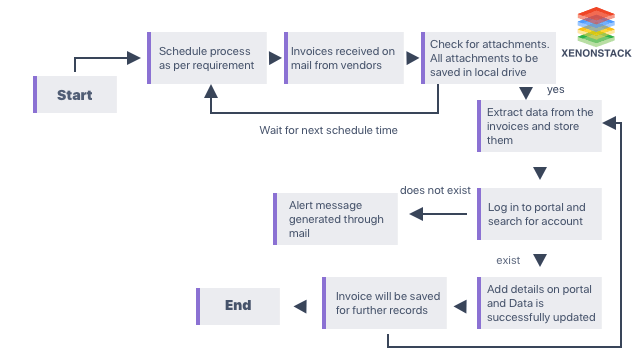 Business Application Use Cases of RPA in Manufacturing
One of the primary benefits of RPA in manufacturing is that it can generate accurate reports of production.
RPA can automate emails, monitor inventory levels, and simplify paperwork digitization in inventory management.
RPA use cases in manufacturing show how bots can automate bills of material by extracting data and providing accuracy in data, leading to fewer transactional issues and errors.
PODs(Proof of Delivery) are essential documents for the customer service department of manufacturers. These documents contain a high risk for human errors and are highly labor-intensive. These problems can be solved with the help of RPA bots.
The manufacturing sector is increasingly adopting the RPA. Robotics plays an essential role in manufacturing automation today. Click here to know the journey.
RPA use cases in the Retail Industry
Bots can extract data to help businesses categorize products and identify their market share in different regions. This also helps in saving countless hours of work.
Returning any product involves a lot of formalities and processing. Bots enable checking the record and quickening the entire process of return.


The retail and CPG industry is evolving rapidly. In today's digital world, the industry acquired RPA (Robotic Process Automation) to increase sales and customer satisfaction.

Click here to discover more.
Robotic Process Automation in Telecommunications
Telecommunication is one of the industries that make use of RPA at another level. Some of the significant use cases are:
Bots can assist customers by offering guidance on their first call.
Automation can provide comparative price analysis to a telecom company.
RPA can offer assistance to address faults in real time with negligible human intercession.
How RPA can help in Healthcare?
RPA can provide automation processes to the healthcare organization, from operational processes to patient interaction and bill payment.
Bots can manage and schedule patient appointments.
RPA can use the document digitization process to prepare documents.
Bots can track patient records, medical records, etc.


The manufacturing sector is increasingly adopting the RPA. Robotics plays an essential role in manufacturing automation today. Click here to know the journey.
How can RPA help in insurance?
RPA can give operational efficiency to insurance companies. RPA use cases in insurance:
Robotic process automation refers to bots doing the repetitive work of human workers, such as information collection of customers, data extraction, and so on.
Insurers fetch data automatically from registration forms with the help of robotic process automation.
RPA increases data reliability by replacing the manual process and removing human errors.
Bots can deal with different data formats to extract essential and relevant data.
What is use of RPA in IT industry?
RPA has a vast amount of uses in Information Technology. Here are some mainly used use cases:
The user login management system automatically uses OTP generation to secure login, reset a password, etc.
RPA provides temporary admin access according to companies needs.
Server crashes and downtime are a nightmare for every IT department. RPA automatically reboots, shuts, restarts, and reconfigures various types of servers. It helps organizations to reduce IT operational costs and save time.
With a single click, complex systems can be installed quickly and in a short period by using RPA.
RPA in Banking
RPA helps banks and accounting departments to automate repetitive manual processes. And allows the employees to do more critical tasks.
With the help of RPA, it becomes a quick and straightforward process to open an account.
KYC(Know your customer) and AML(Anti-money laundering) these processes can be easily handled with the help of RPA.
RPA makes it easy to track accounts and send automated notifications for the required document submissions.
To generate audit reports, the manual process takes several hours. Still, it can be completed in minutes with the help of RPA bots.
Conclusion
Industries have now started implementing Automation with Robotic Process Automation technologies to minimize human errors. In one way, reducing human resources creates the ability to increase productivity. Using RPA technologies in their back-end operations, they can save 40% in various fields of business. Be it any of the RPA Use Cases in the industries mentioned above.