Subscription

Thanks for submitting the form.
Introduction to DevOps-As-A-Service
DevOps managed services helps to minimize the number of failure incidents, the average time between the environment failure and downtime. It provides an established iterative process to improve software development Life-Cycle to enhance quality and agility. DevOps is a set of practice that automates the collaboration, tools and processes between software development team and IT operations team, in order to build, test, and deliver the software fast and reliably. Managed Services team can quickly and easily identify and resolve the challenges.
Managed Infrastructure Solution offerings for enabling Automated provisioning, and helping enterprises leverage release management and orchestration capabilities. Explore our DevOps Managed Services, Managed DevOps Services and Solutions
Why XenonStack for

DevOps Managed service

?
XenonStack DevOps managed services team helps you to leverage the benefits of cloud efficiently. We provide clients with the expert knowledge, readiness assessments, strategic planning, deployment and Support which they need to stay fully operational and competitive.
How DevOps Managed service helps businesses in faster software delivery?
The organization improves technological expertise and the capacity to deliver prompt, software code—managed services are also adopted for tracking, scheduling, training, Continuous Integration and Continuous Deployment. Companies gain critical insights quickly to risks and strategies. Organizations can integrate seamlessly with existing infrastructure to keep the business running smoothly. Managed Services helps in developing a reliable, scalable platform. XenonStack builds the solution with the best tools, technologies, and expertise. We have certified specialists resources - Flexible Resources for Team Augmentation and easy access to Certified Specialists. Thus, Enabling self-sufficiency with Orchestration and automation
Continuous Deployment makes businesses extra responsive Taken From Article, Seven Best Practices for Enterprise DevOps
What is the result?
Managed DevOps tools help companies recognize problematic process areas to fix and enhance their existing infrastructure, and offers continuous development. DevOps managed service reduces the total number of events, the mean duration between errors and the event frequency while increasing the repeatability of the DevOps approach.
XenonStack's Managed DevOps services
The below are the highlights of XenonStack's DevOps Managed services.
Our Commitment
Dedicated Technical Account Manager
24x7x365 Support
Monitoring and Response (Infrastructure)
Backups and Disaster Recovery
Architecture Design & Platform Maintenance
Cloud Cost Optimization
Security & Devops
SLA & Response Time
Resolution Time & Severity
Professional Services
Human Expertise
Xenonstack DevOps Managed Services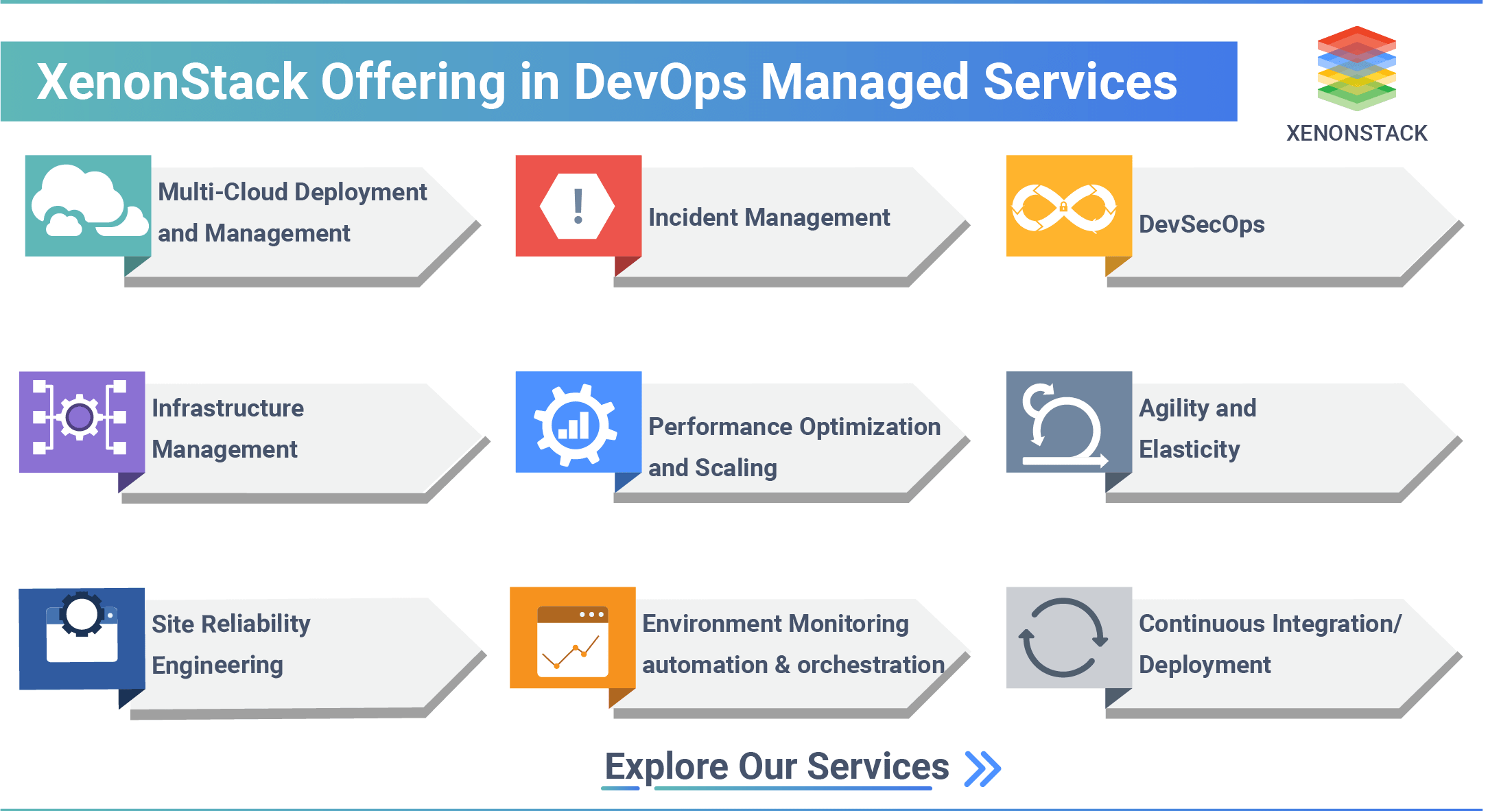 For information on how you can benefit from Xenonstack's Managed Services, contact us for a free consultation.
Accelerate your business workflow with automation, Implement monitoring practices and build DevOps roadmap with streamlined Adoption Strategy with Xenonstack