Subscription

Thanks for submitting the form.
What is Human-Centered Design?
Human-Centered design is an idea that allows an individual or a group of people to design so that it addresses real-world customer problems. It addresses the core requirements of Customers. It motivates people to Design Products, Services, Systems etc., according to customer feedback and needs. It is a process of discovering user requirements within a network to develop a finer user experience.
First, Let's get an idea about the customer's needs or requirements.
Secondly, we can focus on the real problems and experiment with solutions based on them.
Lastly, we can give a final solution to the customer's problem after the iterations & experimentations.
Human-Centered Artificial Intelligence design always means always put humans at the center and always use empathy as a core value. Click to explore about, What is Human-Centered AI?
Why do we need it?
Human-Centered design always takes the user in the first place. This results in a viable Product that users can use smoothly. When you have a strong sense of empathy for the people you're building for, you'll be capable of developing ideas that will significantly improve their lives. It design framework too can assist your company in introducing potential applications, such as producing new goods for existing markets or defining new markets for existing products. When you're closely connected to your users, you can keep track of their evolving requirements.
Finally, a human-Centered approach allows customers to feel understood, increasing customer loyalty. When customers feel like they're a part of the process, the product takes on new significance, becoming more invested in utilising it.
What are the principles of it?
Human-Centered design (HCD) is a term product designers use to describe how they design for people. HCD creates problem-solving solutions by incorporating the human perspective into all stages of the problem-solving process.
It's as easy as that: all designs should be human-Centered. And by human-Centered, I wouldn't mean 'user-Centered' or 'user-friendly,' because users are, after all, human beings. But, more significantly, being human-Centered Design is about more than your user. It must consider every person influenced by your design decisions. Let's discuss its principles:
The best practices that a programmer must follow to amplify code reusability in a framework. Click to explore about, Design Patterns in Automation Testing
Concentrate on People
Always consider the individuals who will utilise your product when designing. Those aren't abstract 'users' but real people who will engage with your product to achieve their objectives. Remember that your product is a tool that assists them in achieving their goal more quickly.
The identification process begins with a simple question: for whom am I building this? Unless you're creating a product for yourself, you must first consider your target market:
Who will be the target market for this product?
What circumstances (time, place, device, etc.) are most likely to occur?
You'll need to work out crucial user journeys after defining your target users.
Recognize and Address the Right Problem
You must go into the real world of application. Observe the environment you're developing, pay attention to the people in that area, and speak with people in that domain. This could involve standing in a store and observing how people buy similar items. It could involve speaking with the shop's employees. It requires a thorough understanding of the competition. You must conduct research, and if you are unable to do so, keep in mind that you are at the very least competing for people's time and attention. Throughout your study, you'll need to ask smart, naive questions. You'll need to discard all of your assumptions and replace them with verified knowledge. Being sure that you know everything isn't going to help you achieve that goal.
Of course, performing research and discovering basic issues take time, and product teams frequently complain that they don't have enough. On the other hand, identifying essential difficulties should be an unavoidable aspect of the design process, regardless of how long it takes. If designers skip this stage, they may attempt to solve the wrong problems.
User Story is the High-level definition of the requirement of project demands. Click to explore about, Design Thinking for Agile User Stories
Iteration and experimentation on Design
Prototyping is one of the most critical aspects of designing a human-Centered Design because it allows you to test your idea on real people. This isn't necessary to use complicated prototypes. "What is the simplest thing I can do to test my thinking?" ask yourself. This could be a simple drawing, sketch, or paper prototype.
You might need to take a step further and develop a mock-up. There are numerous resources available, so depending on what you want to study, you should be able to discover something that meets your needs. Instead of creating your ideas in a vacuum, prototyping forces you to discuss them. Seek out others who could have a different perspective on things to help you validate your own.
After numerous iterations or feedback, test the results with real users.
Consider everything in perspective of the System
It force us to focus on all the aspects of the user journey. Always keep the big picture in mind: what you want your users to accomplish with your product and what is the result that matters to you.
Imagine a payment system application with a good user interface and design. When a transaction fails, and money is deducted from the bank if it won't show the right message to the user, the overall experience of the application gets impacted.
An iterative approach to create high value for the user, based on feedback and change. Click to explore about, Agile Thinking Benefits and Best Practices
What are the 4 phases of Human-Centered Design?
The Human-Centered design consists of multiple phases. It is as follows:
Define
Experiment
Prototype & Test
Implementation
Define
This is the stage where you immerse yourself in your consumers' lives to understand better who they are.
Observe and inquire about having a better understanding of their perspective.
Identify your prejudices and assumptions so you can change them if they don't match the reality of your users.
Consider this to be foundational research.
To begin, you must first identify the appropriate individuals. Age, ethnicity, technological expertise, and other characteristics should all be considered. Make sure your sample is all-inclusive. Interviews or focus groups with users and field specialists may be conducted at this stage.
Experiment
After you've identified your users and completed your research, the following step in the Define phase is to synthesise the information and make sense of what you've discovered.
Affinity mapping is one of the most used strategies for synthesising findings. Everyone writes their observations on individual sticky notes, which are then grouped to establish themes. After completing your synthesis, you'll turn your themes and insights into design opportunities by brainstorming as many ideas as possible. During brainstorming, there is no judgement. You are free to come up with as many ideas as you like, and they can be wild and insane.
Prototype and test
After brainstorming, next, you will plan to create prototypes. The prototype is simply an experimental modal of a given solution. You repeat the process until you have a product that you're ready to move forward with after implementing the feedback and iterating on your prototype.
Implement
Your product is ready to release to the customer or market at this phase. After this, you will keep iterating and reworking it per new market requirements. Design is a never-ending process.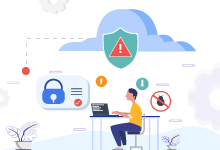 Conclusion
Human-Centered design is all about priorities for the user or customer first. In Xenonstack, the Customer is our priority, and we follow the principles of human-Centered design to address real-world Customer problems.