Subscription

Thanks for submitting the form.
Introduction to IoT Edge Analytics
In today's world, the number of retailers and their problems is rising day by day. Customer demand is changing every day, making it very hard for consumers to keep track of their customers. Consumers can not be rigid for a single platform since multichannel with various services and goods are present on the market. Customers preferred organizations that offered the best services at a cheap rate and also understood their requirements.
Automating a plant for the future to be more reliable and competitive. When it comes to manufacturing would certainly require AI (Artificial Intelligence), from visual inspection for defects to robotic assembly control. You can deploy AI capabilities at a reduced cost with Edge AI, which can also process data rapidly. IoT Edge Analytic devices have grabbed customers' attention and became one of the ten most demanding technology trends in the past 2-3 years with innovative potential.
Edge computing and AI can raise innovation capabilities, operational excellence and customer engagement. Click to explore about, Innovate With Edge AI
Industrial IoT Trends in Coming Years
We can observe that IoT devices' demand is increasing day by day through the below image.

According to a recent s

urvey,

Predictive maintenance

can help homeowners learn about their household damage and leakage.

This will deter homes from catastrophes and help to preserve them. With the

support of all the upcoming IoT app trends, most of the sensors' functionality that one can see in factories, aircraft, and cars can easily be accomplished.
IoT Edge Analytics Industry Use Cases
The IoT Edge Analytics is important in every type of industry. Some of the most common industrial use-cases are listed below.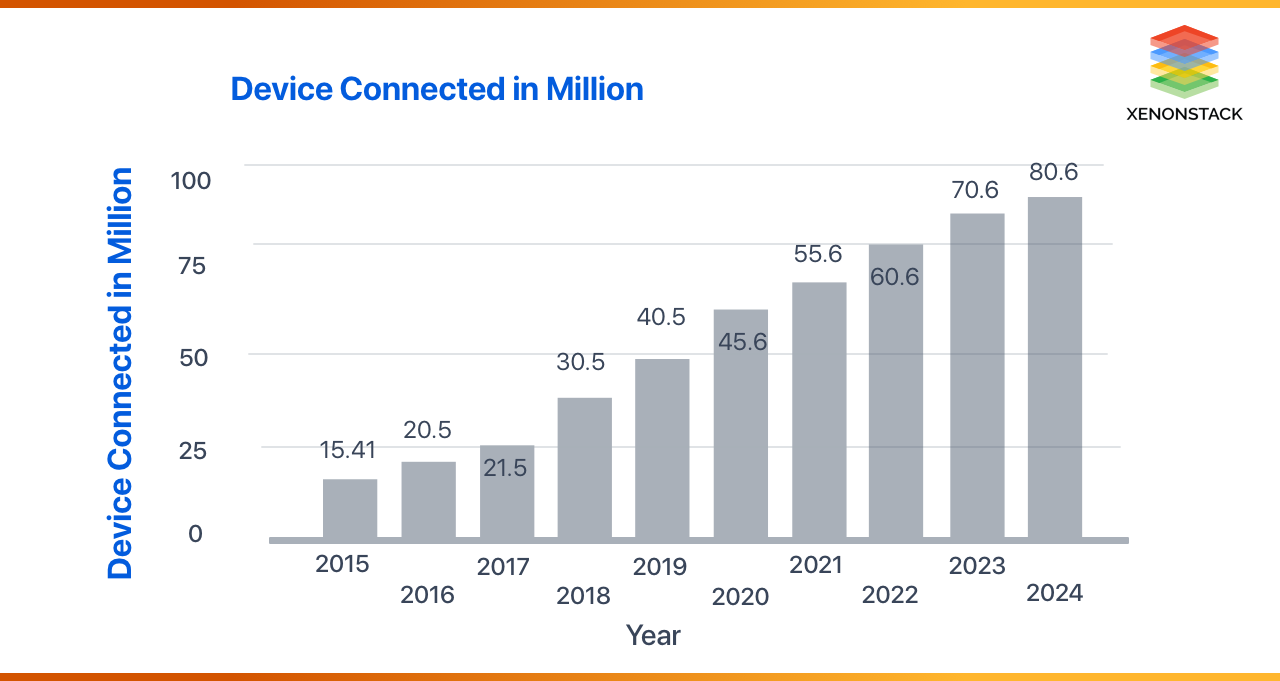 IoT in Healthcare
Using

IoT (

internet of things

) in healthcare helps in the autonomous monitoring of hospital rooms. Identification of Cardiov

ascular Abnormalities, Detection of Fractures, and Other Musculoskeletal Injuries. Supporting the Diagnosis of Neurological Diseases through different sensors.

This helps doctors make a faster decision in an emergency condition and provides the best treatment to their patients.

This also increases patient satisfaction levels and allows hospitals to remain competitive.
IoT in Retail Industry

The customer moves across online and offline facilities to view, touch, and feel the product in-store and explore similar products. Give some idea how that particular product will look on them, and make a purchase decision.

This consumer captures customers' purchases and preferences through the different online and offline channels and provides a better personalized experience.
Azure IoT Edge is a mature platform that can function as a protocol gateway, transparent gateway, and fully-fledged edge layer with offline functionality.
IoT for Automobiles
When we think about IoT in the automobile industry, most of us thought about cars' functionality that it could be remotely controlled via smartphones, watch, computers, and tablets.

That should have the ability to lock a car remotely, find parking lots in the rushy area, easily track car if theft, or receive maintenance reminders on various systems is already seen as a modern-day advancement.

Self-driving cars or automated vehicles' main goal is to provide a better user experience and safety rules and regulations.

Automated cars can connect to a smart device and receive information from the world around them.
IoT in Industries
Nowadays, gathering the high volume of information through industries isn't easy to manage and collect data. To solve this problem, we need to develop new brands.

Various activities like Tracking device's health, creating specific employee security, and increasing quality and sales are very time-consuming because all need constant tracking.

Industries can't do a detailed manual inspection. Therefore, Industries have added sensors for data collection from the production line after this data is analyzed through an algorithm to find insights and perform immediate actions.

This type of business requires gathering, procedure information, evaluate and acquiring genuine intelligence practically immediately.

Things like downtime in manufacturing systems directly affect production levels and result in a loss in earnings.

This situation can be avoided with IoT, and precautions can be taken in advance. Suppose some particular component needs to get in a change in a month. If we show an alert in advance, it will not affect production and save time and money.
A technology-driven approach that uses Internet-connected machinery to observe the production process. Click to explore about, Enabling IoT Solutions in Smart Manufacturing
IoT Trends in Manufacturing Industry
Many industries are making tremendous investments in IoT to strengthen different facets of production because these innovations can benefit businesses by expanding human capacities to do more of greater effectiveness. More recent AI advances, including improved algorithms for Machine Learning, Cloud Computing, and Big Data, are increasingly transforming the way organizations work. IoT and AI are making remarkable improvements and driving huge profits.
Main Value Addition
This Dashboard will help the customer know about the turbines' performance at different times and dates.
Production by Month: This will predict production each month.
Production by Time: This represents at which we have maximum production and whether we are achieving our target. If not, where we need to improve.
Turbine Service and Production Analysis: This will tell days spent after the service provided and each turbine's production. This helps us in analyzing the performance of each turbine.
Expenses on Turbine: This will tell each turbine's expenses if it exceeds the targeted value means we need to pay attention to other components.
By applying IoT in manufacturing, we will reduce technician service visits, increase the main bearing's life by identifying turbines with high/low risk of grease problems, saving turbine material cost, increased Producavoiding avoid extended, and reducing reduce fines.
What are the Benefits of IoT Edge Analytics?
Listed below are the benefits of IoT Edge Analytics
Collect the information locally without missing anything due to irregular network links.

Infer the behavior with more mature, well-testeb

Reduce bandwidth cost by only submitting market insights required for further study with the full IoT solution and monitoring devices' behavior from the cloud.

Update/upgrade the modules of Machine Learning/Edge Analytics at any time with easy setup and via containers.

Selective processing-the enormous amounts of data obtained from the Edge sources are not all valuable. For rich analytics, through IoT, we can quickly isolate interesting data.
Conclusion
Most of the organization understands the importance of IoT Edge Analytics in the field and doing laborious work to fulfill customer expectations. IoT devices use a sensor to collect data and use different technologies to connect and exchange data between different devices. Mostly when we talk about real-time data, users will get a better experience, high-security, and Save a lot of time and money. Now IoT devices are available at a very cheap rate with high functionalities.